Posted on
Fri, Oct 7, 2011 : 11:27 a.m.
Ann Arbor's Mike Tirico gets to introduce the Lions to America on 'Monday Night Football'
By Nick Baumgardner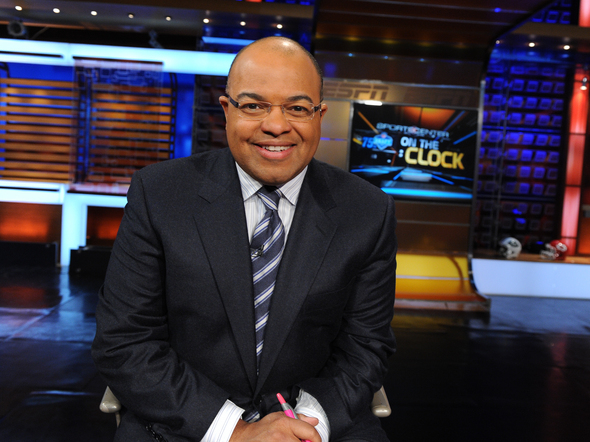 Courtesy of ESPN
ESPN announcer Mike Tirico has seen and heard it all when it comes to Detroit Lions football.
Since moving to Ann Arbor in 1999, Tirico has watched the Lions trudge through the Matt Millen era, make shameful history with an 0-16 season and listened to colleagues wonder if the languishing franchise should ever be showcased nationally again.
"There are people who I work with at ESPN that have criticized the Lions, and said that they shouldn't have the Thanksgiving Day stage," said Tirico, now in his sixth season as the lead play-by-play man on "Monday Night Football." "I don't hear anybody saying that now."
A punchline and an afterthought for the past decade, the 4-0 Lions appear more than ready for primetime. And on Monday night against the Chicago Bears, Tirico (a southeast Michigan resident) will have the honor of presenting Detroit's hottest topic to the masses.
It's been a decade since the Lions, and the city of Detroit, held a national "Monday Night Football" audience captive. And the last time it happened, Oct. 8, 2001, they embarrassed themselves, losing to the St. Louis Rams, 35-0, in Millen's first season as the club's general manager.
But after a promising finish to the 2010 campaign, ESPN's powers that be dubbed Detroit intriguing enough for a shot on the NFL's biggest primetime stage.
And while the buzz about how the city and Ford Field will look and sound Monday night continues to pick up steam, Tirico says that it's the team on the home sidelines that appears to be the real attraction.
How's that for a new concept?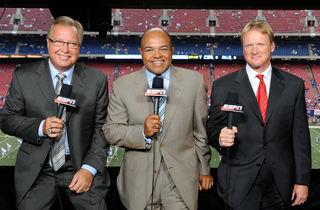 Courtesy of ESPN
"How good is this team?" Tirico said. "I think people want to know. Is Ndamukong Suh and this defense legit? Is Matthew Stafford that good and can he stay healthy? Calvin Johnson has eight touchdowns in four games, that's preposterous. How's he getting those?
"There's a great national curiosity with everyone understanding that the Lions have been a punching bag for the better part of the last 10 years. People outside of here understand the excitement of the city and the quality of the team."
Tirico's travels with ESPN allow him to test the pulse of the national sports landscape. But his home address makes him an expert opinion on all Michigan sports.
A native New Yorker, and proud Syracuse alum, Tirico relocated to Ann Arbor with his wife, Debbie, to be closer to family. Debbie was born in Trenton, and was an all-state basketball and softball player in high school.
The decision to move, and stay, in the area is an interesting one, given the fact that his job offers him an opportunity to live just about anywhere in the United States. But, for the Tirico family, Ann Arbor (and Detroit, as well) is home. And they wouldn't have it any other way.
"It's the best thing that's happened to us outside of becoming parents," Tirico says about living in Ann Arbor. "It's a great place to live, a great place to raise kids and a sensational community with diversity, culture and entertainment.
"I get to travel all over the country, but I can't think of another place we'd rather call home and raise a family."
Outside of the Lions' recent rise, Tirico's been around for plenty of other historic Michigan sports moments as well.
He puts the stretch between 2005 and 2008 when Detroit hosted the MLB All-Star Game, the Super Bowl, the NBA Finals and the Stanley Cup Finals up against anything, explaining that "there's no city that's had a run like that."
Tirico routinely attends Tigers games at Comerica Park, and says his kids are avid Pistons and Red Wings fans.
Living in Ann Arbor, he's also had a ringside seat for the ride Michigan football has taken over the past few years.
Asked to give his take on the current Michigan team and new coach Brady Hoke, Tirico simply says that Michigan athletic director Dave Brandon got it right.
"It just fits," Tirico said. "The whole Michigan way and the Michigan man thing, I don't think you get until you're around it.
"And you've got Michigan men in the right positions here, and this thing has a chance to succeed going forward."
Tirico isn't a native Michigander, but he'll be working from home Monday night in Detroit. He won't be wearing Honolulu blue in the booth, as his job requires him to stay impartial with the sport he covers.
But when Ford Field erupts and the country turns its attention on downtown Detroit, a city that's taken more than its fair share of negative attention over past two-plus decades, Tirico doesn't deny the fact that a few goosebumps might hit his arm.
"I'm very, very proud to call this place home," Tirico said. "But I'm the home team announcer for both teams, and behind Ann Arbor, my next favorite place is Chicago.
"It doesn't matter to me who wins, it matters that we do a good job introducing the Lions to America. And this week, I think I have a better understanding than most other weeks of what a team can mean to a city. … it'll be a lot of fun."
Nick Baumgardner covers Michigan basketball for AnnArbor.com. He can be reached at 734-623-2514, by email at nickbaumgardner@annarbor.com and followed on Twitter @nickbaumgardner.