Posted on
Tue, Mar 6, 2012 : 11:24 a.m.
Tavelyn James shed selfishness to have a spectacular EMU basketball career
By Rich Rezler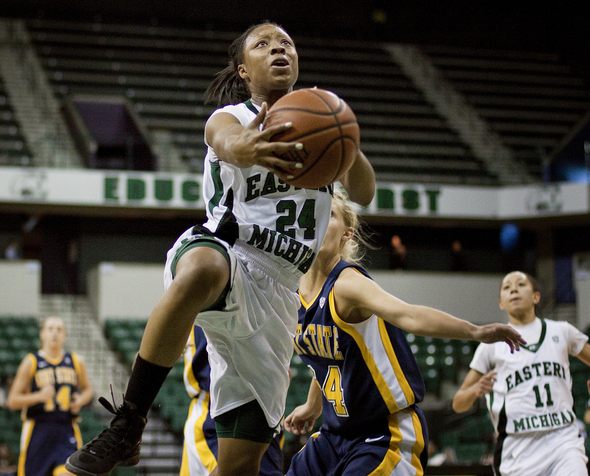 Jeffrey Smith | AnnArbor.com
Evelyn Gray walked through the atrium of the Eastern Michigan University Convocation Center, her winter coat open just wide enough to show off the T-shirt beneath.
On it was a large image of Gray's daughter with "The Future" printed above.
It was a paradoxical wardrobe choice considering the occasion. Senior Day at EMU was meant to celebrate the past, to revel in the notable accomplishments of Tavelyn James — the youngest of Gray's four children — over the previous four seasons.
And there was plenty to celebrate.
The 5-foot-5 senior guard from Detroit hasn't simply climbed to the top of every scoring list in the Eastern Michigan record book. In most cases, she set the record, broke it, and broke it again.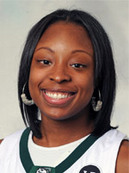 EMU Athletics
Need an example? Check out the single-game scoring list from page 7 of the most recent EMU women's basketball game notes:
1. Tavelyn James (Nov. 11, 2011) 42
t-2. Tavelyn James (Feb. 3, 2010) 40
t-2. Tavelyn James (March 2, 2010) 40
t-2. Tavelyn James (Feb. 11, 2012) 40
5. Tavelyn James (Dec. 9, 2009) 39

It goes on and on.
James set the school's single-season scoring record as a sophomore (641 points), as a junior (642) and as a senior (708 and counting). She'll take the nation's second-highest scoring average (24.5 points) into a MAC Tournament semifinal on Friday in Cleveland.
She's the school record holder for points in a career (2,417) and career 3-pointers (287) — both by a sizeable margin — and third on the all-time Mid-American Conference list in both categories. On Tuesday, James became the first Eastern Michigan player to be named the MAC Player of the Year.
Last October, James became the first MAC player — man or woman — to play for USA Basketball, joining the squad for the 2011 Pan-American Games.
Not a bad college career for a lightly recruited, undersized player who came to Eastern Michigan with barely a concept of team basketball.
But nothing Mom didn't expect.
"Surprised? No. She was determined to do this. She was determined," Gray said, her voice rising over the echoes of the post-game crowd before settling into a reflective whisper. "I'm just so proud of her. She came out here and did what she said she was going to do.
"She sure did."

More than a scorer
James averaged 23.2 points and was a second-team All-State selection her senior season at Detroit Mumford High School, but Division I college coaches weren't impressed.
JUMPIN' JAMES
Eastern Michigan senior guard Tavelyn James continues to rise up the Mid-American Conference's all-time women's basketball leaderboards:
CAREER SCORING
2,509: Kim Knuth, Toledo, 1995-99
2,449: Caroline Mast, Ohio, 1982-86
2,417: Tavelyn James, EMU, 2008-12
2,290: Lauren Prochaska, BGSU, 2007-11

CAREER 3-POINTERS
323: Audrey McDonald, Ball State, 2006-10
310: Lauren Prochaska, BGSU, 2007-11
287: Tavelyn James, EMU, 2008-12
280: Casey Rost, WMU, 2001-06

CAREER FIELD GOALS
899: Kim Knuth, Toledo, 1995-99
898: Caroline Mast, Ohio, 1982-86
848: Tavelyn James, EMU, 2008-12
846: Jackie Motycka, BGSU, 1985-89

CAREER SCORING AVERAGE
23.0: Caroline Mast, Ohio, 1982-86
20.2: Kim Knuth, Toledo, 1995-99
19.2: Tavelyn James, EMU, 2008-12
18.5: Carrie Moore, WMU, 2003-07

"I felt like I was the best player coming out of Detroit, so I was wondering why schools didn't want me," she says. "But I've always been underrated, so I was OK with that. I knew that one day, after awhile, that I wouldn't be underrated. I guess that happened once I got to Eastern."
Eastern Michigan' coach, AnnMarie Gilbert, was the only one to show up with a scholarship offer. And she knew she was hoodwinking the competition.
"I said if you come here, you have a chance to play for USA Basketball, you'll have a chance to win MAC championships, you'll have a chance to be an All-American and lead the nation in scoring," Gilbert said. "And I know she was, like, 'Yeah, right.'"
It took some evolving to get to that point, but it happened. Quickly.
In high school, James' team didn't do much besides get out of her way and let her drive to the basket. Make a pass? Only if she had to. Play defense? Not a lick. Run a set? Never heard of it.
During a practice her freshman season, James sidled up to Gilbert and said, "Coach, I'm just going to let you know, I don't really understand any of what we're doing."
She came off the bench for the first nine games that season while taking a crash course in Basketball 101. If she was supposed to cut left on a certain play, she cut right. "If it could be botched," Gilbert says, "she botched it."
But a funny thing kept happening. No matter how bad James blew up a possession, she still hit the shot at the end of it. Her teammates learned to cover for her weaknesses and got her the ball when it was time to score.
Heck, James didn't even care to shoot 3-pointers back then. But the form on her jump shot is what intrigued Gilbert, so she gave her the green light and encouraged her to capitalize on it.
By her sophomore season, James' overall game was coming around, but she still saw just two offensive options: Take a 3-pointer like Coach Gilbert encouraged, or drive to the basket like she'd grown up doing.
Back to work, which is something James has never shied away from. Gilbert says James "works out like a guy" and calls her the most conscientious athlete she's been around.
After endless repetition, she added a nifty floater in the lane and a solid pull-up jump shot from 10 feet to her offensive repertoire. If it ends in scoring points, James can probably do it.
And, through more work, it now includes so much more.
"When she got here, she knew how to put up numbers, but she didn't know how to play team defense, she didn't know how to run set plays," Gilbert said. "To see her come into a system, learn it, master it and then take it over … I have not been more proud of any single athlete that I've ever coached."

Transforming off the court
When she arrived in Ypsilanti, James says she was as selfish away from the court as she was with the basketball on it. She had little to do with her teammates away from practice or games, preferring to remain safely inside her own social circle.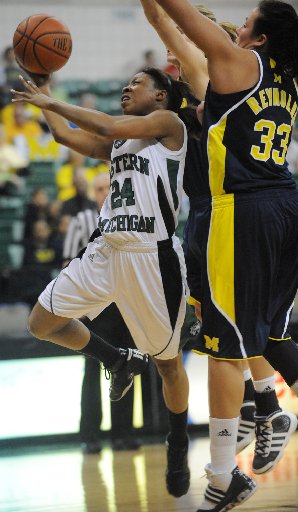 Melanie Maxwell | AnnArbor.com
"When I first came here, I didn't know anything besides putting the ball in the basket. No passing, no defense," she said. "That was off the court, too. It was all about me.
"I didn't know that I had to be a leader on and off the court. I felt like, if I'm putting this ball in the basket for you, what should you have to say to me?"
Just like her game evolved, so did her ability to be a good teammate. The second skill was much more difficult to master.
"Changing on the court was easy, because I can just pass the ball," she said. "Off the court, I was doing my own thing, I wanted to socialize, I wanted to do this and do that. I had to realize I couldn't do that all the time.
"Now I hang out with my teammates all the time. And it's always at my house."
That Senior Day game against Ball State was living proof of James' change in philosophy. By halftime, she had scored 22 points and was on pace to break her own single-game scoring record.
Could there be a more ideal way to say farewell to the arena where her No. 24 jersey will no doubt hang one day?
But James attempted just five shots in the second half and finished with 23 points. Instead of making her own run at a record, James forced the ball inside to Paige Redditt because she wanted to help the Eagles' only other senior reach the 1,000-point mark by the end of her EMU career.
"She came into our program a very selfish, self-centered type of kid. Leaving, it's all about her teammates," Gilbert said. "She has changed so much. She is thinking so much about others, more so than she's thinking about herself, and when you do that I think it makes you a better person and a better player.
"She came here and learned how to be part of something that's bigger than Tavelyn James, and she's affected so many people as a result of it."

Back to 'The Future'
James' immediate goal is winning that MAC Tournament semifinal on Friday, and she's hoping Bowling Green is waiting in Saturday's championship game at Quicken Loans Arena in Cleveland.
MAC TOURNAMENT
The Eastern Michigan women's basketball team had the second-best record in the MAC this season, earning a bid straight into semifinals of the conference tournament at Quicken Loans Arena in Cleveland:
SEMIFINALS
Bowling Green vs. TBD, noon Friday
Eastern Michigan vs. TBD, 2:30 p.m. Friday

CHAMPIONSHIP GAME
1 p.m. Saturday

The Falcons are the only MAC team that EMU has not beaten since James stepped foot on the EMU campus.
A win in the title game would earn the Eagles an automatic bid into the NCAA Tournament. Any loss likely lands them in the WNIT.
After that? James is hoping for a shot in the WNBA. Just don't ask her to name a team in the women's professional basketball league.
She's never seen a WNBA game. She doesn't watch basketball of any kind on television, in fact. It never has drawn her interest.
"My sister thinks it's the weirdest thing, but I don't watch basketball at all," James said. "People always ask me who is my favorite player, who do I want to be like.
"It's no one. I want to be like myself."
The WNBA knows about her. Teams have asked Gilbert for film and physical records. ESPN analyst Michelle Smith projects James as the No. 8 overall pick in the 2012 draft. Others don't have her on their draft board at all.
Gilbert admits it's a "longshot" for a player of James' size to play professionally, especially at her shooting guard position, but adds that not all players her size have the same heart and quickness. The time she spent as a point guard with USA Basketball will help, too.
"She has a body of work that I think is going to be respected at the next level," Gilbert said. "I think she has to be able to guard a lot better than she does here, and guard players much bigger than her.
"But her defense has improved, her ball-handling has improved, her mid-range shot has improved. Her stroke is as good as anybody's. I think (a career in the WNBA) could definitely be realistic."
So maybe Evelyn Gray's T-shirt was a fitting Senior Day choice, after all.
EMU was saying farewell to her daughter, but Tavelyn James was saying hello to "The Future."
Not bad for a lightly recruited, undersized player who came to Eastern Michigan with barely a concept of team basketball.
Rich Rezler is a sports producer at AnnArbor.com. Contact him at richrezler@annarbor.com or 734-623-2553.