Posted on
Thu, Nov 5, 2009 : 6:30 a.m.
Analysts say subpar talent is the root of Michigan's defensive problems
By Dave Birkett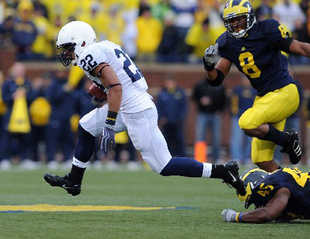 There's no quick fix for what ails Michigan's defense.
Several analysts who've followed the team this year say a glaring lack of talent, not scheme or coaching, is the reason the Wolverines rank last in the Big Ten in scoring and total defense in conference games.
"I just don't think they're as talented as they need to be," ESPN analyst Shaun King said. "I think they play hard, but I think the skill guys right now they're playing against are better than the defensive personnel they have."
King, who played for Michigan coach Rich Rodriguez at Tulane, said the most obvious weakness is a lack of athleticism in the secondary.
"I don't think they play the ball very well in the air," King said. "But again, I think that's because I'm not sure how good they are across the board back there."
Michigan (5-4, 1-4) has shuffled personnel looking for the right mix in its defensive backfield. Only right cornerback Donovan Warren has started every game at the same position this year.
Boubacar Cissoko, who started the first four games at left corner, was kicked off the team last month. Troy Woolfolk moved from strong safety to cornerback to replace Cissoko. Walk-on Jordan Kovacs switched from free to strong safety to replace Woolfolk. And Mike Williams starts at free safety, but has missed time with injury and proven to be a liability on passing downs.
"They're having difficulty matching speed," ESPN analyst Lee Corso said. "You get them in the open field and they're having a tough time. And that used to be Michigan's forte. They just don't seem to have speed and quickness on defense."
Big Ten Network analyst Chris Martin, who'll broadcast his third Michigan game Saturday against Purdue, said the secondary has played like "part of the hospital burn unit," and its problems are compounded by issues up front.
Michigan ranks ninth in the Big Ten with 16 sacks and has one of the smallest defensive lines in the league.
"I think their inability to get pressure up front has kind of caused them to pressure a little bit, no pun intended," Martin said. "Now it's like they're working so hard to get to the quarterback and get sacks, they're getting gashed on run plays.
"I think some of that is talent, I think some of that is inexperience, but I also think some of it's schematic. Michigan does a lot. (Defensive coordinator Greg Robinson) gives them a lot of formations, a lot of looks, a lot of movements and sometimes it can be paralysis by analysis when they're thinking so much that they don't play fast and sort of maximize their talent."
Ray Bentley, who worked the Michigan-Indiana game and played seven seasons of linebacker in the NFL, said Robinson "does a great job" scheming defenses.
"But he doesn't have the building blocks to work with," Bentley said. "They lack talent. I think they play hard, but everybody plays hard."
According to one talent evaluator, defensive end Brandon Graham is Michigan's only high-level NFL defensive prospect. Warren projects as a "later"-round draft pick, and Mike Martin is "a good college player" who "might have a chance at the next level," the evaluator said.
"This isn't a knock on Lloyd Carr, but that cupboard was pretty bare that Rich inherited," King said. "He walked into a kitchen without any food in it.
"When I look at their overall roster they don't have the same kind of players that Penn State, that Ohio State have on defense right now. There are no Sean Lee-, Navorro Bowman-type players right now. They got to be able to get some."
Penn State and Ohio State, not surprisingly, lead the Big Ten in every major statistical defensive category.
Michigan, meanwhile, is allowing more rushing yards (161.8 vs. 136.9) and total yards (382.1 vs. 366.9) per game than it did last year, when it gave up the most points in school history.
Still, ESPN and ABC analyst Matt Millen, who's broadcast two Michigan games this year and will work a third Nov. 21 against Ohio State, said Michigan has overachieved as a team this year.
"When they started the season everybody was saying if they could just get to a .500 season that would be a good year," Millen said. "Well they're way past that. That's a good football team. People have forgotten that, and they've been playing with the same guys and trying to find the right combinations all season long and you're still getting people in and out of there."
Bentley said Michigan might end up a bowl team - the Wolverines need one win in their final three games to qualify for the postseason - but "I don't think they're close to closing in on a Big Ten championship."
"I think they're three or four years from that," he said.
King said a turnaround could happen sooner. He said Rodriguez is "frustrated" by Michigan's recent struggles, but has prioritized recruiting better athletes on defense.
"He understands he has a really young team on offense and he's got to get better players on defense," King said. "And that's not any secret."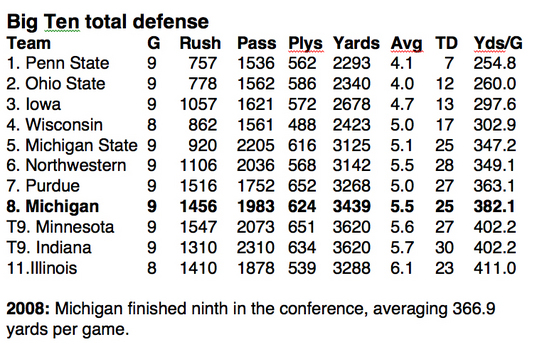 Dave Birkett covers University of Michigan football for AnnArbor.com. He can be reached by phone at 734-623-2552 or by e-mail at davidbirkett@annarbor.com. Follow him on Twitter @davebirkett.