Posted on
Thu, Jan 3, 2013 : 5:15 p.m.
Ann Arbor girls hockey players take up niche winter sport, ringette
By Pete Cunningham
Girls ice hockey is a popular, and successful, sport in Ann Arbor.
Local teams might soon be geting some competition for their athletes, though.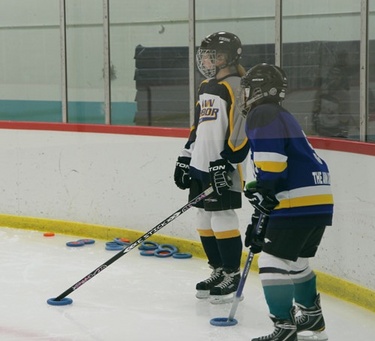 Photo courtesy of Emily Bingham | FoundMichigan.org
Local hockey dad Shawn Gates has started a
ringette team in Ann Arbor
. The sport is played on a hockey rink with many of the same rules as hockey, but as explained in a
Found Michigan article
, there are several differences -- most notably the replacement of a puck with a plastic ring.
Gates and his daughter, Chloe, discovered the sport after doing a drill at hockey practice that resembled the niche sport, which is played with a blade-less stick. Chloe wondered if the drill was in itself its own sport and after some online research discovered it is.
The Found Michigan article states that the sport started as an alternative to hockey in Canada for girls before girls playing hockey was widely accepted. The Gates' have recruited some of Chloe's hockey playing friends and recently started a team, the Narwhals.
Though the Narwhals won't likely be competing in major tournaments anytime soon, there seems to be no shortage of fun being had in learning the obscure Canadian game of ringette.
Ringette:
Pete Cunningham covers sports for AnnArbor.com. He can be reached at petercunningham@annarbor.com. Follow him on Twitter @petcunningham.