Posted on
Tue, Dec 4, 2012 : 1:40 p.m.
Ann Arbor Track Club wins youth cross country national championship and more community briefs
By Pete Cunningham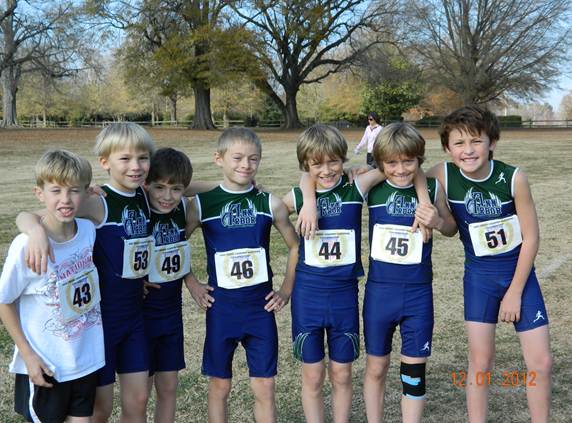 Photo courtesy of Tim Evans
The Ann Arbor Track Club youth cross country team won a bantam division national title at the
2012 AAU Cross Country Championship
on Saturday in Rock Hill, S.C.
The team, comprised of nine- and ten-year-old runners, scored 68 points, 11 ahead of the next closest team, Derby City Athletic Club out of Kentucky. The Ann Arbor runners were initially given the third place trophy and medals, but when a runner noticed his name wasn't called in the times, the results were re-evaluated.
It was discovered that the runner had a faulty scoring chip, so his time did not register, throwing off the scoring system. After the correct scores were calculated, the Ann Arbor boys were crowned champions.
"We were ecstatic to be third place. When we found out we were first, that was amazing. I was real proud of them and happy for their families," said Ron Jasmine, who coached the team. "It was hard on the kids. There were teams from all over the country."
The boys ran a three-kilometer race. Kyle James-Heer, 10, was the team's top finisher with a time of ten minutes, 37.71 seconds, third place in his age division.
Title IX discussion to take place at Dexter High School; basketball game rescheduled
There will be a Title IX discussion at Dexter High School Center for Performing Arts on Tuesday, December 11 from 6:30-8 p.m.
Chandra Bowling, attorney for the U.S. Department of Education, Office for Civil Rights will host the informational session about practical implementation of the 1972 legislation that protects people from discrimination based on sex in education programs or activities which receive federal financial assistance.
The girls basketball game between Manchester and Dexter has been rescheduled because of the event. The teams will play on Wednesday, December 12 at 7 p.m.
Have a local sports brief to tell us about? Contact us at sports@annarbor.com.
Pete Cunningham covers sports for AnnArbor.com. Contact him at petercunningham@annarbor.com. Follow him on Twitter @petcunningham.