Posted on
Wed, Oct 19, 2011 : 2:19 p.m.
Ann Arbor woman wins Grand Rapids Marathon and more community sports notes
By AnnArbor.com Staff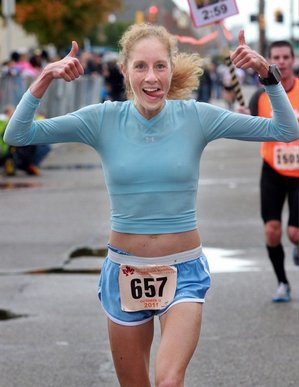 Jon M. Brouwer | The Grand Rapids Press
Ann Arbor resident
Dani Steinbacher
was the first woman to finish the Metro Health Grand Rapids Marathon on Sunday.
Steinbacher, 26, completed the course in 2 hours, 58 minutes, 12.24 seconds. She told the Grand Rapids Press that she didn't start running until after she graduated from college. She was a swimmer at Pioneer High School.
The biggest thing is to follow your heart," Steinbacher said. "I was told by about three different people that I wasn't cut out to be a runner. I was told to go into swimming or to take up biking. I was just determined to make it happen. If you love it, you can do it. I wanted it."
Justin Gillete of Goshen, Ind., was the overall winner, finishing in 2:27.44.78.
Lloyd Carr chairs Festive Affair on Friday
Former Michigan football coach Lloyd Carr is the honorary chair of the Salvation Army Festive Affair at 5:30 p.m. Friday at Weber's Inn.
The event, sponsored by the Builders and Remodelers Association of Greater Ann Arbor (BRAG), includes live and silent auctions, food and fun with proceeds benefiting The Salvation Army of Washtenaw County's Staples Family Center.
For more information, visit www.thefestiveaffair.org or call 734-996-0100.
Henry Do earns honors

Greenhills School junior Henry Do is a second-team Rolex Junior All-American, an honor from the American Junior Golf Association. Do, of Ypsilanti, won the Randy Wise Junior Open, finished first at the Division 4 Michigan High School Athletic Association Division 4 state championships and was second at the Rolex Tournament of Champions.
USA Hockey hosts fundraisers/events

The USA Hockey National Team Development Program based at the Ann Arbor Ice Cube has several fundraisers and special events planned in upcoming weeks:
Saturday, Breast Cancer Awareness Night: Following 3 p.m. and 7 p.m. games, game-used pucks will be signed (in pink!) by NTDP players, individually wrapped and sold for $15 (or two for $25). Proceeds will benefit Susan G. Komen Breast Cancer Foundation.
Oct. 29, Halloween Kids' Parade: All kids who come to the 7 p.m. game dressed in a costume will get in for $1. During one of the intermissions, kids will get the opportunity to participate in an on-ice "Halloween Costume Parade." All kids who participate will receive a treat bag as well.
Nov. 18-19, Food Drive: All fans that bring in a non-perishable food item to the 7 p.m. games get in for $1. All food collected will be donated to Food Gatherers in Ann Arbor.
Nov. 19, Skate with the Players: Fans who buy a ticket for the 7 p.m. game have the opportunity to skate with the players. Skates aren't required to go onto the ice. Players will sign autographs and pose for pictures for 30 minutes after the game.
Pinckney schools seeking coaches

Pinckney Community Schools is seeking coaches for its boys eighth grade and freshman basketball programs. Applications are being accepted through the school district's website, www.pinckneyschools.org, through Oct. 28. The position starts in November.
"In Brief" is a collection of announcements, results and upcoming community sports events that appears in its entirety online and as space permits in our Thursday and Sunday print editions. To submit an item, email sports@annarbor.com.