Posted on
Tue, Jul 23, 2013 : 5:30 a.m.
Ann Arbor's David Colturi wins Red Bull Cliff Diving competition
By Kyle Austin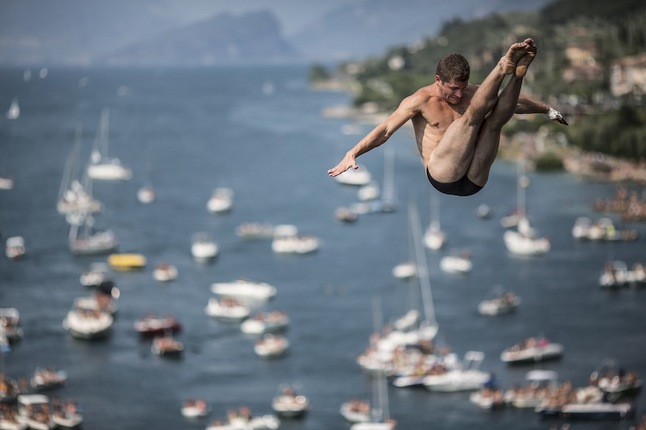 Courtesy of Dean Treml | Red Bull Content Pool
David Colturi first experimented with cliff diving while working a water ski and stunt show at an Indiana amusement park four years ago.
Now he's one of the best in the world at the rare and dangerous sport.
The Ann Arbor resident won a Red Bull Cliff Diving World Series competition July 14 in Malcesine, Italy, his first-ever event win. Colturi scored 469.4 points in the four-dive competition, two better than Steven LoBue, his good friend and former Purdue teammate.
"Consistency has been my biggest struggle since the beginning of the season, and I finally put a full list together in Malcesine, hitting all four dives," Colturi wrote in an e-mail from Europe, where he was traveling following the event. "With the world's best cliff divers competing in the Red Bull series, you'll never win a competition missing just one of your dives."
Halfway through the eight-stop circuit, Colturi is in fourth place in the points standings, with 400 total points. The next tour stop will be Aug. 15 in Boston, the only stop in the United States.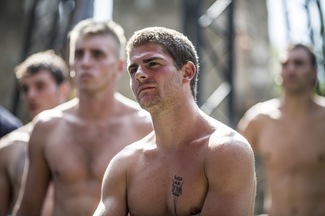 Dean Treml | Red Bull Content Pool
Colturi, a Toledo-area native, started diving at age 5 and went on to become a seven-time All-American at Purdue.
Following graduation, he started the transition to cliff diving, following the lead of LoBue and another former teammate, Kyle Mitrione. That meant geting ready to jump from more than 20 meters, compared to the 10-meter maximum in high school and college competition. The biggest difference: learning the feet-first entry, the only way to enter the water when traveling upwards of 75 miles per hour.
He joined the Red Bull World Series after a qualification event last year in Sydney, Australia, and earned his first win came after adding a new dive to his repertoire for the Malcesine event -- a back triple somersault with three twists in the pike position. A solid dive and the high degree of difficulty helped up his score enough for the win.
"I have been preparing for this dive all year long, and felt confident on my first attempt in practice," Colturi said. "I didn't expect such high scores from my first competitive attempt at this dive; however, since I did the proper preparation, and because there is very little room for error in such a dangerous sport like cliff diving, I knew I could do the dive very well."
After graduating from Purdue, Colturi moved to Ann Arbor to work in a research laboratory at the University of Michigan, but spends his free time traveling the world with the Red Bull series. This year includes stops in France, Denmark, Portugal, Wales, Brazil and Thailand.
Red Bull estimated that more than 20,000 people came out last weekend to watch the competition. Standing nearly 90 feet above the water with a clear view of the throng of people and the Italian scenery, Colturi called it "absolutely breathtaking."
"They do such a good job picking the most beautiful and incredible locations, the scenery alone is enough to amaze you," Colturi wrote. "Add to that 20,000 people cheering and partying on a gorgeous day, it truly is an unbelievable experience leaving me feeling extremely fortunate and grateful to be doing what I love in such an awesome atmosphere.
Kyle Austin covers sports for AnnArbor.com. He can be reached at kyleaustin@annarbor.com or 734-623-2535. Follow him on Twitter @KAustin_AA.