Posted on
Thu, Nov 10, 2011 : 5:50 a.m.
Ann Arbor's Mary Stack shoots for 4th U.S. Paralympics team
By AnnArbor.com Freelance Journalist
Peggy Page
For AnnArbor.com
The varsity weight room at the University of Michigan is a macho place.
The university's Olympic hopefuls—strong, agile young men and women—work out near the pool where Michael Phelps trained and the track immortalized by Jesse Owens' four-world-record day back in the 1930s.
Standing near one of the weight benches is Mary Stack, a short, heavyset woman with a walker.
She smiles a lot, and chats more than her coach likes. "But if I'm too quiet, I do worse," she said.
Then it's time to lift. She sits on the end of the bench, closes her eyes, takes a calming, focusing breaths, lies down and bench presses a routine practice weight of 255 pounds.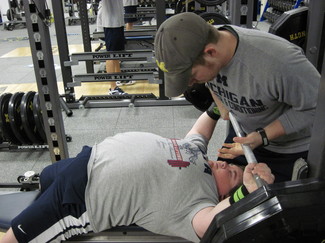 Peggy Page
Stack, 37, stands 4-foot-10 and weighs 220 pounds. Her coach, Bo Sandoval, University of Michigan head strength and conditioning coach for men's lacrosse and men's and women's track and field, says many athletes new to the Michigan weight room are startled to see Stack, especially when they notice her walker.
"And it really motivates them, really is exciting to them to learn she can lift 275 pounds," Sandoval said. "She is exceptional."
Stack, a three-time U.S. Paralympic athlete, took fifth in powerlifting as a member of the U.S. 2000 Paralympic team in Sydney, Australia. Afterward, she made the first of her three visits to the White House with the joint U.S. Paralympic and Olympic teams of 2000, 2004, and 2008.
Stack, who has placed as high as fourth in the 2010 world championships in Kuala Lumpur, Malaysia, has her sights on medaling at the Parapan American Games that begin Saturday in Guadalajara, Mexico. This is her last qualifying meet for the London Games.
The best news? She's getting better.
In July 2010, she lifted 112.5 kilos (248 pounds) when she took fourth in the 82.5 plus (181 pounds and above) heavyweight class in Kuala Lumpur, not bad considering she's only had intermittent coaching throughout her 21-year competitive career.
But after a year of intensive coaching by Sandoval, she lifted 120.0 kilos (265 pounds) and her competition best at the Parapan trials in August.
At Guadalajara, her primary competition is Perla Barcenas of Mexico. Barcenas lifted 125 kilos (275 pounds) at her Parapan qualifying meet. That is Stack's best practice lift, recorded at Michigan.
In Paralympic powerlifting, Stack lifts lying down with her legs strapped to the wider and longer powerlifting bench, instead of the stabilizing advantage of having her feet flat on the floor for traditional bench press. She trains on both benches, due to the limited availability of a powerlifting bench.
Stack, who grew up in Royal Oak, was diagnosed at age 9 with pseudohypoparathyroidism (Martin-Albright syndrome), a genetic disease in which the body makes too much parathyroid hormone.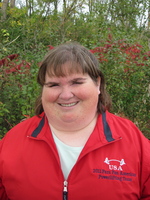 Peggy Page
Side effects can include shortness, a round face, weakness, fatigue, abdominal pain and learning disabilities. That meant Stack needed more time than usual to finish college. She also has mild hearing loss, and a limited sense of taste and diet of foods she can tolerate. She cannot have children.
"My condition goes up and down," said Stack, who on a good day can walk short distances, such as from her kitchen table to the doorway of her living room decorated with a wall collage of Beijing memorabilia. Outside her home, Stack uses a walker for short distances and a manual wheelchair or power chair for longer trips.
"I get sick a lot," Stack said matter-of-factly, the day after a colleague rushed her to the emergency room when she had severe abdominal pain, "but I make it work."
Her hands are shorter and wider than usual, and she's missing a knuckle on her right hand and two knuckles on her left hand, making it more difficult for her to properly grasp the bar when she competes. Sandoval said she has to make a conscious effort to stretch her hands and fingers to fully circle the bar to avoid disqualification.
Stack can only eat bland food, even when she travels to exotic locations. As a result, her post-competition celebratory treat is a McDonald's apple pie with her coach, because she can not only eat it and enjoy it, she said, but she can find them almost anywhere in the world.
One of the side effects of her disease is obesity, and she was taunted by schoolmates growing up "because of my weight, because I couldn't keep up with the other kids, and because I was in special ed," she said. She was usually excused from gym class, because she either couldn't do the activity or didn't have enough endurance to do it.
The problem was she needed to do one activity to pass the class in order to graduate.
"My teacher Dave Potter looked for that one thing I could do, so we tried weightlifting," Stack said.
"He said to me, 'You're a lot stronger than you think.'" He took Stack to a powerlifting competition. She took first with hardly any training. At her first nationals as a high school senior, she took first.
"Then I was hooked," she said. "I wanted to see how much further it could take me.
"Because of my learning disabilities, I was happy to get my associates degree (from Oakland Community College)," she said. After she got that degree, she caught the eye of coaches at Edinboro University in Edinboro, Pa.
Edinboro, which gives athletic scholarships in wheelchair basketball, gave Stack financial assistance to travel and compete in powerlifting.
A small school with small class sizes, Edinboro was perfect for Stack, she said, as was the chance to be on a team with other powerlifters.
By the time Stack graduated in 2005 with a degree in special education, she was well-known in the elite adaptive sports community.
At a wheelchair basketball tournament, she met Glen Ashlock, who was an alternate to the 2004 U.S. Paralympic wheelchair basketball team, a hand-cycle marathoner and director of the sports, arts, and recreation programs at the Ann Arbor Center for Independent Living.
"Glen asked me, 'I hear you're from Michigan. What are you going to do when you graduate?'" Stack said. Ashlock encouraged her to apply for a Vista/Americorps position in the Center for Independent Living recreation program. Stack moved to Ann Arbor and has a permanent job at as sports/I-ride coordinator.
Like many who work at the center, Stack has a flexible schedule. She uses that flexibility to train and compete.
"It really helps that my boss is also an athlete," she said.
Ashlock, a rehabilitation engineer and assistive technology coordinator, says, "It is really easy to make what Mary does part of her job. By competing at this level, she has made so many contacts and learned so much about the newest techniques and training methods. Then she comes back here to help anyone who needs an adaptive workout. She trains and educates everyone here."
At her first Olympics in Sydney, "I was really, really overwhelmed," Stack said. "Customs was crowded. Security was so tight. We had to wait four hours outside the stadium for the opening ceremonies, and there were 10,000 people cheering inside. I'm used to just going from one gym to another gym, competing, and I'm done. But at the Games, I always compete at the end, so I have days of waiting.
"And there was so much more pressure. I'm used to competing for myself, but now I wanted to do well for the U.S, my U.S. teammates and coaches, and for my coaches back home."
Athens was a "hard Games," she said due to collective grief from the death of her coach. But she climbed most of the Acropolis, finishing the steep trek with an elevator installed for the Paralympians.
She qualified for Beijing in two weight classes. Six weeks before her event, she learned she had to lose 35 pounds to compete in the lower weight class.
"It was rough training. I could only eat lettuce and an occasional chicken breast." She made weight, but got really sick when she started eating normally.
But even an elite athlete can plateau. Stack was world class, but not getting better. After the 2010 world championships, she met Sandoval, who began coaching her pro bono.
Sandoval doesn't take much credit for her 17-pound competition bench press improvement.
"The biggest thing we've done is adding structure to her program and helping her learn to peak for competition, so she can hit the optimal weight on a particular date," he said.
"She is very self-driven. It is her goal, her drive. It doesn't come from the outside, so the worry, the anxiety so many athletes have from other people in their lives—their coaches, their parents, their teammates—Mary just doesn't have that. She is so, so focused."
Stack says she has found community among elite athletes with disabilities.
"I am no longer the shy kid in the corner," she said. "I still get teased, but I don't let it bother me. It just doesn't hurt as much now as it once did.
"Oh, I still get stared at. I've been stared at all across the world, but as a Paralympian, school kids come up to you all the time to get your autograph. In Brazil at the Worlds, kids even chased us down for autographs."
Stack said her neighbors don't know she is a paralympian nor do many of the people who visit CIL.
"Even in the disability community, many people don't know what a Paralympian is. It's something I love to do, and I work hard at it," she said, but she isn't going to talk about it. "You have to draw it out of me."
She is considering retiring from competition after London and becoming a coach.
"But I want to go out with a medal. I don't care what medal, but I want that medal. I'm really focused on what I have to do to get it."
Peggy Page is an Ann Arbor-based freelance writer.