Posted on
Tue, Jul 16, 2013 : 5:30 a.m.
Ann Arbor man hopes to introduce new sport, Tri-Federation, to masses
By Kyle Austin
Standing on Ann Arbor's Palmer Field with a foot-and-a-half long torpedo-shaped ball in his hands, Thomas Cieslak kept returning to the same question:
Is there room for another major sport in the United States?
As the new sport development officer of Tri-Federation, he's betting on the answer being yes.
"I would really like to see sport change," Cieslak said. "I wouldn't have come involved in this if I didn't see some hope for change. It's not as if I have a mission to overtake football or basketball, but I would really just like to see something new."
Cieslak, an Ann Arbor resident and Eastern Michigan professor of sport management, is the chief promoter of a seven-year-old sport that's looking to raise its profile in the United States and around the world.
The sport he's selling looks similar to rugby or Australian Rules football while played, but has several distinct characteristics. Foremost is the fact that three teams are facing off simultaneously, all playing against one another.
Each five-person Tri-Federation team defends one-third of a 55-yard circular field, and an 18-inch by six-foot goal just outside of it. Players carry and pass the oblong ball, trying to throw it into another team's goal while avoiding being tackled.
Scoring a goal nets your team a point, and being scored on costs your team one. Teams play three, 30-minute periods of continuous play.
Tri-Federation grew out of a cultural research project in 2006 by Jeremiah Schwartz. Its roots are in bringing cultures together through sport, and breaking down barriers of race, religion and wealth.
"I love the fact that you can simply go out, set up a couple of bags that become goals, and play," Cieslak said.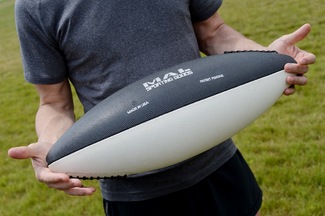 Melanie Maxwell | AnnArbor.com
After being founded in Savannah, Ga., the game was relocated to Shanghai, China, partly because playing fields were easier to come by and equipment was cheaper to manufacture. There, the sport gained in popularity, and the league has hosted the Tri-Federation World Finals for three years.
Cieslak, meanwhile, had returned from several years living abroad, and came back to find American sports lacking.
"There's a lot of timeouts, there's a lot of stoppage in play," Cieslak said.
"I'm beginning to sense many people are somewhat frustrated or bored."
When he found Tri-Federation through its Kickstarter fundraising page earlier this year, Cieslak said he felt he had discovered a sport of the future. He signed on as the league's development officer, and is now charged with helping to bring the sport back to the United States.
So far, that's included setting up office space in Ypsilanti and working with Quack Media of Ann Arbor for a promotional campaign.
Soon, he'll embark on a demonstration tour to introduce the game to youth sports and intramural educators, and begin planning the first-ever Tri-Nationals to be held next year.
Tri-Federation currently has clubs in Georgia, Florida, Connecticut, Colorado. Cieslak is hoping to form a Michigan club, which will likely be based in Washtenaw County.
And he knows he's starting from scratch. In Michigan, only about 20 people have even seen the elongated Tri-Federation ball, Cieslak said. How many more people handle, pass and shoot that ball in the coming years remains to be seen.
"It's not necessarily our objective to produce this multi-million or billion dollar sport," Cieslak said. "I think it's as simple as maybe the same reason James Naismith made basketball. I don't think he foresaw it growing into this global enterprise that was in the Olympics and produced billions of dollars. He simply wanted to add something new so people could enjoy it and be involved with it."
Kyle Austin covers sports for AnnArbor.com. He can be reached at kyleaustin@annarbor.com or 734-623-2535. Follow him on Twitter @KAustin_AA.