Posted on
Tue, Oct 19, 2010 : 8:53 a.m.
As Eastern Michigan players celebrate streak-snapping win, Ron English keeps planning ahead
By Jeff Arnold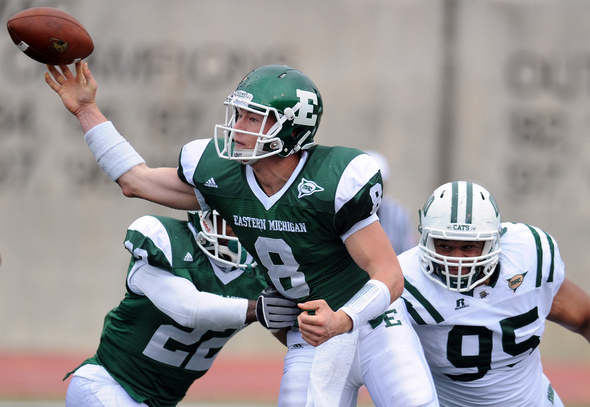 By the time Alex Gillett reached the celebratory pile-up Saturday afternoon, his head was spinning.
With one perfectly timed 12-yard pass into the back of the end zone, the Eastern Michigan sophomore quarterback snapped the nation's second-longest losing streak, delivering the Eagles' first victory in 19 games.
He jumped onto the pile, allowing more than a year's worth of frustration to escape. It would be some time, though, before the full impact of Eastern's 41-38 overtime win over Ball State likely would be felt.
For the first time in his college career, Gillett celebrated a victory that also marked the first win for second-year coach Ron English. Finally, after weeks of repeated pep talks that a win would come sooner than later, the moment had arrived.
"It takes a little while for it to set in and say, 'This really happened for us and we finally got this win that we've been working so hard for,'" Gillett said Monday. "Everyone was out there and everyone's emotions were just on their sleeves.
"I think from the time (tight end) Ben (Thayer) caught the ball until we got home, people were smiling."
Down 21 points, Eastern rallied for its first victory since the final game of the 2009 season. The Eagles, led by Gillett's school-record 189 yards and two touchdowns, scored 28 straight points to force overtime.
Gillett threw for 225 yards and three touchdowns - including the game-winner to tight end Thayer -Â earning the sophomore the Mid-American Conference West Division Player of the Week award as well as being selected as an honorable mention for the national Quarterback of the Week honor.
Throughout this season's 0-6 start, Gillett had seen his team fall behind early like the Eagles did Saturday. But unlike in previous weeks when turnovers and penalties had kept Eastern from overcoming large deficits, Gillett noticed a difference in his teammates' approach.
"You could have easily fallen into the trap of saying, 'Oh, here we go again - another loss,'" Gillett said. "But we were confident in ourselves and I think that's what got us the win."
From the sideline, English had similar feelings. He had gone into the game liking the way his defense had practiced all week. He had seen his offense take strides in the right direction.
Even after the Eagles surrendered a Ball State touchdown with 34 seconds remaining in regulation, English's confidence never wavered. Eastern's defense didn't allow the Cardinals to gain a yard in their overtime possession, forcing them to settle for a field goal.
After the Eagles' first two offensive plays had limited only minimal gains, Eastern needed 12 yards to reach the end zone. Kicker Sean Graham had missed his previous three attempts and English hadn't decided what he would do if offensive coordinator Ken Karcher's play call wasn't successful.
Karcher sent the play in: Fake screen with Thayer running a seam route. The play had gone for a touchdown in the Eagles' opening-night loss to Army and Karcher felt the timing was right to try it again. The play, based largely on timing and trust between quarterback and receiver, proved to be perfect.
"Our offense just felt like, 'Hey, we can score,'" Gillett said. "They hadn't really stopped us lately, and we felt like we can do this."
After the celebration in the end zone, after Gillett and his teammates sprinted to the sideline to sing the fight song before English gathered his team in the locker room, the enormity of the moment hadn't yet been felt.
English stood back and watched his players celebrate. The win, he said Monday, was more gratifying than relieving.
Almost immediately, English's phone began buzzing as the congratulatory text messages began to pour in. But as much as his players enjoyed the moment, English realized it was just one step in the right direction.
Eastern (1-6) travels to Virginia (2-4) Saturday night. For English, who was doused with Gatorade by his players in the locker room following his first win, the preparation work began Sunday,
"I was happy (with the win). Don't get me wrong, I was happy," English said. "But it's sad because you can never really enjoy it because you have to get onto to the next game. It's sad because you should enjoy the wins more, but you don't because you're trying to win the next game."
Jeff Arnold covers sports for AnnArbor.com and can be reached at (734) 623-2554 or by e-mail at jeffarnold@annarbor.com. Follow him on Twitter @jeffreyparnold.