Posted on
Sun, Jul 4, 2010 : 6 a.m.
Austin Watson makes sacrifices to follow his hockey dreams from Ann Arbor to NHL
By Jeff Arnold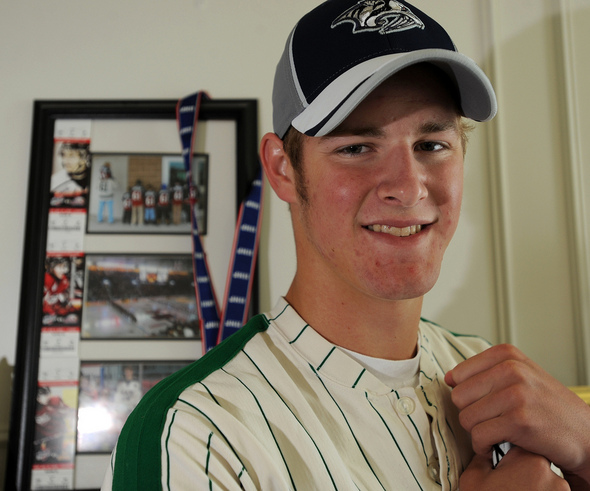 On the biggest night of her son's hockey lifetime, Mary Watson was in mom mode.
There were seating assignments to arrange, change and then change again, a crying baby to tend to, shirttails to tuck in, and a never-ending stream of bathroom and water break requests.
The chaos, though, had a calming effect, keeping the pregnant mother of nine from obsessing about when her oldest son's name would flash across the large video board in front of her and where the game that had torn their family in two would take him now.
Farther down Row 3 of the Staples Center floor seating, Austin Watson, an 18-year-old forward and Ann Arbor native, soaked in everything the brightly lit environment had to offer. He arrived in Los Angeles on June 23, two days before the NHL Draft and spent the majority of his stay interviewing with team officials and tackling media requests.
Dressed in a new suit and surrounded by the parents and eight siblings, Austin waited. It would be the payoff for the heart-wrenching decision he made six years earlier to stay in Michigan when his family moved to Florida.
When he was 12 years old.
The Watson family makes a tough decision
Like many other pre-adolescent junior hockey players, Austin Watson was prepared to make the jump to the next level. His father, Mike, had been there every step, carting his son to early-morning practices and spending his weekends at rinks.
Austin had developed into a skillful skater with a keen eye for scoring and an impeccable sense of timing - a combination Mike knew could propel Austin into the professional ranks.
But still, the kid was just 12.
Mike also realized Michigan's struggling economy wasn't doing his growing family any favors. He hated the thought of leaving Ann Arbor, a city where he had grown up, gone to school and met his wife. As much as he wanted to fight and ride out the tough times, staying could also mean watching everything he had worked so hard for crumble.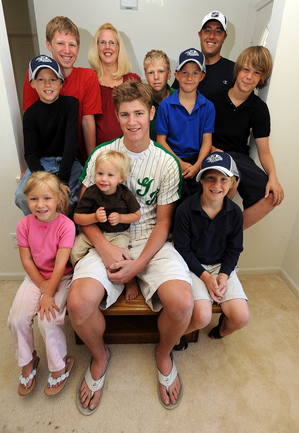 He had a job offer in Florida, promising a new life and opportunities. Accepting it would mean uprooting his family, moving half a country away and asking Austin to walk away from hockey.
He and Mary, whom he had known since he was 12, discussed the options for days. They struggled with the idea of leaving their son behind. As tough as it seemed though, how could they as parents who wanted the best for their oldest, in good conscience ask him to give up something he loved?
On his way to get settled in Florida, Mike decided he'd leave the choice up to Austin. If he stayed behind, he'd live with his grandparents and would have to keep his grades up and remain dedicated to putting the work in with hockey. Austin would travel to Florida when he could, fitting family time into what was already a suffocating hockey schedule.
Like his parents, Austin didn't like the notion of not being around his family on a full-time basis. But for a kid accustomed to having grown-up responsibilities in helping raise his younger siblings, he understood that if he stuck with hockey, it could take him places.
"At 12 years old, you're not trying to determine a career, but I guess that's what happened," Austin said last week. "Most kids can't decide if they want to leave home for college at 18, and at 12, I was making a decision to stay home when my parents were going to Florida.
"It was a big decision, but it's something I felt I had to do."
Mike spent two weeks in Florida preparing to move his family to a location he feared would be permanent. Mike's parents weren't convinced leaving Austin in Michigan was a good plan. His father told him had no right breaking up his family. Not for a game. Mike didn't want to be disrespectful, but he stood firm.
"OK - here are my options," Mike told his father. "I can break up the family for a game temporarily for a game or I could not break up the family, bring a 12-soon-to-be-13-year-old down, tear up his dreams and have him walk around my house, furious at me, angry because he's in Florida and his little brothers are going to look up to and emulate this ball of hatred."
It was the last time Mike and his father discussed hockey.
Austin on his own
For the next five years, the Watsons remained in Florida splitting time between Vero Beach and Cape Coral. Austin visited when he could, spending holidays and summers in the South. The separation was tough at times as Austin struggled with growing up without a family to chase a hockey dream he had no guarantees would pan out.
"It was a significant life-changing event. He had to grow up. He had to take care of himself," Mike said. "He didn't have the protection of his dad there, he didn't have the comfort of his mom there.
"You grow up almost instantly. There were times when he was family sick and we'd talk and I told him, 'This is the sacrifice you said you were willing to make. You have to keep making it. There's no quit.' He never really wanted to quit. He just missed his family."
Over four years, Austin remained on the move, attending four schools, starting at Detroit Catholic Central before moving to Father Gabriel Richard in Ann Arbor for his sophomore year. He finished his academic career in Canada, first just across the border after being drafted by the Windsor Spitfires of the Ontario Hockey League before spending his senior year in Peterborough, Ontario, some 78 miles northeast of Toronto after being traded to the OHL franchise there.
On the ice, Austin flourished. In 20 regular-season games with Windsor, Watson scored 10 goals and had 19 assists, helping the Spitfires to their first Memorial Cup championship. Despite his productivity, Windsor team officials thought it best they ship Watson elsewhere, pending the approval of the teenager who had a no-trade clause in his contract.
Watson agreed, joining the Peterborough Petes last season, registering 20 points in 10 games before being sidelined with an injury. Despite the setback, Watson had proven himself to NHL teams and was one of the top-rated forwards in last month's draft.
Just as Austin was beginning his professional career, his family's scenery was changing. After five years in Florida, Mike knew it was time to come. He accepted a job working as an overhead crane operator for a company in Monroe.
First in Windsor and then in Peterborough, the Watsons loaded up in their 2000 Chevy Express 15-passenger van with 300,000 miles and travel to games whenever they could. They'd arrive at the rink in matching jerseys, becoming popular among Austin's teammates while giving the younger Watsons a window into their brother's hockey universe.
The Watson siblings became regulars in the dressing room, showering Austin's teammates with attention like no other family could. After years of having little contact with his family, Austin was reaping the rewards of being reconnected with the support system that had withstood the long-distance relationship.
"It was great having them around," Austin said. "Everyone knew who they were because no one else had nine kids coming to the rink. At first, (my teammates) wondered what it was like to have that many siblings, but after a while, it became, 'Hey - there are the Watsons.'"
NHL Draft is a family outing
Now, together in Los Angeles, the Watsons eagerly awaited Austin's draft moment. Mary tended to the kids while Mike explained to 4-year-old daughter Maggie what logos belonged to each team. Austin's other siblings - ranging in age from 19 months to 15-years- marveled at the way that the stage lighting changed to represent which team was picking next. With the boys dressed in matching vests and Maggie wearing a dress similar to Mary's, draft night was a family bonding experience.
"It was exciting for all of us," Austin said. "They were so instrumental in getting me to this point in my career and (the draft) wouldn't have the same without them."
Just more than two hours into the nationally televised prime time event, Austin's 10-year-old brother, Kolbe, nudged him.
"I know where you're going," Kolbe said.
"Whatever," Austin replied, laughing off his younger sibling's premonition.
"No, I know who is picking you. You're going to Nashville," Kolbe insisted.
Again, Austin smirked, unaware that Kolbe had watched a graphics programmer type Austin's name into a computer as the first-round pick of the Nashville Predators. That's where Austin landed, the 18th overall selection.
Within a few minutes, Austin had hugged each of his family members, needing extra time get to the stage to slip into a Predators sweater and cap. His body wouldn't stop shaking, caught up in the excitement. As much as he had tried to visualize everything that was happening, it was all becoming a blur.
He was met on stage by NHL commissioner Gary Bettman. Camera flashes were going off and interviews needed to be completed.
"It was pretty surreal," Watson said. "It was like I was floating."
So much had happened over the past six years. His hockey journey had taken him from Ann Arbor to Windsor and from Windsor to Peterborough. It had been a road he had traveled primarily on his own, a move that caused family and friends to question his parents, but one that had ultimately worked out for the best.
"It's definitely tough, but those are those are the little sacrifices you have to make to achieve your goals sometimes," Austin said. "It was a decision not to many kids are forced to make, but for me to be able to stand and make my own decision shows (my siblings) they need to be independent and they need to do what they want to do with their lives no matter what happens."
On Monday, Austin will leave for a weeklong NHL Developmental camp in Nashville. A series of workouts and training camp will determine whether he'll make the Predators regular-season roster or if he'll return to Peterborough for a second season with the Petes.
As much as he would like to join the Predators, Watson realizes he'll need to make adjustments before he's NHL-ready. He's content to play within his limits while adjusting to a faster game and more talented teammates, understanding that trying to do too much can often have dire circumstances.
"There's not a whole lot of pressure on me - no one is expecting an 18-year-old kid to make the team anyway," he said. "But that's the dream of anyone that gets drafted - to play in the NHL the next year and I'm going to do everything in my power to make that happen."
The coming weeks will also be one of change for the Watsons as well. Mary is due on July 23 when she and Mike will welcome their 10th child - and ninth son. Yet, for all the craziness that motherhood and life away from Austin have brought, Mary cherishes it all.
She spent the hours before Austin's selection picturing various NHL destinations, justifying each possible landing spot in her head. And in that moment when Austin's name was announced, Mary found herself not only caught up in the moment, but also in everything that had gone in getting Mike and their family her family to that point in Los Angeles.
"You make decisions, and you do the best you can," Mary said. "Sometimes they pay off and sometimes they don't. But most things don't happen without some sort of sacrifice, and so it's nice to see his dreams coming into fruition after everything we've all done.
"It was amazing."
Jeff Arnold covers Michigan hockey for AnnArbor.com. He can be reached at jeffarnold@annarbor.com or 734-623-2554. Follow him at Twitter @jeffreyparnold.