Posted on
Wed, Sep 22, 2010 : 6:10 p.m.
Australian-born punter Jay Karutz adjust to new life getting his kicks with Eastern Michigan football team
By Jeff Arnold
Jay Karutz's life was moving along just fine without football.
He was enrolled as medical student after spending several years working full-time as a production manager for a local events company. He had plenty of friends and kept active by playing Australian rules football and running track while dabbling in cricket and rugby.
Karutz had no idea that within a matter of months his punting abilities would gain the attention of a United States-based skills camp and that he would leave his native Australia behind for a full-ride scholarship at Eastern Michigan and a chance at the NFL.
All he had to do was completely change the ways he did things.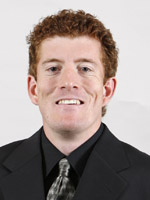 Last summer, Karutz was invited to attend a Kohl's Kicking national scholarship camp in Wisconsin. Organizers told the then 23-year-old that if he finished the three-day event ranked high enough he could land a college scholarship, which, in turn, could put him on the radar of NFL scouts.
Karutz wasn't sure it was for him. He had attended an NFL exhibition game as a teenager in Sydney and wasn't sure what to make of American football. He grew up playing rugby and Australian rules football, earning the reputation as a fleet-footed performer with a powerful leg.
At the time, though, he had turned his competitive attention to track, spending his weekends with a local running club. But there was something about the offer to come to the states and compete at the college level that intrigued him.
"I figured I might as well take a crack at it rather than thinking 10 years down the track we should have taken the crack," Kartuz said Tuesday.
Taking a shot at an American scholarship meant meaning putting his life on hold. Karutz spent two years at MacQuarie University in Sydney, where he was studying medical science. He had also watched Australian-born Arizona Cardinals punter Ben Graham struggle in the Super Bowl, averaging 40 yards per kick, giving Karutz motivation he could be successful in the states.
Over the next five weeks, Karutz learned an American style of punting. Rather than holding the ball vertically and close to his body as he did in Australia, Karutz learned to drop the ball horizontally, before using his leg power to send the ball downfield.
The work paid off. After finishing 12th, second and 12th in three sessions at the Kohl's scholarship camp, Karutz was ranked 14th nationally. Suddenly the $4,000 investment Karutz and his father, Haydn, had made in getting him to the states paid off as he returned home to find e-mails from Eastern Michigan, Ohio State and Middle Tennessee waiting for him.
But the process, much like the style of punting he had learned quickly, was a foreign concept.
"You would have some coaches and they were excited and you think, 'OK, this sounds good, they want to recruit me,'" Karutz said. "Then, you don't hear from them for like four months and you keep sending them e-mails and you're wondering what's going on."
By December, 20 schools expressed interest in Karutz's punting abilities. Without knowing anything about official visits or how recruiting worked, Karutz sent e-mails to all of his suitors to gauge how interested they really were. By the end, six schools - Arizona, Ohio State, Ohio, Eastern Michigan, Middle Tennessee and New Hampshire - remained in the running.
In late January, Karutz planned a trip, spending his own money to travel to Los Angeles before driving cross-country to visit each of his six potential schools. By signing day, Arizona, Ohio State and Middle Tennessee were offering Karutz preferred walk-on status, leaving Eastern Michigan, Ohio and New Hampshire as the only remaining candidates willing to provide a scholarship.
The New Hampshire offer wasn't a full-ride and wouldn't allow Karutz to kick at the Division 1-A level. Ohio liked Karutz's potential, but wouldn't promise him a scholarship until they saw what he could do during training camp.
Suddenly, Eastern Michigan stood alone, giving the 6-foot-2, 200-pound punter a chance at not only a paid education, but the starting punter's job. Karutz was sold.
Karutz arrived in Ypsilanti and immediately found a world of difference. Rather than a laid-back conditioning program he was used to, Karutz found himself in a "militaristic" system in which reps were counted out and which energetic conditioning coaches used clapping as a way of keeping pace.
Over time, he adjusted, finding his way among his new American teammates. He has also established himself on the field. After punting once in a 31-27 loss to Army, Karutz was named the Mid-American Conference's West Division Special Teams Player of the Week after averaging 49.6 yards per punt against Miami, twice landing punts inside the 1-yard line.
But even success is measured differently. In Australia, players were ranked based on how many kicks they had and how much influence they had on the game. In addition, players were ranked in how many hand balls (passes) they had, how many marks (catches) they had, how many goals they kicked, how many behinds (near-misses) they kicked as well as tackles.
Heading into Saturday's stiff road test at No. 2 Ohio State, Karutz is averaging 44.1 yards per punt with a long effort of 56 yards. He has had two punts travel more than 50 yards, has landed six kicks inside the 20-yard line and has yet to have a punt returned for positive yards.
But for Karutz, it's not about the statistics, but instead the opportunity that up until late last year, he never dreamed possible.
"Pretty much every day, there's something new that pops up that keeps you guessing, 'Why am I here' or 'How did this happen?'" he said. "But the longer you're here, the more like you feel like you fit in and you know where to go for things, and I'm just happy to be here. I'm really enjoying it."
Tough task Eastern Michigan coach Ron English said his team is struggling to eliminate mistakes. Twice in last weekend's 52-14 loss against Central Michigan, the Eagles had the chance to get within a touchdown before mental errors cost them. English is well aware what challenges await Eastern on Saturday at Ohio State and is concerned about what what kind of affect playing against the favorites to win the Big Ten could have on his team.
English said he will use last year's experience of going into Michigan Stadium to face the Wolverines as a starting-off point. Eastern (0-3) will enter the game as a 44 1/2-point underdog.
"I was a little worried about them, but they came out to play," English said. "But in the beginning, I think Ohio State is a little different animal because (the fans) are interested every time I have gone in there. If they are interested, I think it's a little nastier and I think those fans are a little more ruthless than Michigan fans."
No change at quarterback English said sophomore Alex Gillett remains his starting quarterback even though back-up Devontae Payne saw significant time against Central Michigan. Payne was 13-of-24 passing for 134 yards against the Chippewas while Gillett finished with 148 yards and a touchdown, completing 12 of 20 passes.
"We think Payne is going to be a good player, and we want to play him when the game's in the balance a little bit," English said. "We love Alex Gillett, too, but we just think we need to develop Devontae a little bit. You know how football is - you have to have a back-up quarterback at the college level."
Jeff Arnold covers sports for AnnArbor.com and can be reached at (734) 623-2554 or by e-mail at jeffarnold@annarbor.com. Follow him on Twitter @jeffreyparnold.