Posted on
Mon, Oct 31, 2011 : 9:44 a.m.
Bad boys? Lions (now 6-2) say they just want to win
By AnnArbor.com Staff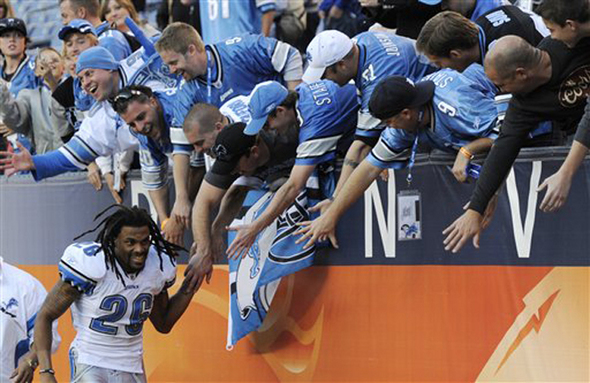 Associated Press
The Detroit Lions went to Denver on Sunday playing the part of the "Bad boys" in a game NFL.com termed "Good vs. Evil," as the penalty-prone Lions took on Tim Tebow and the Broncos.
The Lions left Denver with a satisfying 45-10 victory, and felt it answered some of their critics, too.
"Evil prevails and hopefully we are going to continue to keep it that way if that's (how) they want to perceive us," Lions defensive tackle Ndamukong Suh said. "For me, personally, it means nothing to me. I'm going to continue to be me. I know who I am. I'm not an evil person."
Sunday, the Lions drew attention more for their play than their reputation. Quarterback Matthew Stafford went 21-of-30 passing for 267 yards and three touchdowns. The defense limited Tebow to an 18-of-39 passing for 172 yards and he fumbled three times.
DETROIT LIONS

HIGHLIGHTS OF THE LIONS' VICTORY AGAINST DENVER
Highlights: DET/DEN
FOX SPORTS ANALYSIS OF TIM TEBOW
Online OT: DET/DEN
DETROIT RED WINGS

DETROIT TIGERS