Posted on
Thu, Aug 16, 2012 : 8:39 p.m.
Basketball coach Rob Murphy will remain at Eastern Michigan
By Rich Rezler
The Eastern Michigan athletic department announced Thursday evening that Rob Murphy will remain its men's basketball coach, ending speculation that he was leaving after one season for a position with the Orlando Magic.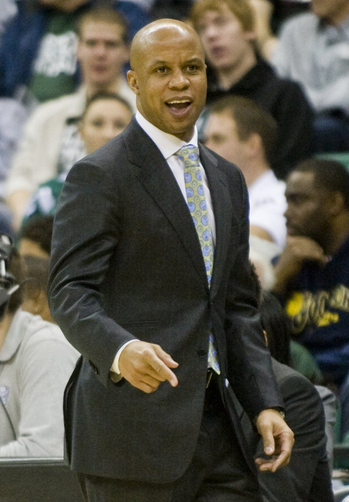 AnnArbor.com file photo
Murphy
released the following statement
through the university:
"I would like to end the speculation about my leaving Eastern Michigan University. I am pleased to confirm that I am remaining at EMU as the head coach of the men's basketball program. Our Athletic Director, Dr. Derrick Gragg, has worked diligently with me to insure that we are continuing on the path of building a strong foundation for our basketball program. I am extremely grateful for the opportunity which EMU has provided me and my family and very appreciative of the unwavering support of our Board of Regents, students, fans and community. I am eager to return the focus of discussion to the tasks at hand: graduating our student-athletes, building our basketball program and representing the EMU community in a manner which will evoke both pride and passion for our university. Our team and coaching staff are tirelessly preparing to begin the academic year along with the coming basketball season. Moving forward this will be our focus.

"It is true that I had an opportunity to join the Orlando Magic. Representatives of the Magic were both professional in their approach and respectful of our situation at EMU. I am very appreciative of the opportunity to have spoken with them and would like to publicly thank them for their professionalism and interest. They have a great franchise with a tremendous staff in place, and I wish them nothing but the best.

"Most importantly, I must thank my staff and players during this time. Despite several inaccurate media reports our student-athletes have remained focused and positive. They have exhibited a maturity that their parents, EMU and the community should be proud of. My staff has continued to exhibit an unwavering work ethic, professionalism and commitment to EMU. To each of them, I say "Thank You." Moving forward, I would ask that we all return our attention to the future. There is much to be excited about as we begin this upcoming school year."
Multiple media outlets reported
on Tuesday that Murphy was leaving the school to take an advanced scout position with the Magic.
According to Murphy's contract, he would have owed the university $210,000 — the equivalent to one year's pay — if he had terminated the agreement "without cause" prior to the completion of his five-year deal.
Murphy became just the fourth Mid-American Conference coach to lead his team to a division title in his first year as head coach. He was also named the MAC Coach of the Year after a 14-18 season ended with a first-round MAC Tournament loss to Northern Illinois.
"When you have success in athletics, like Rob Murphy had in his very first season as the men's basketball coach, you gain national attention and sometimes there are other job opportunities presented to you," Gragg said in a statement. "After discussing the situation with Rob, we both felt that he could continue to grow and build the EMU program and this was not the right time to move on in his professional career."