Posted on
Fri, Aug 20, 2010 : 10:33 p.m.
Beautiful new U-M Soccer Complex opens with 3-1 Wolverines win
By Andrew Reid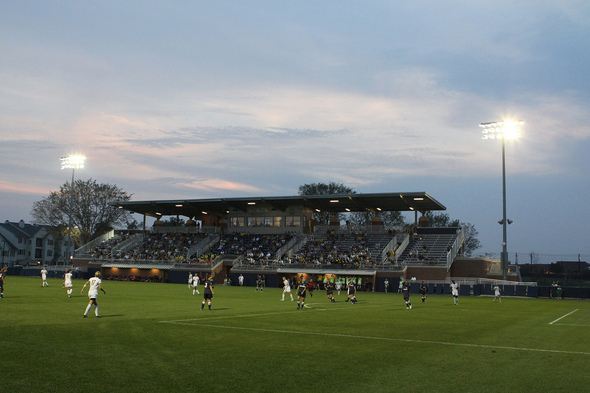 Walking down the dirt-and-gravel pathway that leads to the Michigan soccer program's brand-new, state-of-the-art U-M Soccer Complex, it's clear that the facilities aren't quite finished. There's some brick work missing from the tall structure, not all the landscaping is laid out and the pressbox is missing some appliances.
But, even without the small finishing touches, when you come around the bend, the first glimpse of the new stadium is impressive. It's hard to imagine a small, non-revenue sport mustering the necessary excitement, funding and support for a construction job like this. But after years of hard work, there it was.
"We now have one of the top three or four college soccer stadiums in the country," women's coach Greg Ryan said. "For recruiting, you can bring the top prospects in from around the country, and they will have never seen anything like this. … Even this 2010 class, when they came to visit, all this was just three fields of dirt and frogs in the swamp.
"I want to compliment the architects, the designers, the engineers, the athletic department. Everyone who put in the work on this."
And on Friday night, the Wolverines christened the U-M Soccer Complex in the best possible way: a 3-1 come-from-behind win against Detroit Mercy.
After the Wolverines went into halftime down 1-0, freshman Tori McCombs notched two goals — and came within inches of a hat-trick — to put her team up for good.
"It felt absolutely amazing (to score the first goal in the new stadium)," McCombs said. "But it was really a team effort. ... When a team is surrounded by an atmosphere like this, it just boosts your confidence and everything."
About 750 people were in the grandstands for Friday night's first game in the stadium, which is well above the average crowd the Wolverines had last season.
"It's just a beautiful stadium," said Paul Rogind of Keego Harbor. "Just being able to see — it's built high up, so you can really see the whole field. … I think it can do nothing but help the program."
Rogind came up to see the game because his niece, Kelsey is a junior midfielder.
Along with the fans, the troop of drummers who have appeared at men's games for the last couple of seasons sat in the first few rows at midfield, playing cheery beats throughout the game.
The drummers even learned the cowbell "Go Blue" chant, popularized at Michigan football games, which really got the crowd riled up.
"The fans and the drums, they just added so much to the experience," senior Jackie Carron said. "
The men's team will play its first game in the U-M Soccer Complex at 1 p.m. Saturday, hosting West Virginia.