Posted on
Tue, Dec 25, 2012 : 5:59 a.m.
Best and worst sports moments in non-sports movies
By Pete Cunningham
Merry Christmas everyone!
If your family is anything like mine, family gatherings during the holidays means watching an insane amount of movies. And movies, be they sports-themed or not, always seem to include some element of sports.
With this in mind and in celebration of the holiday season and all the movie watching that comes along with it, I thought I'd share with you some of the best and worst sports moments in cinematic history.
But like I said, sports has at least a small part in practically every movie, so I have broken down the list into the following three categories and three articles:
Best and worst sports scenes in non-sports movies. (Today)
Best and worst non-sports scenes in sports movies. (Later this week)
Best and worst sports scenes in sports movies. (New Year's Day)
This debate is very much a subjective matter so I invite one and all to weigh-in in the comments section below or in an email to me, and there's only one rule: You have to have seen the entire movie you're referencing to include it on your list.
For example, I'm sure the movie Ed (about a monkey who somehow makes a professional baseball team) has some of the worst sports scenes in sports movie history, but since I've never seen the movie, I can't say when that lovable little primate turns a double-play to clinch the pennant — or whatever other ridiculous things happen to go on in that movie — is the worst sports scene in a sports movie, although I'm sure you could make a case for it.
Without further adieu, here's the first installment of these lists with the best and worst sports scenes in non-sports movies, in my humble opinion.
Top 5: Worst sports scenes in non-sports movies
5. Top Gun beach volleyball scene.
I love a good game of beach volleyball as much as the next guy, and there's no doubt Top Gun stands the test of time as one of the great "Bro" flicks of all time, but this scene is terrible on so many levels that I can't overlook it regardless of the overall merit of the movie.
First of all Maverick — a.k.a Tom Cruise — is 5-foot-7-inches. I'm not saying Maverick can't be a great volleyball player, he is a top-notch Naval fighter pilot after all and I'm sure has some athletic chops, but skying above the net for spikes? C'mon man. The net is clearly pulled down every time it's time for a Maverick spike.
Being 5"7' myself, I won't dwell on the height because there's so many other things wrong with this scene, particularly how much it doesn't fit Maverick's character in the slightest.
For the other 105 minutes of this movie we are led to believe Maverick's soul purpose in life is to prove his supremacy to his fellow alpha males in absolutely everything, but as soon as he steps on the beach volleyball court his actions are completely counter to that notion.
He plays the entire match in skintight jeans while everyone else is in shorts or sweats, a clear competitive disadvantage, and he's constantly checking his watch to see what time it is instead of focusing on crushing Ice Man. Get your head in the game, Maverick.
In the end Maverick leaves the match early to go meet up with his romantic interest despite the fact that the score is tied against his arch rival, and against the pleadings of the greatest wingman of all time, Goose?
Again, completely counter to everything we know and love about Maverick.
4. Breakaway save in Sudden Death.
There are a plethora of ridiculous elements to Sudden Death, as is the case in most Jean-Claude Van Damme movies, but the sports angles are particularly foolish.
First of all, this multi-faceted, highly complex terrorist plot to kidnap the vice president of the United States is all hinged on him being at Pittsburgh's Civic Arena for Game 7 of the Stanley Cup Finals? What if the series had ended in Game 5 in Chicago earlier in the week?
"Well guys, it was a good plan and I really thought the U.S. government was going to fork over $1.7 billion to us," said the terrorist. "But, it was really the Blackhawks' year, so I guess it's back to the drawing board!"
Of course Eddie "The Eagle" Belfour isn't the only one who can kick save the vice president, there's security guard Darren McCord (Van Damme). McCord not only goes about killing roughly 20 bad guys throughout the packed arena without disrupting the flow of the game, he somehow manages to suit up in place of the Penguins' backup goaltender and makes his way to the bench.
The ridiculousness comes to a head when McCord is inserted into the game and makes a save against an NHL player on a breakaway.
And the Oscar goes to...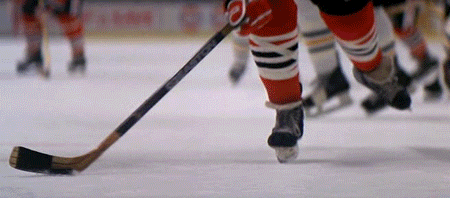 3. Lacrosse state final scene from American Pie.
Shout out to my younger brother for remembering this scene and how horrible it is. I think I blanked it out of my memory.
The clip above may confuse you because there is no sport actually being played, which is exactly why it's included on the list.
Chris Klein's character in American Pie, Oz, in the middle of the Michigan lacrosse state championship game decides to ditch his team so he can participate in a choir concert with his flavor-of-the-month high school girlfriend, Heather (Mena Suvari).
Earlier in the movie we're led to believe Oz is an all-state caliber player with possible aspirations of playing at Michigan State and all of a sudden he's ditching his team in the state finals to do a doo-wop with a young temptress?
No way.
An oversight by the filmmaker is not having a scene where Stifler un-invites Oz to his post-prom party for sissing out on the team at the state finals and/or punching him in the face for doing so.
2. Simon Birch baseball scene.
I'm going to try and keep this list as lighhearted as possible, but there is no ignoring the most heart-wrenching and horrible sports scene in non-sports movie history.
Simon Birch, a child with a disability and heart of gold, gets stepped on at every turn in his life and really the only break he ever seems to catch is the fact that he has a great best friend whose mother happens to be the most beautiful woman in town in every sense of the word.
Simon's life takes yet another turn for the worse when he takes his first-ever swing of a baseball bat in a game and hits a flyball that kills his best friend's mom. As if that's not sad enough, the scene ends with Simon crying and yelling "I'm sorry," up to heaven while still in uniform.
I'm going to stop before my tears cause my computer to crash.
1. Baseball scene from Twilight.
If you recall from the rules, in order for a scene to qualify, I must have seen the movie in its entirety. The second worst part about making this list is admitting I've seen the first Twilight movie.
The worst part is rewatching this scene.
The vampires in this rural pacific northwest town love two things apparently: the smell of human blood and baseball. Of course because of their superhuman strength the only time they can ever play baseball is during a storm, when the thunderous crack of their bats is masked by actual thunder.
But the vampires aren't using special bats and balls to combat their superhuman strength, so in actuality, the bat hitting the ball will make the same noise it makes when Barry Bonds connects (insert steroid joke here).
Of course the vampires hit the ball further than imaginiable because of their super strength, but that doesn't really matter because the vampires in the outfield can run and catch everything because they're super strong and super fast as well (insert second steroid joke here).
There is no home run fence in the field the vampires play in, so unless the vampires start playing small ball, all you're going to have is a bunch of long pop-flies. Not to mention that if the vampires really are throwing the ball faster than imaginable and hitting it harder than imaginable, then the bats and balls aren't going to last more than one at-bat (insert final steroid joke here).
For those reasons and many more, it is an insufferable scene during an insufferable movie.
Honorable mention:
Top 5: Best sports scenes in non-sports movies
5. Opening scene to the last boy scout
The opening scene in the Last Boy Scout proves how subjective this list is. I've talked to others who have this very scene atop their worst sports scene in a non-sports movie list and also who think this movie is one of the worst ever made.
For whatever reason, though, I love this movie and this scene. Does the fact that Billy Cole decides to shoot up the entire opposition and himself before at least trying to win the game legitimately and stay in good graces with the mob make any sense? No.
But then again, does it really need to?
4. Wrestling scene is Rushmore.
Because I enjoy the sport of wrestling there are definitely more wrestling sports scenes on my various lists than an average movie buff.
I am someone who loves the sport, but also recognizes that some people absolutely deplore it -- including many of the parents out there who are forced to watch wrestling simply because their children are participants. This is why it is hilarious to see Herman Blume's (Bill Murray) utter disdain for the sport in Rushmore as I imagine my parents felt when I first started.
This is then followed by Max Fischer's (Jason Schwartzman) enthusiasm for being an alternate on the team despite the fact that he is about to get pummeled, which is no doubt a regular occurrence.
The humor is in the subtlety.
3. Forrest Gump ping pong scene
It's fair to say Tom Hanks' title character in Forest Gump is one of the best athletes in movie history. Of all Gump's athletic achievements throughout the movie, his exploits as a ping pong star are his most spectacular.
All-American for the University of Alabama? There's a handful of those every year.
Running across the country umpteen times? You read about a new whacko doing that all the time
But to compete with the Chinese on international stage in the arena of ping pong, as Forest so elquently puts it, hadn't been done by in "a million years or something like that."
And watching the scenes it actually looks like Tom Hanks is doing the ping pong tricks and competing with the Chinese.
2. Rod Tidwell touchdown in Jerry Maguire
Let me first preface this by stating Jerry Maguire is not a sports movie in my opinion. It's a love/coming of age story in which sports is a major theme, but I wouldn't classify it as a sports movie.
But beyond that, there's no debating the mastery of this scene. First of all, the football clip is very brief and by doing such it is not painfully obvious that the Rod Tidwell, or rather Cuba Gooding Jr., is not in fact an NFL player. Most movies that try to make actors look like pro athletes for extended periods of time in a film fail miserably.
But beyond the catch, there's the family waiting at home as Tidwell lies lifeless on the field, there's the palpable uncertainty of Maguire and Tidwell's careers hanging in the balance and then Tidwell wakes up and goes nuts in spectacular fashion. And I love me a good touchdown celebration.
Don't tell me this scene doesn't bring tears to your eyes. In Rod we trust!
1. Jesus Quintana bowling scene from the Big Lebowski
Warning: Clip includes offensive language.
There are so many great characters, lines and scenes in the Big Lebowski, but it's hard to think of any moment greater than the introduction of Jesus Quintana (John Turturro): the pedophile bowler with a wardrobe as questionable as his morals.
This scene ties together all the fantastic elements of this story -- from Walter's (John Goodman) insanity, down to the overall obsession with the bowling league -- much like the Dude's sullied rug so eloquently tied the room in his apartment together.
Be sure to share your list with me and also chime in on the other rankings soon to come: best and worst non-sports scenes in sports movies, and best and worst sports scenes in sports movies.
Pete Cunningham covers sports for AnnArbor.com. Contact him at petercunningham@annarbor.com. Follow him on Twitter @petcunningham.