Posted on
Sat, Dec 11, 2010 : 9:07 p.m.
Big Chill at the Big House attracts Guinness Book representative, record crowd makes an impression and more
By Jeff Arnold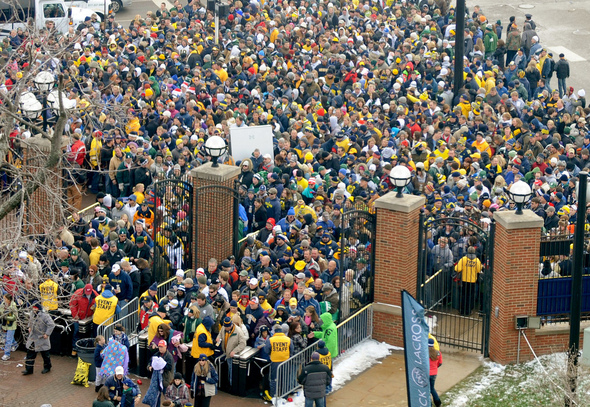 Angela J. Cesere | AnnArbor.com
Mike Janela has seen a lot of Guinness World Records attempts during his time as a New York-based adjudicator for the record company.
He verified the largest serving of roast pork in Mexico and the highest tightrope crossing on a bicycle. He was at Michigan Stadium on Saturday, too, to verify the largest crowd to witness a hockey game.
Michigan's announced total at the Big Chill at the Big House was 113,411. That's still unofficial according to Guinness World Records standards. But when the organization announces the official number in the future, it'll still smash the previous record of 77,803 set in May at Veletnis Stadium in Germany.
It also set a record for the biggest crowd to witness a sporting event inside the 83-year-old Big House.
The reason for the discrepancy comes because of Guinness counts differently than Michigan counts. The school counts players, media and others at the game to work. Guinness doesn't count any of those people.
"It's a combination of scans with the barcodes on tickets," Janela said, explaining how Guinness reaches its number. "It's not for tickets sold but for people who actually show up. People who weren't ticketed, marching band for instance, or people who were given special passes."
Media and players, he said, do not count in the numbers because they are not actually spectators of the game.
This record, though, was fairly conventional for the former sports reporter and he seemed pretty excited to be in Ann Arbor.
"It's unique," Janela said. "It's unbelievable. I've always wanted to come to the Big House. I never thought it would be for a hockey game. This is an awesome way to be here."
Striking a pose
All week, Michigan players contemplated how they would celebrate if they managed to score one of the first goals ever scored inside Michigan Stadium. Goalie Shawn Hunwick said he wanted to see his teammates take a knee, like Wolverines' quarterback Denard Robinson does after scoring a touchdown.
In last year's Camp Randall Classic at Wisconsin, the Badgers' Brendan Smith struck the Heisman pose after scoring against the Wolverines.
Carl Hagelin, who scored two goals and added an assist, said he entered the game with no plan.
"You can't think too much about celebration before a game because, obviously, you're not going to score when that happens," Hagelin said.
So after four Michigan goals Saturday without celebration, David Wohlberg turned toward the goalpost and swung his foot like he was kicking an extra point.
"It was a pretty funny celebration," Hagelin said.
The humor was short-lived.
The referee skated over to the Wolverines' bench and issued a warning, saying if he saw anything more like it, Michigan would be penalized. Michigan State coach Rick Comley called the display uncalled for.
Filling the seats In 27 years at Michigan, Berenson has seen Michigan Stadium fill up plenty of times. It was a phenomenon the former Michigan star never experienced during his playing career with the Wolverines in the early 1960s.
When Saturday's attendance was announced, making the largest crowd in Michigan Stadium history, even Berenson was taken aback.
The 13,411 surpassed the stadium record of 113,090 set during the stadium's rededication when Michigan's football team opened the season against Connecticut.
"I don't know where they found all the new seats," Berenson said. "It wasn't like they put bleachers down on the field, but now they know they're there, so that's good. I'm sure with (the football team's) best moments against Notre Dame or Ohio State, I'm sure they could sell those seats now."
Making a good impression Among those in attendance Saturday was CCHA commissioner Tom Anastos, who said he was impressed with a day that closed with a six-minute fireworks display set to Motown music from the soundtrack of the 1983 movie, "The Big Chill."
"It was a spectacular event," Anastos said after the post-game display ended. "It's kind of hard to put into words. To see a crowd of this size to come to a college game is unbelievable. In fact, I've never seen a crowd this size. And from my perspective, it went off without a glitch."
Michigan athletic director Dave Brandon said after Saturday's game that he was entered the day worried about the weather. Early forecasts left the possibility open for afternoon rain. Brandon said rain could have forced officials to postpone the game until Sunday, which Brandon said would have been a "horrific alternative."
Instead, temperatures remained around 40 degrees and rain didn't arrive until well after the game was over.
This and that Michigan is now 1-1-1 in outdoor games, having skated to a 3-3 tie with Michigan State in 2001 in the Cold War and losing at Wisconsin last year at Camp Randall Stadium. ... The Wolverines are now 137-121-18 against Michigan State and improved to 69-43-4 in games played in Ann Arbor. Michigan has won four straight over the Spartans and nine out of the last 12 meetings. Saturday's shutout against the Spartans was Michigan's first against Michigan State since a 2-0 win in 2003. ... Saturday's five-goal output was the fifth time Michigan has scored at least five goals in a game this season. ... Michigan quarterback Denard Robinson was recognized early in Saturday's game after winning the Chicago Tribune's Silver Football Award as the Big Ten's top player. Robinson made a brief appearance outside the tunnel with Michigan football coach Rich Rodriguez.
AnnArbor.com sports reporter Michael Rothstein contributed to this report. Jeff Arnold covers Michigan hockey for AnnArbor.com and can be reached at (734) 623-2554 or by e-mail at jeffarnold@annarbor.com. Follow him on Twitter @jeffreyparnold.