Posted on
Mon, Nov 15, 2010 : 3:05 p.m.
Big Chill at the Big House to include in-game, post-game fireworks displays
By Jeff Arnold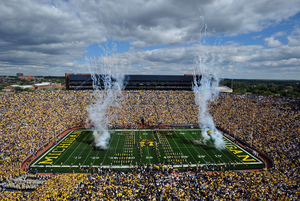 Lon Horwedel | AnnArbor.com
Aaron Enzer is no stranger to producing fireworks displays for crowds that exceed 100,000 people.
They just haven't been all seated in the same venue watching a college hockey game before.
So when the University of Michigan approached the owner of Manchester-based ACE Pyro about putting together a fireworks display for next month's Big Chill at the Big House, Enzer knew he had to come up with something, well, big.
"Certainly, we are going all out," Enzer said Monday.
Most of Enzer's bigger productions come in the summer when his company puts together fireworks shows for municipalities hosting Fourth of July festivities.
But when it comes to proving pyrotechnic entertainment for next month's Michigan-Michigan State outdoor hockey game at Michigan Stadium, Enzer knows he has a challenge.
"It's going to be a high-profile event," he said. "Not only is it 100,000 people, but it's an event when you're building a hockey rink inside a football stadium. And so we were very excited when they asked us about doing something."
Michigan's athletic department will seek approval for the show Thursday from the Board of Regents. The event, which has been sold out for months, is expected to draw more than 105,000.
If approved, fireworks would be displayed during player introductions prior to the Michigan-Michigan State main event, which begins at 3 p.m. on Dec. 11. Fireworks would follow each Michigan goal, sending colorful sparks into the air for approximately five seconds.
The event would close with a 10-minute post-game show, which would be choreographed to music. Fireworks used both prior to and after the game would originate from the rooftops of the east and west towers of Michigan Stadium.
Fireworks during the game would come from the field level. The display would of the close proximity variety, referring to a style of fireworks used in a more confined area. Pyrotechnics used in arena events, like NBA games, are examples of close proximity display, which take into consideration how close spectators would be to the display itself.
Enzer said that winter productions are often more dramatic than those done during the summer. He said in addition to fireworks reflecting off the snow, Enzer said the sound of the pyrotechnics is more crisp in cold air.
His company has been in planning for the event for some time and Enzer said that by the time the show takes place, thousands of man hours will have gone into it.
"We hope people are going to enjoy the show as much as we are going to enjoy putting it together," Enzer said.
Jeff Arnold covers Michigan hockey for AnnArbor.com and can be reached at (734) 623-2554 or by e-mail at jeffarnold@annarbor.com. Follow him on Twitter @jeffreyparnold.