Posted on
Mon, Jun 3, 2013 : 11:44 a.m.
Big Ten adds Johns Hopkins men's lacrosse, league play to begin in 2015
By Kyle Austin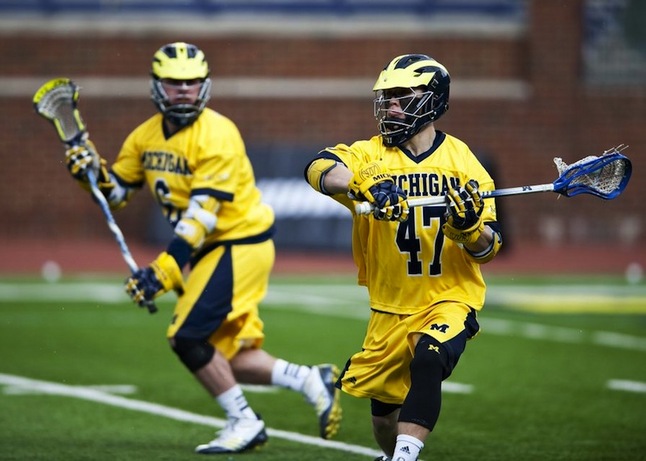 Daniel Brenner | AnnArbor.com file
The second-year Michigan men's lacrosse program will have one of the sport's most historic programs as a conference foe when Big Ten play kicks off two seasons from now.
Johns Hopkins will join the conference as a lacrosse-only member starting in the 2015, the league announced Monday. The Bluejays will join five other Big Ten schools that already offer varsity men's lacrosse: Michigan, Maryland, Ohio State, Penn State and Rutgers.
With six schools, men's lacrosse will become a Big Ten sport starting in 2015.
Women's lacrosse will also become a conference sport in 2015, with Michigan, Maryland, Northwestern, Ohio State, Penn State and Rutgers. Michigan women's lacrosse will become a varsity program in 2014.
"Men's and women's lacrosse are great additions to the official lineup of Big Ten sponsored sports," Michigan athletic director Dave Brandon said in a statement. "Lacrosse is one of the fastest growing sports in the country and we are happy that the conference will contribute to its growth. It's an exciting, fast paced competition that is fan-friendly and will be great inventory for television networks. Competing in a Big Ten league will be a big boost for our newest varsity teams."
Johns Hopkins has won nine NCAA Division 1 national titles, second only to Syracuse's 10. The school missed the 2013 NCAA tournament, something that had not happened since 1971.
The Michigan men's lacrosse program will move from the Eastern Collegiate Athletic Conference to the Big Ten following next season. The Wolverines just completed their second year at the varsity level with a 1-13 record.
Kyle Austin covers sports for AnnArbor.com. He can be reached at kyleaustin@annarbor.com or 734-623-2535. Follow him on Twitter @KAustin_AA.