Posted on
Fri, Apr 19, 2013 : 5:37 a.m.
Big Ten champion Michigan men's gymnastics team refocuses aim on NCAA title
By Pete Cunningham
If everything falls into place over the weekend, Michigan junior Sam Mikulak will be coming home from the NCAA men's gymnastics championships with a couple more national titles to his name.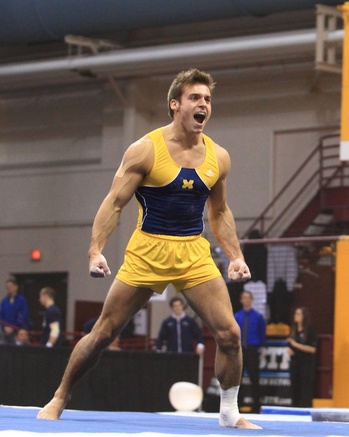 Courtesy of U-M Photo Services
Mikulak became the first freshman to ever win the NCAA all around in 2011 and was runner up last year while winning the high bar. At the Big Ten Championships he registered the highest all around score in the country so far this year and he's currently ranked No. 1 in the parallel bars.
But there's only one championship Mikulak is worried about this weekend: the team title.
"My mindset going into this meet, I don't want any individual accolades per se, I'm focused on doing my part for us to win a national championship," Mikulak said.
The two aren't exactly mutually exclusive. For Michigan to compete for a national title it will need Mikulak - who was a member of the 2012 United States Olympic gymnastics team - to score well. But head coach Kurt Golder said it's not the top of the lineup that will determine if Michigan can win its fifth national championship in program history.
"The problem never was with Sam's level, it was just with the guys below. That's what we've been working on is consistency throughout the lineup," Golder said. "The main thing is just consistency. If we can hit 85-90 percent on all our routines, we'll have a shot."
2013 NCAA Men's Gymnastics Championships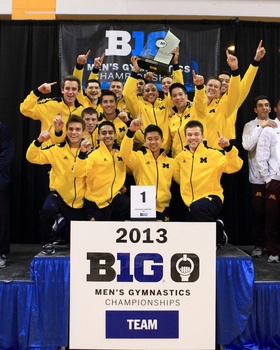 Courtesy of U-M Photo Services
Who:
No. 3 Michigan (17-2, 7-1 Big Ten)
What:
2013 NCAA Men's Gymnastics Championships
Where:
Penn State's Recreation Hall Building, State College, Pa.
When (Live coverage at NCAA.com):
Friday, 1 p.m.; Saturday, 7 p.m.; Sunday, 2 p.m.
In addition to Mikulak, sophomore
Stacey Ervin
has a chance at some individual glory, having earned All-America status on the floor and vault and comes in ranked second nationally in both events. But like his Olympian teammate, Ervin is focused on the team's goals.
"Having the top two really strong competitors is great, but as we always say it's important for the fifth man in the lineup to be a competitor as well," said Ervin. "You can' win a competition with two great scorers and three mediocre."
Performing at that level isn't a pie-in-the-sky wish. Two weekends ago at the Big Ten championships, the Wolverines did exactly that while going head-to-head with top-ranked Penn State. Mikulak thinks the team is capable of replicating the performance.
"I don't think we've peaked. That was just us continuing our upward climb to perfection and I think there will be an even better show once there's more on the line," Mikulak said.
The Nittany Lions will have the home court advantage this weekend with the Friday-Sunday event being held at Penn State's Recreation Hall Building in State College, Pa.
"We're all on the team excited to get out here," Ervin said in a phone interview from Pennsylvania on Wednesday. "Our goals this season were to win a Big Ten and national championship. We knocked off one of those goals and that's motivated us to go out and accomplish the other."
Pete Cunningham covers sports for AnnArbor.com. He can be reached at petercunningham@annarbor.com. Follow him on Twitter @petcunningham.