Posted on
Sat, Nov 12, 2011 : 4:16 p.m.
Bowl-worthy? Eastern Michigan football team hammers Buffalo, 30-17
By AnnArbor.com Freelance Journalist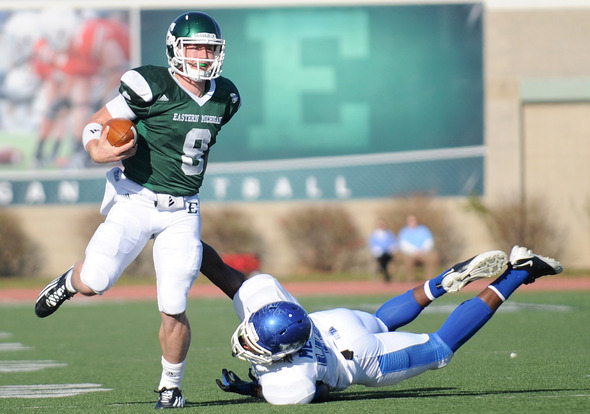 Angela J. Cesere | AnnArbor.com
Justin Souva
For AnnArbor.com
The Eastern Michigan football team is closer to being bowl eligible after a 30-17 victory Saturday over visiting Buffalo, marking quite a turnaround for the program and third-year coach Ron English.
The Eagles are 6-4 (4-2 Mid-American Conference). They went 2-10 last season and 0-12 the previous season. It's the most victories in the regular season they've had since they went 6-5 in 1995.
By no means, however, does reaching seven wins guarantee Eastern Michigan a bid to play in a bowl game. Just three MAC teams are contracted to receive bids, while as many as seven could be eligible. Eastern needs seven wins because it has two FBS victories and only one counts for bowl eligibility.
The Eagles have two games remaining — both on the road — against Kent State and Northern Illinois.
"We had people on the team who weren't buying in to the things we were doing," senior defensive lineman Brad Ohrman said of previous years. "Now we have a team that's tough mentally, emotionally, everything."
More coverage: Photo gallery | Boxscore | MAC standings
After a slow first half offensively, the game Saturday opened up in the second.
The Eagles held a 9-3 halftime lead. And unlike last week's 33-31 loss to Ball State, they did enough to put this one away against Buffalo (2-8, 1-5).
Buffalo, which had three first downs in the first half, opened the second with a touchdown drive capped by Branden Oliver's 3-yard run, which gave it a 10-9 lead.
Eastern Michigan answered on its ensuing drive with a 67-yard touchdown reception by Demarius Reed only to have Buffalo score on its next drive on a 68-yard run by Oliver to give Buffalo a 17-16 lead with 6:35 left in the third.
Reed added another touchdown reception to give the Eagles the lead back at 23-17. That touchdown came with 2:24 left in the third and was the last of four in the quarter.
Garrett Hoskins had his second touchdown reception early in the fourth to extend Eastern Michigan's lead to 30-17.
Alex Gillett threw it up for Hoskins, who came down with the jump ball for a 34-yard touchdown despite double coverage. Gillett had four touchdown passes for the second consecutive week.
Gillett was 10 of 15 for 234 yards and also had 89 rushing yards. His counterpart Chazz Anderson was 18 of 31 for 137 yards. Oliver had 133 rushing yards.
The Eagles held Buffalo without a score in the final quarter. They had five sacks, including 1 1/2 by Ohrman, who was one of 16 seniors honored before the game.
"Last week if we get a shutout in the fourth quarter, we win that game," English said. "I think it helps the guys, helps their confidence to know that they can finish. The reason that we shut the team out was because we didn't hurt ourselves. All credit goes, obviously, to our players."