Posted on
Fri, Mar 4, 2011 : 11:16 a.m.
Brandon Bowdry plays final home game of an extraordinary EMU basketball career Saturday
By Bison Collins Messink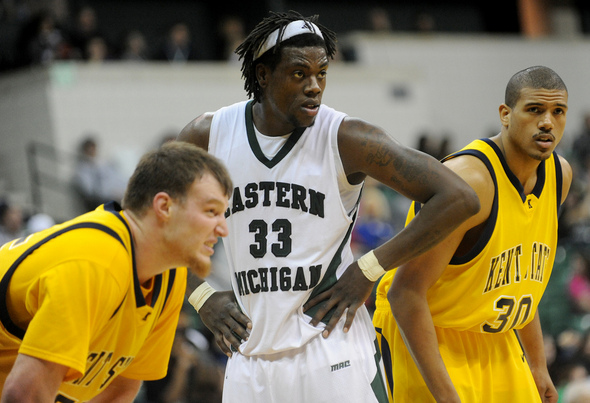 AnnArbor.com file photo
Brandon Bowdry's extraordinary, although often overlooked, college basketball career is coming to an end.
The Eastern Michigan senior is fourth on the program's all-time scoring list and second in rebounding. He's good enough to start on any Division I team in the country, but he receives little national notoriety since the Eagles have been stuck in the cellar of the already-uninspiring Mid-American Conference this season.
Bowdry will no doubt be named to his third-consecutive all-MAC team later this season, but he now looks back on his Eastern Michigan career with mixed emotions.
"Overall, I'm proud of myself as far as the personal goals I set for myself," Bowdry said. "But, as a team, it was pretty much a setback this year, coming out from a strong ending of last year. "
BRANDON BOWDRY FILE
Height: 6-6
Weight: 230
Hometown: St. Louis, Mo.
High school: Taylor (Mich.) Truman
Scoring: Leads EMU, second in the MAC and 25th in the nation with a 19.9-point average.
Rebounding: Leads EMU and the MAC and 35th in the nation at 9.5 per game.
Double trouble: Has 38 career double-doubles and was the only MAC player to average double-digit points (16.3) and rebounds (10.0) in 2009-10.
Eastern won five of its last six regular season MAC games in 2009-10 and finished 17-15, its best record in a dozen years. This season, the Eagles (8-21, 4-11) didn't beat a Division I opponent until January and have won back-to-back games just once.
"That's kind of taken a toll on me. But I try to look at the positive, because I've been through a long road from when I was a freshman to now," Bowdry said. "You always want to leave with a positive outlook."
He's averaging 19.9 points and 9.6 rebounds heading into his final home game at 2 p.m. Saturday when the Eagles host Toledo at the Convocation Center. Fellow seniors Jay Higgins and Will Cooper will also be honored
When Bowdry's family moved from St. Louis to Michigan before his junior year in high school, he was still growing into what is now a 6-foot-6, 230-pound frame.
He landed at Taylor Truman High School, hardly a college recruiting hotspot, and didn't reach his full height until his senior year at Truman, when he was listed at 215 pounds.
"As a freshman in high school, I was a little stubby guy," Bowdry said. "That's how I learned to dribble the ball real good, because I was a short stubby guy and that's really all I could do."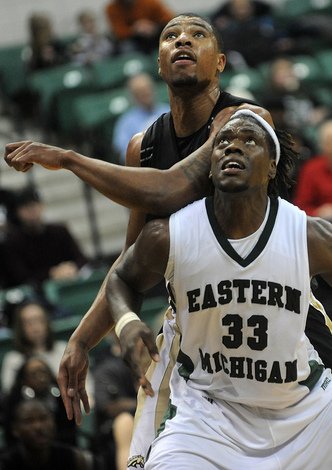 AnnArbor.com file photo
When it came time to choose from seven small-school scholarship offers, Bowdry settled on Eastern Michigan because he didn't want to uproot himself and make another big geographic move, this time away from his family.
After being named to the MAC all-freshman team, Bowdry sat out a full season and received a medical redshirt due to a broken foot.
He came back strong from the injury, establishing himself as one of the most dominant players in the MAC over the past three years.
At 6-6, Bowdry is shorter than most post players he faces, but he more than makes up for it with his strength, competitive fire and ability to evolve his game.
He is the only player with a double-digit scoring average for the Eagles, even though opponents focus their defensive gameplans around stopping him.
"He's always been a competitor, and he's gotten bigger every year," said Eastern coach Charles Ramsey. "His game has matured throughout the years. He was strictly a low-post, on-the-block player, and over the years he's been able to expand that to where he can step out and face-up."
But Bowdry's personal maturation has been as important to his development as the work he's put into his game.
Last season, opponents tried to slow him down by playing overly-physical defense, and trying to get under his skin. Bowdry responded by developing a penchant for technical fouls.
This season, defenses have attacked him with even more physical play, but Bowdry has kept his cool and hasn't been whistled for a single technical.
"At times, you get real frustrated, especially when things aren't going your way all-in-all, and then you get more stress from those guys trying to beat you up," he said of the pounding he takes. "But it's a part of the game. You just got to keep your temper down and play through it."
Bowdry is no stranger to physical play himself. Often the strongest and most physical player on the floor, he seeks out contact, always hits the boards hard and is not afraid to take a charge. He consistently gets knocked onto his back more than anyone each game.
While most basketball players will linger on the hardwood a moment, waiting for a teammate to help him back to his feet, Bowdry pops back up as fast as he can, before his teammates arrive to help.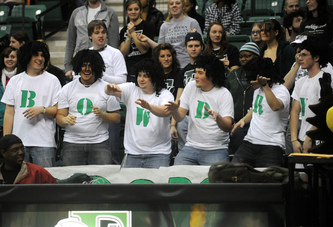 AnnArbor.com file photo
"That's the competitor in him, and he's a tough kid," Ramsey said. "Tough kids, you just don't lay there. You get back up and you go to the next play."
Bowdry doesn't want anyone to think his adversaries are gaining an advantage by knocking him down.
"I hate when people see me tired or see me hurting, so I try not to show too much. I'm kind of like Wolverine, I heal quick," Bowdry said, referring to the Marvel Comics character.
With his EMU career almost at a close, Bowdry knows he'll be playing professionally somewhere after he graduates this spring with a communications degree. It remains to be seen which league that professional future will take place.
He acknowledges that his NBA draft status hasn't been helped by the poor season the Eagles have had this year.
"I'm not sure," he says when asked if he expects to be drafted. "Just because of the lack of success we've had as a whole. But I have a pretty good chance of doing something in the draft, from the sources I know."
For now, Bowdry isn't dwelling on the future, he's just thinking about closing his college career strong—but he's also considering the legacy he wants to leave behind.
"I want to be remembered for being a strong-willed, determined kind of kid that went through some bumps and bruises, but at the end he always ends up being positive and coming out as a good leader," he said.
"I planned to come in here and turn things around, which I think I did a pretty good job of going into my junior year. It seems like I've been here for a decade, and I've been able to come in here and evolve from a little boy into a grown man."
Bison Collins Messink covers sports for AnnArbor.com. Contact him at bisonmessink@annarbor.com.