Posted on
Wed, Nov 11, 2009 : 5:30 p.m.
Brandon Graham delivers big hits, hope for Michigan football team
By Dave Birkett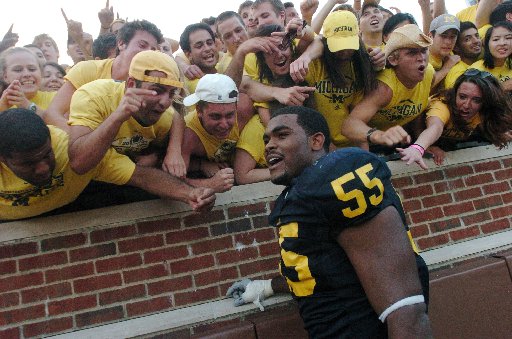 Anyone who knows
Brandon Graham's
meager beginnings as a football player knows how ironic it is that he's turned into the best player on the Michigan football team and the most menacing defensive end in the Big Ten.
As a 7-year-old, Graham quit his first football team - the East Side Giants of Detroit's Police Athletic League - because he didn't like to be hit.
In his first padded practice, Graham lined up at running back for a gauntlet-style tackling drill. He sprang to his feet, sprinted toward a defender rushing from the other end, and ended up flat on his back.
"Everybody was like, 'Ooh,'" Graham recalled. "I just felt so embarrassed and I was like, 'Man, I ain't going back to football no more. Forget football.'"
Graham's parents talked him into returning a year later, and when coaches worried he wouldn't take contact and moved him to defense, Graham found a quick home.
As an 8-year-old, he knocked out the coach's son in the same tackling drill that had him hiding in humiliation the year before. By the time he was in high school, Graham owned a highlight reel's worth of big hits. And now, as his senior season winds down at Michigan, he's piled up some of the most impressive numbers in program history.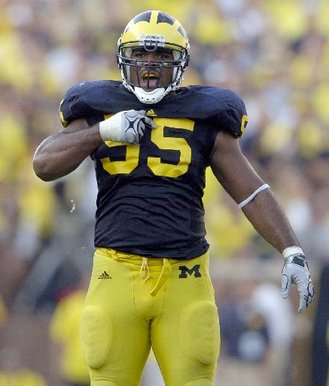 Graham leads the Michigan football team's otherwise inept defense with 6 1/2 sacks and 17 tackles for loss, and he has two blocked punts and one special-teams touchdown. He ranks second on Michigan's career sack list (25 1/2) behind Mark Messner (36), and is a likely first-round pick in next April's NFL draft.
"I don't know if there's a better player in our league than No. 55 Brandon Graham," Wisconsin coach Bret Bielema said. "Just a guy that can overtake a game and if you're trying to block him you better bring your lunch pail."
Bielema knows as well as anyone the damage Brandon Graham can do.
Last year, Graham had three sacks and forced a fumble against Wisconsin to lead Michigan to a 27-25 come-from-behind victory. After the game, Wisconsin quarterback Allen Evridge grabbed Graham at midfield and told him, "You're a monster."
That type of compliment is nothing new for Graham.
Notre Dame quarterback Jimmy Clausen, still wary of Graham's 3 1/2-sack game against the Irish as a sophomore, told him during this year's meeting, "I'm putting two (blockers) on you every time."
Iowa quarterback Ricky Stanzi, after Graham dropped him twice for sacks last month, pulled Graham aside and marveled, "You just don't stop."
And Delaware State players pleaded for Graham to get off the field in the second quarter of Michigan's 63-6 blowout victory.
"I don't ever let that go to my head," Graham said. "I'm always looking for more big hits. I ain't trying to shake nobody's hand."
More often than not, Graham is trying to get under his opponents' skin.
He got Iowa's Bryan Bulaga off his game earlier this year with some friendly trash talk about how the Big Ten's best defensive end was getting the better of the league's top left tackle, and he's warned more than one player, "After this game, your daddy's going to come to me and tell me I played a hell of a game."
"I put myself in the best shape that I can to be able to talk and do that and still be able to perform," Graham said. "My sophomore year I tried to do it, I was like, 'Oh man, let me be quiet cause I ain't ready yet.'"
Graham had a breakout 8 1/2 sacks in five starts as a sophomore, but was nowhere near the player he is now. The converted linebacker was still learning his new position, and physically he was rounding into shape.
In high school, Graham starred as a 240-pound middle linebacker. But he ballooned to 310 pounds during his senior year at Detroit Crockett after the Michigan High School Athletic Association suspended him for playing in the U.S. Army All-American Bowl.
Unable to run track, Graham spent the spring gorging on Popeye's chicken and grilled pitas from the local Coney Island. Michigan coaches were stunned when he reported for summer workouts, and trainers made him wear a heart monitor while he conditioned.
"They were like, 'Whoa, what happened?'" Graham said. "I didn't think I was big, but then I really looked in the mirror and I was like, 'Yeah, I did get big.' I didn't even notice it."
Graham played nose guard and defensive tackle in passing situations as a freshman, slowly working off the weight. He played between 280 and 290 pounds as a sophomore, a little less as a junior, and got down to his current 265 by following a strict diet and working out religiously with Michigan director of strength and conditioning Mike Barwis.
All the while, he took his weight gain in stride.
"Stuff happens for a reason," Graham said. "I'm glad it happened because I wouldn't be playing D-end today" if it didn't.
With Michigan on the verge of missing a bowl for the second straight year - something that hasn't happened since 1973-74 - Graham has taken the same pragmatic approach to this floundering season.
The Wolverines (5-5, 1-5) have lost five straight Big Ten games and need an upset Saturday at Wisconsin (noon, Big Ten Network) or next week against Ohio State to make the postseason. Both the Badgers and Buckeyes are ranked in the Associated Press Top 25.
"The last two games could erase everything that happened this year," Graham said. "And that's what I believe is going to happen. If it don't, it don't, but that's what I'm pushing for right now."
Dave Birkett covers University of Michigan football for AnnArbor.com. He can be reached by phone at 734-623-2552 or by e-mail at davidbirkett@annarbor.com. Follow him on Twitter @davebirkett.