With video:

Brandon Minor healthy again and other Michigan football practice updates

Posted on Wed, Nov 4, 2009 : 5:11 p.m.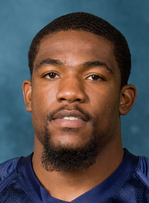 Brandon Minor has done more in practice this week than he did all of October, and Michigan coach Rich Rodriguez said, barring any setbacks, Minor will start at running back Saturday against Purdue.

"He may be tricking us and telling us he feels better, but I know he really wants to play," Rodriguez said. "I know he's fired up and hopefully if he doesn't stub his toe again in the next couple days he'll be ready to go Saturday."

Minor has been limited by a nagging high ankle sprain all year. He had one carry in last week's loss to Illinois, on fourth down when he was stopped inches short of the goal line, and was used sparingly in pass protection.

Rodriguez said Michigan (5-4, 1-4) is a different team when Minor is healthy and running downhill.

"He a big, physical guy," Rodriguez said. "It gives a different dimension to our offense that we need, frankly."

More practice notes • Carlos Brown, who's started seven games at tailback in Minor's place, has been limited by knee tendinitis in practice this week, Rodriguez said.

No. 3 running back Michael Shaw is recovered from his own knee injury and should play against Purdue, while receiver Martavious Odoms remains questionable because of a knee injury he sustained against Penn State. Both Shaw, who was hurt in practice last week, and Odoms sat out the Illinois game

"We were hoping that (Odoms) would be full go for Saturday, but I don't know that we can answer that until game time," Rodriguez said.

• Michigan ranks ninth in the Big Ten with 16 sacks and 10th with 11 takeaways.

"Getting more sacks obviously would be more critical, and as I mentioned Monday, getting more turnovers," Rodriguez said. "That's the big thing. We've gone three games without a single turnover is something we've got to hopefully get turned around in a hurry."

Purdue and Michigan are the most turnover-prone teams in the Big Ten with 26 and 21, respectively.

• Rodriguez said he doesn't sense his players are still dwelling on the Illinois game, when they surrendered 31 unanswered points in the second half to lose, 38-13.

"We talked about it Monday and then we moved on, because why belabor the fact?" Rodriguez said. "You can't play it over again. There are no reset buttons."