Posted on
Sat, Nov 14, 2009 : 6:46 p.m.
Brandon Smith starts at safety; another goal-line review
By Michael Rothstein
Brandon Smith has bounced around in his redshirt freshman season on the Michigan football team.
He went from safety to linebacker. He flirted with getting significant playing time and then ended up almost as a pure special teams player, making 10 tackles in the season's first 10 games.
On Saturday, Smith shifted back to safety and shot up the depth chart, replacing Mike Williams in the starting lineup opposite Jordan Kovacs.
"It felt good," Smith said. "But ,unfortunately, it wasn't good enough because we lost."
Smith made four tackles, hurried Wisconsin quarterback Scott Tolzien once and had a half-tackle for loss. Goal-line stand call goes against Michigan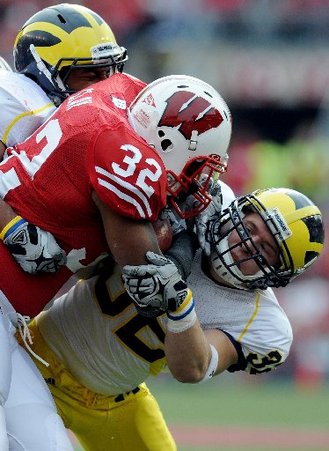 This seems to happens a lot to Michigan lately. A goal-line play at a critical point in the game gets sent to the review booth.
And every time, it seems to come back against the Wolverines. Two weeks ago, officials deemed Brandon Minor stopped short of scoring a touchdown against Illinois. The Illini then drove 99 yards, scored and started the beginning of a rout in Champaign, Ill.
This time, the play came in the first half.
Wisconsin running back John Clay ran right into the heart of the Michigan defense on a 2nd-and-goal play from the 1-yard line, leapt up and looked to be met at the line of scrimmage and knocked back by Michigan defensive end Brandon Graham.
Except the refs deemed that Clay scored and upon review it was upheld, giving Wisconsin a 21-17 lead.
The score ended up being the final time the Badgers took the lead, this time for the remainder of the game.
"I didn't think he got in because I was right there at the goal line," Ezeh said. "I stepped over the goal line to force him from getting in. I was the last guy there.
"I felt if he would have gotten past me he would have scored, but he didn't."
Clay finished with 26 carries for 151 yards and that touchdown. Wisconsin's Nick Toon scores twice
If there is any question who on the field could be a future star in the Big Ten, Michigan got a glimpse of one Saturday.
Sophomore wide receiver Nick Toon, the son of former New York Jet Al Toon, shredded Michigan's secondary for most of the day.
He had five catches for 98 yards and two touchdowns and was open on a couple of other plays where the ball just didn't get to him.
"Last year, I started to get comfortable playing games," Toon said. "I feel like the same type of thing has happened this year and, hopefully, that will carry over into next year."
On his touchdown catch on the opening drive of the second half, Toon had Michigan junior cornerback Donovan Warren almost holding on to his jersey. Didn't matter, as Toon caught the ball in the end zone for a touchdown anyway to give Wisconsin a 28-17 lead.
"Scott (Tolzien) just threw the ball up, and I made a play on the ball," Toon said. "It was a good catch and, hopefully, I'll make some more of those in my career here."
Brandon Minor limited by shoulder injury
A handful of Michigan football fans crowded around running back Brandon Minor after Saturday's loss to Wisconsin asking for autographs. Minor obliged, but only after telling one fan he couldn't move his left arm enough to hold a piece of memorabilia. Minor played sparingly Saturday because of a left shoulder injury, rushing seven times for 26 yards and sitting out the entire second half. "He was just telling me on the sideline, 'I wish I could go for you,'" defensive end Brandon Graham said. "I was like, 'Don't worry, we got people that's going to pick up where you left off.' Vincent Smith did a pretty good job today." In Minor's absence, Smith saw his most extensive playing time of the year. The true freshman had eight carries for 28 yards and caught a career-high seven passes for 54 yards and his first receiving touchdown. Carlos Brown also was limited by lingering knee tendinitis. He finished with two carries for two yards as Michigan was outgained on the ground, 229-71.