Posted on
Sat, Nov 21, 2009 : 5:25 p.m.
Buckeyes put Rose Bowl plans on hold, take care of Michigan
By Jeff Arnold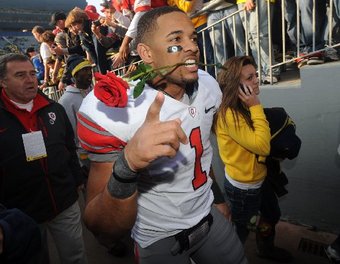 As time ticked off the Michigan Stadium clock, the Ohio State marching band broke into a celebratory rendition of "California Here I Come" - a reference to the Buckeyes' upcoming trip to its first Rose Bowl since 1997.
By the time the band played, the No. 9-ranked Ohio State football team's 21-10 win over rival Michigan was well in hand, allowing Jim Tressel to exhale.
All week, the Ohio State coach warned his players not to ignore the intensity of a rivalry that Tressel owns an 8-1 record in following Saturday's latest triumph.
The Rose Bowl, he told them, can wait.
"I want you to forget about the Rose Bowl," Tressel told his players back in Columbus. "For a week."
Tressel's message sunk in during the Buckeyes' preparations despite former coach Earle Bruce delivering a large collection of roses to Ohio State's practice facility last Sunday.
On Saturday, the Buckeyes put their Pasadena plans on hold just long enough to secure Ohio State's sixth straight win over the Wolverines. Ohio State didn't play up to its potential offensively, but forced five Michigan turnovers, making certain they didn't overlook the final regular-season step on its journey westward.
"(Maintaining focus) wasn't really tough," said senior defensive back Kurt Coleman, who intercepted a pair of Tate Forcier passes in Saturday's victory. "Michigan (week) is a season of its own.
"It's so tough and as you can see, they play us really tough, and so it was really easy for me to get ready. I just tried to reiterate to the younger guys that this was going to be a tough game."
The Buckeyes didn't break the game open until the final 5 minutes of the third quarter. After Michigan trimmed the deficit to 14-10, Ohio State used an 11-play drive to cover 89 yards capped by a 12-yard Terrelle Pryor pass to Dan Herron.
Once with an 11-point lead, Ohio State intercepted Forcier three more times before closing out another win over their archrival, leaving the Buckeyes' faithful to begin chanting, "This is our house."
Given Saturday's result, Ohio State's seniors will finish their careers having never lost to Michigan. Pryor, who considered coming to play for Rich Rodriguez before choosing Ohio State, moved remained perfect against the Wolverines.
"I'm glad I'm on this side," said Pryor, who threw for 67 yards and a touchdown while also running for 74 yards in Saturday's win.
Afterward, Tressel said he didn't know what to make of his 8-1 record against Michigan.
"What it means to those seniors is for the rest of their lives, they can be arrogant or whatever they want to be," Tressel said. "When they're old, people will ask them more about how they did against Michigan than about what bowls did they go to."
Jeff Arnold covers sports for AnnArbor.com. He can be reached at jeffarnold@annarbor.com or 734-623-2554. Follow him on Twitter @jeffreyparnold