Posted on
Sat, Oct 13, 2012 : 5:30 p.m.
EMU running back Bronson Hill rushes for NCAA best 283 yards, but Toledo wins, 52-47
By Courtney Sacco
Eastern Michigan sophomore running back Bronson Hill ran for a career-high 283 yards on 28 carries and four touchdowns, but it wasn't enough as the Eagles lost a 52-47 shootout to Toledo at Rynearson Stadium on Thursday.
EMU is now 0-6 (0-3 Mid-American Conference), while Toledo improved to 6-1 (4-0 MAC).
Hill's total on the ground is the largest single-game rushing total by a running back in college football this season and the second most by a running back in program history. Hill finished eight yards shy from tying Larry Radcliff's mark of 291 yards rushing that was set in 1971.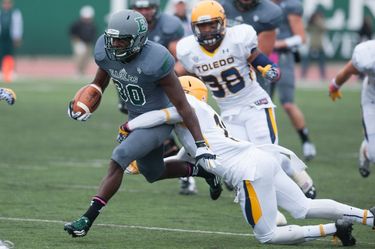 Courtney Sacco | AnnArbor.com
After gaining only 398 yards and scoring 21 points in their last two games combined, the Eagles exploded for 624 yards of offense and 47 points.
Hill had touchdown runs of 47, 58, 70 and seven yards on the day. The four touchdowns tied an EMU single-game record for touchdowns in a game.
Quarterback Tyler Benz was 18-of-27 passing for 301 yards, two touchdowns and an interception. Tight end Garrett Hoskins led the Eagles with seven receptions for 103 yards. Tyresse Russell added two receptions, both of which were touchdowns, and 51 yards receiving.
Toledo's Bernard Reedy scored three touchdowns in a wild third quarter in which the team's combined to score eight touchdowns. Toledo led 21-10 at the half and was ahead 49-37 at the end of the third quarter. Toledo (6-1, 4-0 Mid-American) only trailed once, at 10-7 in the first quarter, but got two touchdowns from David Fluellen in the second quarter. Fluellen finished with 188 yards.
In the third quarter, there were eight touchdowns, four by each team. Reedy scored on an 89-yard kickoff return after the Eagles' Bronson Hill ran 47 yards for a TD. Hill ran for another score, for 58 yards but 13 seconds later, Reedy caught a 65-yard TD from Terrance Owens. Hill answered 19 seconds later with a 70-yard run. Reedy later hauled in a 59-yard touchdown pass. He finished with 11 receptions for 237 yards.
The Rockets have won six in a row since losing in overtime at Arizona
The EMU defense surrendered 655 yards to the Rockets, negating the offensive explosion of the Eagles.
Reedy set a school record for all-purpose yards in a game, gaining 407 yards for the Rockets. Reedy scored three touchdowns for the Rockets, including an 89-yard kickoff return for a touchdown.
Toledo quarterback Terrance Owens threw for 401 yards on 21-of-32 passing to go along with three touchdowns and two interceptions.
EMU now turns its attention to next week, as Army will visit Rynearson Stadium. Kickoff is scheduled for 1 p.m.
The Associated Press contributed to this report.