Posted on
Fri, May 20, 2011 : 5:52 a.m.
Catching Up With ... former Michigan softball star Jennie Ritter
By Michael Rothstein
Catching Up With ... is an occasional feature at AnnArbor.com where we chat with former Michigan athletes. If you have a suggestion for a future Catching Up With ..., email michaelrothstein@annarbor.com
Jennie Ritter, arguably the best pitcher in Michigan softball history, became a star while leading the Wolverines to the 2005 national championship.
She took that fame and turned it into a career in softball.
AnnArbor.com caught up with Ritter as Michigan prepares to host an NCAA regional this weekend -- the beginning of the end of another star Michigan pitcher, Jordan Taylor.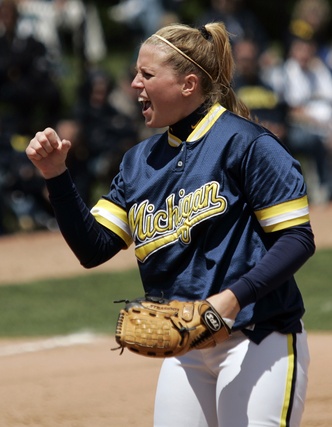 File photo
Q: What have you been up to the past few years since you left here?
Jennie Ritter: "Well, I live in Florida. I moved down there in 2007, played in Japan in 2008. I tore my labrum in Japan and ended up having to get surgery in December of '08. Took basically the full year off and still felt pain. I came back to the States and played with the PFX Tour and kind of struggled with pain. I took some more time off and decided to just throw a couple games here and there and really struggled. So I decided to retire last fall. I've kind of been getting back into it and getting into college shape again, have no pain in my arm so starting to throw a little bit more now. I'm trying to decide if I want to come back or if I'm okay being retired. From a softball perspective, that's where I'm at, deciding if I want to get back into it, if I want to try out for USA if I have the opportunity or go back and play pro somewhere or just throw batting practice to people.
"Then, from a job perspective, gosh. I moved down here to Florida to work at the National Training Center with Dot Richardson, helped her build a four-field complex and worked there for a very short time. That was while I was still in Japan, so when I was home. That didn't end up working out and ended up taking a job as a systems engineer at a law office. I have an industrial operations engineering degree. So the law office had me do some operations stuff and organization, kind of created the job, get the job done and then you'll be done situation. So I worked there for a year and then started doing more lessons and clinics and obviously broadcasting has been the highlight of it all. Now I'm working at a place called Champions Training Academy, it's a strength and conditioning place, personal training but affordable, not high-end personal training. But we have pretty incredible strength and conditioning coaches and offer the nutrition side and the get-back-in-shape side to anybody. Then they basically have me run the softball aspect of it, clinics and lessons and anything to do with softball under my own academy, the Jennie Ritter Elite Softball Training Academy. That's where I'm at, just started building that."
Q: Is this what you thought you'd do or did you think you would go with the engineering thing?
JR: "Yeah, well ... I'm trying to figure out how to best politically correct say this. Yeah, I thought engineering in '03 and '04, before the World Series and before Michigan became a national name and our team became more well known. I fully expected to have a 40-hour a week engineering desk job doing whatever it may be that I found was I liked to do in my degree. After '05 and '06, when I ended up becoming a better player than I ever thought I would be and working hard toward that, a lot of other doors opened up and that's exciting to me. I didn't think I could make a career out of softball. You don't make it playing, so you have to figure out from a business aspect how you can survive in your sport making money in other ways. Once '05 and '06 started and people started to know the team and where we were at and I got a chance to play for USA and make a name for myself, that allowed me to do more clinics, do more lessons and create a lot of things built off of that. That's kind of where I'm at now, starting off, not only with my own academy but I work on the 18-and-under travel ball team on the recruiting side with coaches, trying to get kids to college. Essentially my goal in everything I do, and all the work I'm doing and everything I'm starting and working through, is make a career. Once Olympics was gone (softball was eliminated as a team sport for the 2012 Games), it became apparent to me that college ball was our pro. Granted, there is a pro level. But you never know how long it is going to last.
"For me, looking at these girls in high school and wanting to become something, the biggest platform they can do this on is college. So I want to do everything that I can to make it easier for them and give them all the opportunities they can to get to college. I truly believe there is some place for everybody as long as you work hard and put forth the work necessary to do it. A lot is educating girls on mental toughness and that is 100 percent not taught in high school and lower. I do that through my lessons and clinics, that it is not about making excuses, it's about getting it done and playing for what you want. Generations of kids change so often that you have to keep educating them on keeping a tough mentality. So I do that."
Q: You were part of a team that really put Michigan softball where it is now. How much do you think about that?
JR: "The Michigan softball aspect? Well, one of the things that I've always thought about is your identity and it hasn't been defined by softball, even though Michigan softball has been a very important aspect of my life and opened a lot of doors for me. So I look back with no regrets and I'm very proud of what we did and where we went and certainly the Michigan softball community is my family. I love to broadcast games for them just because I like to come back and visit. I certainly would love to be in Michigan and build that area so I do take it with me everywhere I go. I think any type of mental toughness training, that's where I learned to be mentally tough and what I did throughout college allowed me to be where I am now and not create excuses for myself and just continue to work hard and be motivated and push yourself. You get to where you want to be by working hard and that's what Michigan has taught me. That I will always, always, say. I won't say I'm the pitcher that won the World Series. That doesn't define me so much as the things that I learned there. I'd rather be defined by 'I was mentally tough. I made it through this, made it through that' than being the superstar pitcher."
Q: Is that still the moment that stands out, though?
JR: "You know what, there has been so many incredible things happen to me. The reason why it stands out isn't that we were the No. 1 team in the country and that we won, but that was the first moment in my life where I really felt people say hard work pays off or whatever it may be, when you devote yourself to one thing, it happens. I'm not sure that anybody on that team 100 percent believed. I think we all believed it was possible, but there might have been a lot of shellshock that it actually happened. We just kind of played and we loved to play and it was almost like playing not to end the season as opposed to playing to win a national championship. At least that's how I felt and that's what propelled us. To me, if you talk about a defining moment or one thing I'll always take away, it's the camaraderie of the team. I've never, on USA or anywhere else, I've never had that type of camaraderie, that type of connection, that I had on that '05 team. It's hard to explain unless you were on that team but it was the pure trust and the understanding of what our goals were. We didn't have to say it. It was just every single piece of it, every single moment. That's what I can take away from the World Series, the 'A-Ha' moment where you saw how important it was to be a team and have a heart and will to do something together."
Michael Rothstein covers Michigan sports for AnnArbor.com. He can be reached at (734) 623-2558, by email at michaelrothstein@annarbor.com or follow along on Twitter @mikerothstein.