Posted on
Tue, Sep 28, 2010 : 2:29 p.m.
Catching up with ... former Michigan wide receiver Amani Toomer
By Jeff Arnold
Photo courtesy of Evan Pinkus
Welcome to "Catching Up With ..." an occasional feature where we chat with someone who used to be involved with Michigan athletics.
During his junior season with the Michigan football team, Amani Toomer became the third wide receiver in school history to rack up more than 1,000 yards in a single season. He went on to play 13 years in the NFL, becoming a common entry in the New York Giants record books.
Toomer holds Giants franchise records for career receptions (668), receiving yards (9,497), touchdown catches (54) and 100-yard receiving games (22). After earning a degree in communications at Michigan, Toomer has turned his attention to television, working as a post-game analyst for the Giants as well as a college football analyst for the Big Ten Network.
AnnArbor.com caught up with the former All-Big Ten selection last week.
Q: How does it feel to be back in the Big Ten community, albeit in a different role?
A: It's great. I get to actually go the stadiums and walk around and enjoy the cities a little more than I did when I played. When you play, it's just airplane, bus, hotel, stadium. Then from the stadium, you go back to the bus and you don't get a chance to see anything. Now, I get the chance to go back to all my stomping grounds and kind of check them out a little bit. I'm just curious to go all these places where I have all these memorable moments at, but I really don't know much about the atmosphere.
Q: Is it different go come back to the Big Ten as a member of the media rather than as a player?
A: Definitely. Most of the times, I would go to the stadium and think, I've got to know where the safety's coming from, I've got to watch out for this linebacker. I was so focused on the X's and O's that I really didn't enjoy the atmosphere at all. It was more like a business than an enjoyable situation. Now, I get to go to games and comment on football, which I love, and watch a lot of games and really get a chance to see the game as a whole instead of just watching safeties and cornerbacks. I can go to a game and not have to watch it the next day to try and figure out what actually happened because I know what happened.
Q: So put on your Big Ten Network analyst hat and evaluate where you think Michigan is.
A: They've had a couple good games. They played against a UConn team I think was overrated, they played against Notre Dame that obviously isn't as good as they want to be and then they played a decent team in UMass that really put them to the test. I think Denard (Robinson) is an unbelievable player, but I really think that eventually, when they get into the Big Ten season, we'll really see what this team is all about. The level they're playing at now - especially on defense - is not going to get it done. So I'm extremely skeptical. I'm excited about the start, but I'm very skeptical about the future because I've seen this show before last year when Tate Forcier was up for the Heisman and everybody was talking about how great Tate Forcier was and I just can't jump on board yet and be like, Michigan's back. I still think they're still a work in progress.
Q: Does the same go for Denard Robinson?
A: Denard Robinson is a phenomenal athlete, but he's a smaller guy and he takes a lot of hits. It's like a lot of rookies that come into the league and it's easy their first couple of games, but then how do play when you're a little banged up or how do you play when you've got a little ankle here, a little toe, here, a little swollen knee or bruised ribs. How do you play then? I think we still have to figure out what kind of player he is through it all. When it comes down to crunch time, we're going to see what he's all about. But right now, he's one of the most dynamic players in college football. You love to see a guy who didn't win the starting job and a freshman and come in and beat out the incumbent and put on the performance he's put on.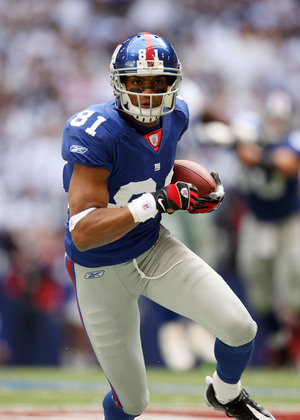 Photo courtesy of Evan Pinkus
Q:
I know this is your first year out of the NFL. Is it strange to spend your weeks preparing for broadcasts rather than games?
A: I look at the games now; I can't believe I did that. These guys are killing each other out there, and that's what I did. When you're playing, you don't even think about football being that dangerous. You're like, 'I know what I'm doing and I'll be OK.' When you watch it, it's so out of control. It's total mayhem. Toward the end of my career, I was spending more time getting ready for practice in terms of massages, cold tubs and treatments. I would play for a day and then it would take three days to get back to being able to play again. Then, three days would turn into four days and then I wouldn't feel good until the day before I was going to play again. So it was definitely time for me to go.
Q: So after punishing your body for that long, you're now training to run in the New York City Marathon for charity. What's that training like?
A: It's a totally different thing. I get to put my music on and go and nobody's coming at me trying to hit me. I've got a trainer who e-mails me my training every day and I've peeled off like 30 pounds. When I stopped playing, I put a good 20-30 pounds within two months, and then I started exercising and running and I lost it all. And now I'm down to my college weight again, so that's good. I don't need to be walking around with an extra 30 pounds strapped to my back - my bones have been beat up enough.
Q: So where are you at in your progress of getting to 26.2 miles?
A: I've run 18, and so I'm almost there. When I run the 18, I feel like I can run another maybe three, four. I don't think I can run another 8.2, and so I've got a little ways to go. I really want to have a respectable time because those distance runners, I don't know if they respect how hard it is to have the stamina not just to play football, but to compete at a high level. I kind of want to prove to a lot of people that football players not only have to be strong, but they have to have good endurance, you've got to be fast and smart. It's just one of those all-encompassing sports.
Q: And this is all for charity right?
A: Yeah, I'm starting dead last in the marathon and for every person I pass, Timex is pledging $1 for the New York Road Runners Youth Program, which is an after-school program that gets kids to learn how to train properly and gives them a chance to get off the street in New York City and gives them something positive to do. It gives them a chance to stay on the up-and-up. There were a lot of kids I grew up with that were smart, good kids, but they didn't have anything to do after school, and that turned into some real bad situations. So I really want to go out and go after a respectable time so I can help those kids as much as I can.
Jeff Arnold covers sports for AnnArbor.com and can be reached at (734) 623-2554 or by e-mail at jeffarnold@annarbor.com. Follow him on Twitter @jeffreyparnold.