Posted on
Sat, Sep 18, 2010 : 8:53 p.m.
Central Michigan in control against Eastern Michigan football team, 52-14
By Kaleb Roedel
Central Michigan and junior running back Paris Cotton started fast and finished strong at Eastern Michigan on Saturday.
Paris finished with 209 yards rushing and three touchdowns at Rynearson Stadium as Eastern lost its 15th consecutive game, 52-14.
"We played a good Central team and we weren't good enough today. We really wanted to be competitive," Eastern Michigan coach Ron English said. Eastern is 0-3, 0-2 in the Mid-American Conference.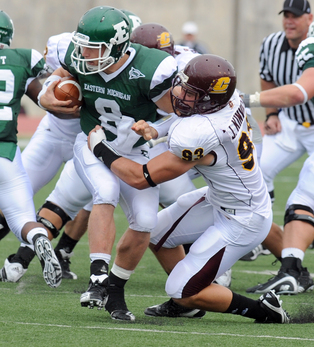 Lon Horwedel | AnnArbor.com
Paris, who had never rushed for more than 100 yards in a game, opened the second-half with a 61-yard touchdown run.
"That's how he (Cotton) practices - full speed," Central Michigan coach Dan Enos said. "It doesn't surprise any of the staff that he had a breakout game."
Central (2-1, 1-1) opened the game with an eight-play, three-minute drive capped by a 21-yard touchdown strike from Ryan Radcliff to Cody Wilson.
Radcliff finished with a game-high 254 yards on 15-for-23 passing, while Wilson caught three balls for a game-high 100 yards.
Central Michigan (2-1) kept Eastern Michigan (0-3) in its rearview mirror the rest of the way.
EMU, which didn't have a rusher over 50 yards, had moments of offensive success.
In the second quarter, freshman quarterback Devontae Payne took over for sophomore starter Alex Gillett and marched Eastern to Central's red zone. A late-hit and pass interference penalty later, the Eagles sat on the 2-yard-line, where Dwayne Priest punched in to cut Central's lead to 14-7. Priest led Eastern with 49 yards on 16 carries.
"We just felt like it was really important to develop (Payne)," said English of the quarterback switch. "I think the important thing is to get him out there playing. He's talented and going to be a good player for us."
Eastern found the end zone for a final time in the middle of the third on a quick drive featuring Gillett, who reentered in the second half, floating a ball down the right sideline to Donald Scott for a 54-yard touchdown.
Gillett finished 12-of-20 passing for 148 yards and Payne was 13-of-24 for 134.
Meanwhile, the Eagles couldn't keep the Chippewa offense - which finished with 523 yards to Eastern's 358 - off the field. And when they finally did early in the fourth quarter, Central's defense joined the scoring-mix when linebacker Mike Petrucci scooped a Gillett fumble and scored on a 40-yard touchdown return.
"I don't think the game really got out of hand until the Gillett fumble. We really were not competitive toward the end of the game," said English, whose team lost by a total of 11 points in its first two games.
"We've had a couple of close losses. When you get blown out, there are not a lot of positives to take away from it."
Kaleb Roedel is a sports writer for AnnArbor.com. He can be reached at (734)623-2562 and e-mailed at kalebroedel@annarbor.com. Follow him on Twitter @Kaleb_R.