Posted on
Fri, Dec 4, 2009 : 12:37 p.m.
Chemistry and basketball IQ key to Eastern Michigan's early-season success
By Jeff Arnold
Just 7 games into the season, Charles Ramsey is comfortable and, possibly, even relaxed.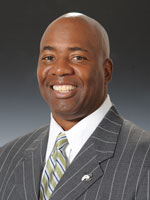 His Eastern Michigan basketball expectations are going so according to plan that even his wife notices a different demeanor when Ramsey's at home.
A 5-2 start to the year certainly helps. But it's the way that his team has jelled and the intelligence his players are displaying on the court that has Ramsey feeling like he never has before during his tenure in Ypsilanti.
The in-game teaching moments aren't coming as often. The times when he gives an instruction and then has to stop 2 minutes later to repeat what he just said? Gone.
Now, when his players come to the sideline during a timeout, the blank looks have been wiped away, replaced by his veterans telling Ramsey what they need to do on the court.
Suddenly, Ramsey - known for his jack-in-the-box jumps off the bench when things go wrong - has established a new approach to his job.
"Calm, peaceful, fun," Ramsey said Thursday. "I enjoy going to practice. We're coaching. They come in, they work hard for a couple hours and we get good things out of them.
"If a coach can be relaxed, I am. But when you get better players and a better team, I think you get in a comfort level."
Ramsey's not the only one enjoying the feeling. His players have established a cohesiveness they've never experienced before. When Eastern fell behind Southeast Missouri by 11 points last week, there was no bickering, no finger pointing.
Behind 25 points behind junior forward
Brandon Bowdry
, the Eagles rebounded for an 86-76 win that demonstrates how far Eastern has come. Although Ramsey is getting more production out of his key players, it's chemistry that's behind Eastern getting off to its best start in seven years.
Behind Bowdry, who is averaging 19 points and 10 rebounds a game, the Eagles have built a multi-layered attack that includes four double-digit scorers. But when a higher team-wide basketball intelligence quotient is added into the mix, Ramsey believes the Eagles could be scary to try and stop once the Mid-American Conference season begins next month.
"We have guys that have the cognitive ability to understand who the hot guy is and try and get him the ball," Ramsey said. "That's huge. There's nothing like a good team, but the only thing better than that is a good, smart team."
Not only is Ramsey noticing a difference, but so are the players that have played a key role in Eastern's early success. Bowdry no longer feels as much pressure to carry so much weight. Senior guard Carlos Medlock calls this year's collection of talent the best he's been around during his career.
The differences between this year's Eastern Michigan model and those in the recent past are easily noticeable.
"It shows out on the court," Medlock said. "We're all coming together during adversity, we're fighting back hard with each other. We're like brothers out there. All the other years, we've been close, but this year, we're a unit."
Couple that with the confidence that's been built in the opening month of the season and Eastern could factor into the MAC championship race. Despite the five wins, though, Ramsey's players won't allow themselves to get over-confident, understanding the long haul that remains ahead.
Eastern, which faces No. 15 Ohio State on Saturday, remains intent on carrying out Ramsey's game plan. Not only do they have a better understanding of what's expected, but they're executing what they need to at critical points of games.
Yet, Ramsey hasn't seen all the components of his team's talent reach its full potential, leading him and his players to believe that better things may still be ahead if they continue to do what's gotten them to this point.
"We just need to stay intense and stay consistent," Bowdry said. "But jumping out with everybody on the same page is pretty special and everyone has the optimism to get even better than what we're doing now."
Jeff Arnold covers sports for AnnArbor.com. He can be reached at jeffarnold@annarbor.com or 734-623-2554.Follow him on Twitter @jeffreyparnold.