Posted on
Thu, Mar 17, 2011 : 5:49 a.m.
Different circumstances, same goal for Michigan hockey team
By Pete Cunningham
Night and day.
That's the way Michigan hockey coach Red Berenson compared this year's run to the semifinals of the CCHA tournament to last year's.
The top-seeded Wolverines will face No. 4 Western Michigan in Friday's 8:05 p.m. semifinal game at Joe Louis Arena in Detroit, one year removed from having the shoe on the other foot in the top vs. bottom-seed matchup.
After a tumultuous 2009-10 season, Michigan entered the CCHA playoffs as a No. 7 seed and needed to win the tournament in order to earn its 20th straight NCAA tournament berth. The Wolverines played with a sense of desperation, and rode the momentum not only to CCHA championship, but to within a win of advancing to the Frozen Four.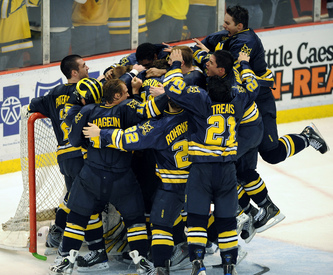 AnnArbor.com file photo
This year's team enters the weekend tournament at The Joe -- its 22nd consecutive CCHA semifinal appearance -- without that urgency, having secured a spot in next week's NCAA tournament by finishing atop the CCHA regular season standings. But make no mistake, the goal remains the same for the Wolverines
"We want to put another banner up here at Yost. The NCAA tournament's nice and we'll get there next week, but winning in the playoffs in the league that you play a 28-game schedule means a lot to us," said senior goalie Shawn Hunwick. "It's a huge thing for Michigan hockey to win CCHA championships. We'll worry about the NCAA tournament after that."
If anyone knows difference between this year and last, it's Hunwick. After three years as a backup, he entered last year's CCHA playoffs having won just a single game in a Michigan uniform. He became the unexpected star in the Wolverines' run to the NCAA regional finals, and won the CCHA tournament MVP award along the way, after replacing an injured Bryan Hogan at the end of the regular season.
Hunwick, 18-7-4 this season, has been the unquestioned starter since December. He admitted that last year he entered the weekend at Joe Louis Arena unsure of whether he could pull his own weight, even after upsetting Michigan State in the quarterfinals.
With a wealth of experience under his belt now, Hunwick has no such worries.
"This year he's going in with some momentum and confidence," Berenson said. Along with the confidence in Hunwick, other lessons were learned from last year's win-or-go home scenario that the Wolverines hope to use to their advantage this weekend
"Last year, we learned that you can beat anyone any given night. It's just about everyone working hard and doing everything for the team," said senior forward and captain Carl Hagelin.
Hagelin said the desperation with which the Wolverines were forced to play helped prepare them for the NCAA tournament.
"We want some of that desperation. We may not need it all, but we definitely want some," Berenson said. "We've talked about that, getting that element in our game when we go to Joe Louis."
No. 2 seed Notre Dame plays No. 3 Miami in Friday's other semifinal, which begins at 4:35 p.m. The losers play in Saturday's 3:35 p.m. consolation game. The title game begins at 7:35 p.m. on Saturday. All games will be televised by Fox Sports Detroit-Plus.
How Swede it is
Hagelin, Michigan's leader in points, always relishes the opportunity to play at Joe Louis Arena. It's not just because of Michigan's favorable record there in his four years, with two CCHA tournament titles and three Great Lakes Invitational trophies.
"There's a lot of good players that come through there and, for me, there's a lot of Swedes," said Hagelin, a native of Sodertalje, Sweden. "You see (Henrik) Zetterberg and (Nicklas) Lidstrom on the walls over there, and for me that's extra special."
Pete Cunningham covers sports for AnnArbor.com. He can be reached at petercunningham@annarbor.com or by phone at 734-623-2561. Follow him on Twitter @petcunningham.