Posted on
Thu, Jul 11, 2013 : 2 p.m.
AAU Junior Olympic Games coming to Ann Arbor, Ypsilanti and more community briefs
By Pete Cunningham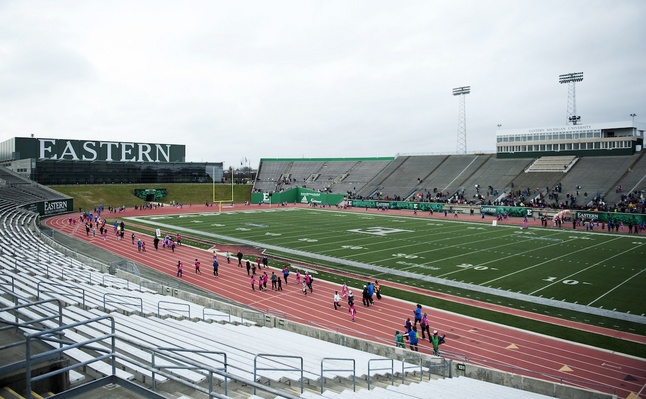 Daniel Brenner | AnnArbor.com file photo
While Detroit is the official host city of the 2013 AAU Junior Olympic Games, Ypsilanti and Ann Arbor will see a good share of action.
The "Celebration of Athletes," which is similar to the Olympic Games opening ceremony, and the track and field portion of the competition will be held at Eastern Michigan's Rynearson Stadium. The Celebration of Athletes will be on Monday, July 29 at 7:30 p.m. and the track and field competition will be July 27-August 3. Among the athletes scheduled to compete is Lincoln High School senior-to-be Savannah Roberson, who is ranked No. 2 in the country in the 17-18 girls division of the 200-meter dash, and tied for the No. 1 spot in the 100-meter dash. Roberson competes for the Michigan All-Star Track and Field Club.
The field hockey and swimming competitions will be held at the University of Michigan, swimming from July 26-29 at Canham Natatorium and field hockey from July 31-Aug. 3 at Ocker Field
For more information on the 2013 AAU Junior Olympic Games, visit AAUjrGames.org.
3-on-3 soccer coming to Saline High School
The Second Annual 3v3 Soccer Classic will be held on Saturday, August 3 from 8 a.m.-5 p.m. at Saline High School. All games will be played on the turf fields at Hornets Stadium and on the adjacent field inside of the high school track. There will be boys and girls divisions for U7-U14 aged teams and, new to the tournament, an open division for women 30 and over. All teams are guaranteed at least four games.
For information or to register visit the tournament website or contact tournament director Brian Lampman at 734-255-9563 or lampmanb@salineschools.org.
Michigan athletics holding garage sale
The 2013-2014 season is fast approaching, which means the athletic teams at the University of Michigan will need to empty its closet of last year's gear to clear space for this year. The athletic department will do exactly that on Friday, July 19, at its annual used apparel garage sale at the U-M Indoor Track Building, located at 1150 S. State St. The sale will go from 9 a.m.-3 p.m. and will include football jerseys, T-shirts, hats, balls, jackets and other merchandise.
For information visit MGoBlue.com.
Pioneer vs. Huron alumni game Friday
The second annual Pioneer vs. Huron alumni basketball game will be held on Friday, July 12 at 6 p.m. at Pioneer High School.
The game will pit alumni of the two basketball programs from the graduating classes of 1979-95. Admission is $7 for adults, $5 for children 12 and under. A portion of money raised goes toward pay-to-participate scholarships at Pioneer and Huron.
A picnic will be held the following day, from noon-8 p.m. at Southeast Area Park, located on the corner of Ellsworth and Platt roads. The event will feature free food and beverages, face painting and childrens and adults games.
Have a local sports brief to tell us about? Contact us at sports@annarbor.com.
Pete Cunningham covers sports for AnnArbor.com. He can be reached at petercunningham@annarbor.com. Follow him on Twitter @petcunningham.