Posted on
Fri, Aug 10, 2012 : 5:45 a.m.
Confidence and intensity drive Cliff Keen wrestler Jake Herbert's bid for Olympic gold
By Matt Durr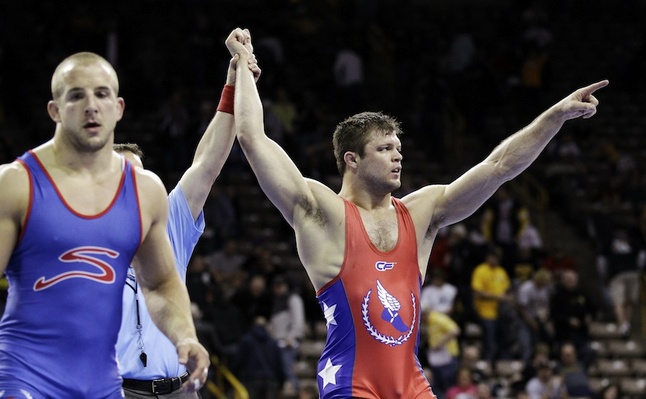 Charlie Neibergall | Associated Press
Ann Arbor resident
This story has been updated to include Jake Herbert's tournament draw following his Friday morning weigh-in.
Jake Herbert
says he isn't concerned with the global audience watching his Olympic wrestling matches, just the man who will be standing in front of him.
"I'm looking at it as four matches, it doesn't matter who is watching. It doesn't matter if the whole world is watching," Herbert told AnnArbor.com before leaving for the Summer Games in London. "I've got to win that match. If you start focusing on those other factors it can make you nervous and I'm not going to worry about that stuff."
Those words are said with an intensity that can only come from an athlete who spends his days slamming people to the mat.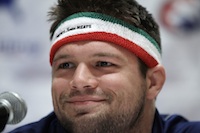 Associated Press
Herbert will always be Northwestern Wildcat at heart. But when the two-time 184-pound NCAA wrestling champion decided to make a jump to international competition, he moved to Ann Arbor to train with the
Cliff Keen Wrestling Club
.
It was a move that helped Herbert not only become an Olympian, but has put him in a spot to compete for a gold medal. Herbert's 84-kilogram (185 pound) freestyle round of 16 begins at 8 a.m. EST Saturday with the gold medal match scheduled for 2:21 p.m.
"That Michigan group and Cliff Keen Wrestling Club has just done a superb job. Sean Bormet, Joe McFarland, Andy Hrovat, they know what they're doing," said USA freestyle head coach Zeke Jones, a Huron High School graduate. "There are several world class athletes there and there's just a really good system in place."
The 27-year-old Herbert said the biggest impact the club has made was providing a chance to focus solely on wrestling for the first time since college. The ability to hone in on his training alone was a giant factor in his quest to reach the Olympics.
"It's so awesome to have a team to train with, and just focus on training full-time. We're really blessed to have the Cliff Keen club here and everyone who brought it together," Herbert said. "I have the best guys possible here. It has a great variety and it has everything we need to accomplish our goals."
One of the guys helping Herbert is Bormet, a Michigan assistant coach and former two-time All-American. A former Wolverine on the mats, Bormet was Herbert's coach when he took the silver medal at the 2009 World Championships.
LOCAL OLYMPIANS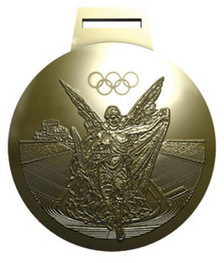 Visit the AnnArbor.com
Olympics page
for stories on Olympians with Ann Arbor-area ties. Follow along with Michigan athletes at
MLive.com/Olympics
.
Over the past three years, Bormet has helped Herbert improve and can see a difference in his wrestling over that that time.
"He's much better now than he was in 2009 as an athlete. He's bigger, stronger," Bormet said. "The biggest thing is he has a lot more international match experience. He is a lot more familiar with his opponents."
Herbert is among the medal favorites in his weight class, along with Sharif Sharifov of Azerbaijan, Anzor Urishev of Russia and Denis Tsargush of Georgia.
"The whole cycle it's been the same guys, I know the top five guys, but it's not going to matter because I don't have to beat them all, I'm going to have to beat whoever is in my way," Herbert said. "Whoever those people are in front of me, that's who I have to beat."
Herbert was in London for the Opening Ceremonies, but the U.S. wrestling team headed to Belarus for one last week of practice immediately after so as to avoid the chaos that surrounds the games.
That's not to say Herbert hasn't enjoyed his limited time in London. During the ceremonies he took a minute to tweet a photo of himself in the Olympic Stadium.
After that brief night of relaxation, Herbert was back at work focusing in on the four men that stand between him and a gold medal. And for Herbert, he wouldn't have it any other way.
"I don't think there is any point in life where I'm going to look back and think 'man I worked too hard.' That hard work is going to come out with a gold medal, or a medal, or a great experience."
Tournament draw
Following a successful weigh-in on Friday morning in London, Herbert received his draw for the tournament.
Herbert drew the No. 10 spot, and will face Humberto Arencibia of Cuba. Herbert defeated Arencibia in the finals of the 2011 Pan American Games. Arencibia won the 2012 Pan American Olympic Qualifier. Should Herbert win, he will face the winner of the match between Ibrahim Bolukbasi of Turkey and 2011 World champion Sharif Sharifov of Azerbaijan. Bolukbasi was fifth in the 2011 European Championships. "He has a Cuban in the first round, a guy he wrestled in the Pan American Games. We are very familiar with him. Jake has had great preparation. We had him wrestle a lot of foreigners last week. That will make a big difference. He needed to get that foreign feel in competition. That will pay off at the end," said Jones.
Matt Durr covers sports for AnnArbor.com.