Dave Brandon vs. Mark Hollis golf rematch open to public Tuesday at U-M Golf Course
Posted on Sat, Jul 21, 2012 : 12:25 p.m.
The public is welcome to walk along with golfers when Michigan athletic director Dave Brandon and his Michigan State counterpart, Mark Hollis, renew their B1G AD Golf Challenge on Tuesday at the U-M Golf Course.
Admission is free for the event, which will feature nine head-to-head matchups in a match play format.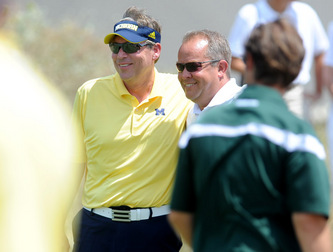 Melanie Maxwell I AnnArbor.com
Hollis' Michigan State team
beat Michigan in a best ball format last year
when former Spartan golfer
Ryan Brehm
made a 20-foot birdie putt on the first sudden death playoff hole at Eagle Eye Golf Club in Bath.
The idea for the match originated when Brandon and Hollis traded light-hearted jabs via Twitter at the 2011 spring Big Ten meetings. After last year's inaugural event, both had kind words for each other.
Hollis: "This doesn't happen with people that don't like each other. Hopefully we can keep this going for years to come."
Brandon: "We compete nose-to-nose in a lot of sports, but we also work together really well and that's the way it should be."
Brandon chose the match play format and location for this year's event, which begins at 12:45 p.m. with the two athletic directors going head-to-head. The other pairings match people in similar roles at the two universities:
12:45 p.m.: Athletic directors (Dave Brandon vs. Mark Hollis)
12:53 p.m.: Men's golf coaches (Chris Whitten vs. Casey Lubahn)
1:01 p.m.: Women's golf coaches (Cheryl Stacy vs. Stacy Slobodnik-Stoll)
1:09 p.m.: Former men's players (Andy Matthews vs. Ryan Brehm)
1:17 p.m.: Former men's players (Matt Thompson vs. Jack Newman)
1:25 p.m.: Former women's players (Elaine Crosby vs. Natalie Brehm)
1:33 p.m.: Former women's players (Ashley Bauer vs. Sara Brown)
1:41 p.m.: Team radio announcers (Frank Beckmann vs. Jim Miller)
1:49 p.m.: (University professors) Thad Polk vs. Trey Rogers)

Spectators can walk along during the action (carts will not be provided), but must remain on cart paths or in the rough and approximately 15 yards from the players at all times. There will be a championship trophy presentation immediately following the conclusion of the matches.