Posted on
Tue, Jan 5, 2010 : 8:42 p.m.
David Brandon's hiring at Michigan heightens scrutiny of Rich Rodriguez
By Pete Bigelow
On his first day as the new face of Michigan athletics, David Brandon did a lot of reminiscing about the school's old guard.
He talked about meeting Don Canham as an impressionable 18-year-old kid, being recruited to the football team by Bump Elliott and life lessons learned from Bo Schembechler.
He already knows "The Victors."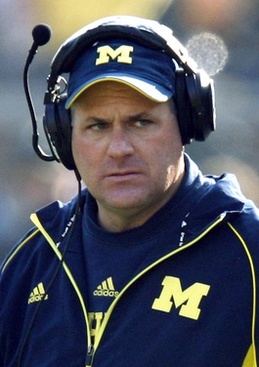 During his introductory press conference Tuesday, Brandon said he likes to sing about being champions, the leaders and the best as much as anyone.
He knows the Wolverines football team has been anything but since Rich Rodriguez took over the program in December 2007.
"I'm as concerned as everybody is, knowing that we're a program that likes and needs to win," Brandon said when asked about Rodriguez.
Brandon didn't allow himself to be boxed into a commitment regarding the Wolverines football program and Rodriguez one way or the other Tuesday. But make no mistake, Brandon's hiring brings additional pressure on Rodriguez's shoulders.
Without addressing it directly, Brandon made it clear that the football coach will be held accountable.
"I look forward to getting to know Rich better and to understand more about how he's approaching the difficult task ahead - and that is turning our football program around and having it be what we all want it to be," Brandon said.
That's somewhere far better than it is today, on and off the field.
Brandon spent a good deal of time Tuesday talking about his marketing and branding background. He understands better than most the Block M brand isn't only about wins and losses.
Alumni like himself like to think it's about winning the right way, about representing the university as well off the field as on it - and making sure such platitudes aren't just hollow talk.
In that sense, Rodriguez's record should make Brandon as concerned as the 8-16 product on the field.
In the past five months, Rodriguez has seen the NCAA open an investigation into his practices, a quarterback he recruited charged with conspiracy to distribute cocaine and a failed real-estate investment result in a lawsuit.
That lawsuit, of course, was unrelated to the earlier one brought by West Virginia, Rodriguez's former employer, which sued him to retrieve the buyout it claimed he owed them. The case was settled days before Michigan officials were about to be deposed in the case.
All the off-field distractions stained the Block M brand.
It didn't seem like anything could add to the burden on Rodriguez's shoulders. Brandon's hiring achieved the improbable. It did.
On some level, the pressure on Rodriguez was bound to increase with the naming of a new athletic director, no matter who arrived in Weidenbach Hall.
But it is accentuated with Brandon and his connections to Michigan's past. Brandon wants to add his name to the list of Michigan legends, among the Canhams and Schembechlers.
"And I guarantee you I'd have been proud to play for Lloyd Carr," Brandon added.
He's got a five-year appointment in which to create that legacy, a relatively short stint. One way to leave a lasting impression would be to ensure the football program is left in excellent shape.
No matter who's in charge, that's how Brandon intends to leave the program.
Brandon emphasized Tuesday that every business he's led has either been No. 1 in its market or No. 1 in its respective industry.
If Rodriguez cannot bring Michigan football there, Brandon will move him out of the way and find someone who can.