Posted on
Thu, Jul 22, 2010 : 12:19 p.m.
Derby Dimes plan to bring old-school, banked-track roller derby to Ann Arbor
By Andrew Reid
Roller derby, like Norman Rockwell paintings and the delivery milkman, seems to be one of those nostalgic pieces of Americana lost in the hustle and bustle of present day.
But a group of women are trying to bring the predominately female-only sport back to Ann Arbor — complete with a banked track that could cost the club up to $30,000.
"Some of us got to thinking that Ann Arbor could really benefit from a team," team webmaster Misty Mills said. "It's a pretty big metropolitan area and might be something that, especially students, would be interested in. It's been great for U-M and EMU students so far."
Club president Kellee Gallardo put out feelers in the community, because, as an Ann Arbor resident, it was becoming increasingly difficult for her to compete on her Derby team in Jackson.
"It was really long ride and, financially, it was just too much for gas," Gallardo said. "And, I have kids, so it was taking up a lot of time. I knew I had to leave the team, but I knew I didn't want to quit."
Thus, the humble beginnings of the Ann Arbor Derby Dimes, a three- to four-team league that plans to begin bouting in 2011.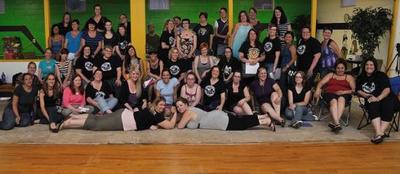 Photo by Ben Seese, courtesy Ann Arbor Derby Dimes
Gallardo said more than 50 women attended the second league meeting, most wanting to play derby but some just looking to help out.
"Businesses have really been in favor of it, and we're getting sponsors," she said. "Right now, we're looking into facilities where we can build the track."
There's been interest piqued from students from Michigan and Eastern Michigan. Organizers said the age range of potential participants is staggering: from late-teens to women in their 50s.
"It's great, because it's really empowering for women," Mills said. "There's no stereotype for competitors. We have women from every age range, and we have nurses and hairdressers and bartenders and stay-at-home moms … people from all walks of life."
The Dimes don't yet know where they will compete, how many teams will be in the league or when, exactly, the competition will start, since each team will be required to complete extensive training.
But one thing is for sure: the banked track, which will make Michigan one of just 10 states that have both banked- and flat-track teams.
"Basically, bank-track is old-school thing," Mills said. "The track is separate — it's not just the floor, and it curves up on the sides. That's what it was like in the 50s when it was big. Flat track is popular because it's a lot cheaper … you can just tape out a track on the floor."
But the Dimes, whose officers work on a volunteer basis, are confident that, despite the price, a banked track is the way to go.
"There are a lot of flat-track teams in Michigan, and they're drawing crowds, but we wanted to get Michigan on the map, and add something exciting," PR rep Cristin Colling said. "And some league members are familiar with banked tracks. There are concerns, it's a volunteer league, we need to raise the funds — the banked track adds some costs, but it will be better for the spectators. Fans of derby will get the best of both words."
For now, the teams, once assembled, will train on flat tracks.
For information about signing up or volunteering, visit the Ann Arbor Derby Dimes Facebook page or the Ann Arbor Derby Dimes website. You can also support the Ann Arbor Derby Dimes by attending their first benefit show Thursday, July 29 at Savoy and their benefit bash/logo unveiling/website launch event Friday, August 13 at the Blind Pig.