Posted on
Sat, Sep 18, 2010 : 5:01 p.m.
Despite win, Michigan defense struggles as serious question marks remain
By Jeff Arnold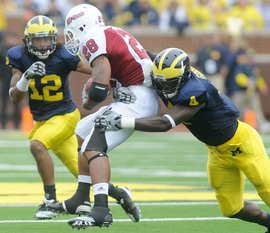 Angela J. Cesere | AnnArbor.com
Just when Rich Rodriguez figured he had eliminated some of the question marks surrounding Michigan's defense he watched a shoddy showing Saturday in the Wolverines' 42-37 victory.
The Michigan defense yielded 439 yards to a Football Championship Subdivision opponent, missing tackles and continually losing contain against a Minuteman offense it felt it was prepared to take on. Defensive tackle Mike Martin said his unit wasn't as focused as it should have been. Safety Jordan Kovacs said the defense struggled with fundamentals, which was glaring early on after the Wolverines missed 10 tackles on Massachusetts' first three possessions.
Afterward, Rodriguez acknowledged he was disappointed, saying Michigan's defense was not on. At all.
"We have some warts that are still out there," Rodriguez said. "Let's not pretend we're the 1985 Chicago Bears. Let's not pretend we're that. Three games in, we should get a little bit better."
Just a week after playing a key role in Michigan's 28-24 win at Notre Dame, Michigan's defense struggled to stop Massachusetts. Despite a continuous stream of warnings from Rodriguez as to what was coming, the Wolverines failed to execute against both the run and the pass against Massachusetts, which produced its biggest offensive output of the season Saturday.
"Maybe they caught us off guard today," said Kovacs, who led Michigan with 11 tackles. "But we're going to get back to Michigan football this week. I think UMass is a good team - it's nothing we're going to see in the Big Ten, but they just came out and smashed us in the mouth today."
Despite the final outcome and a third straight victory, the Wolverines said there are plenty of adjustments to make.
"We're not happy with the win - we're happy we didn't lose, but we weren't satisfied with the way we played defensively," Kovacs said. "And we're going to make corrections."
In a microcosm of Michigan's day defensively, redshirt freshman Cam Gordon intercepted a Kyle Havens pass in the red zone midway through the fourth quarter, then fumbled the ball back to the Minutemen. Eight plays later, Massachusetts scored, cutting the deficit to 12 points.
A late Massachusetts touchdown made things even more interesting as Havens threw for his second touchdown with 2:05 remaining.
"We're not good enough to just walk in and just play and get a victory," Martin said. "We've got to play every down, every game no matter who it is. We've just got to continue to do that."
Jeff Arnold covers sports for AnnArbor.com and can be reached at (734) 623-2554 or by e-mail at jeffarnold@annarbor.com. Follow him on Twitter @jeffreyparnold.