Posted on
Sat, Jul 13, 2013 : 5:30 a.m.
Detroit minor league soccer team and Michigan program benefiting from each other
By Pete Cunningham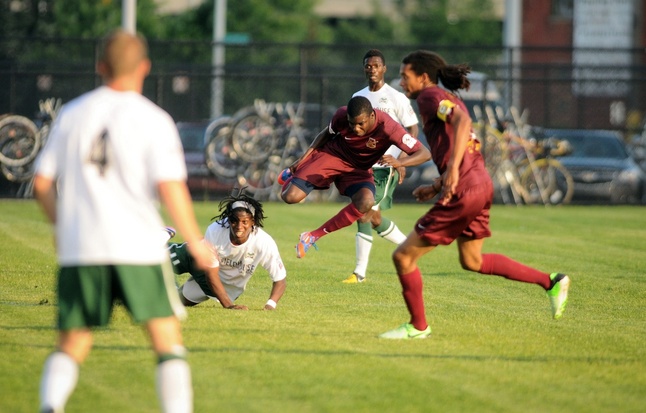 Tanya Moutzalias | MLive Media Group file photo
DETROIT - There's smoke bombs and flares in the stands, a "jorts cannon" - that is a cannon that shoots jean shorts - and a raucously loyal group of supporters at every
Detroit City Football Club game.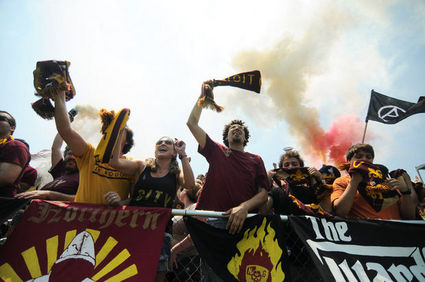 Tanya Moutzalias | MLive Media Group file photo
It all makes for a
great atmosphere to watch soccer
. More important to the players on the field and the various college teams they'll eventually play for in the fall though, is the quality of play on the field as Cass Tech High School.
And it's been high, which should benefit the University of Michigan's soccer program.
Current Michigan players Nick Lewin, Ezekial Harris, Fabio Pereira and T.J. Van Slooten have all spent the summer playing for Detroit City FC, a second-year member of the National Premier Soccer League. The NPSL is a fourth-tier minor league consisting of amateur teams from across the country. Teamed with current and former college players from 16 different schools, the Wolverines players have led Detroit City FC to an undefeated season in it's second year as a club and they will head into the weekend's playoffs at Cass Tech as the top seed in the Great Lakes Division.
All of this bodes well for Michigan in the fall.
"Playing college, the coaches kind of stress getting touches and staying fit and staying in the game over the summer, so playing for this team, all the guys are from other colleges and the level is very high," said Lewin, who is in his second year playing for Detroit. "The level and the quality of players is very good, so it helps me improve."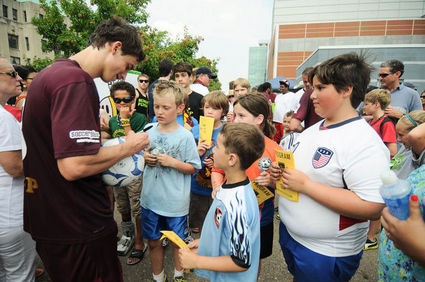 Tanya Moutzalias | MLive Media Group file photo
"It's only an hour away and it's still highly competitive, you get to play with some teammates as well as some of the best players from around this area," Harris said. "Detroit's kind of the perfect place in between everywhere, everyone just kind of comes in and it's a great environment to play in and it's shown in our record so far."
Four years ago, a group of friends from Detroit decided to put together a soccer league with teams representing Detroit's neighborhoods. The league took off and the friends decided to parlay its popularity with an effort to found a minor league soccer team. The league's participants would make a good fan base and players from the multitude of college programs in and around southeastern Michigan could fill the roster.
It has worked, and the Wolverines program is benefitting.
"It definitely would have been nice to have it the other three years," said Latif Alashe, who just completed his final season with Michigan. Alashe played with Detroit City FC before his senior year at Michigan. "It's just a fun opportunity to get to play in front of so many great fans."
Alashe played with the Michigan Bucks of the North American Professional Development League during his other summers at Michigan. He said Detroit City FC's location, and the training schedule makes for a better experience. Detroit City FC trains on weeknights and plays games on the weekends. The Bucks are based in Pontiac, train during the day with games on weekend and weekdays.
"A lot of guys want to do internships, but it's kind of hard when you're playing with the Bucks because they practice in the middle of the day," Alashe said. "(Detroit City FC) is definitely a lot more flexible. It's definitely a great place to be, we all feel welcome here."
Even Detroit City FC coach Ben Pirmann, a Michigan State assistant, knows the Wolverines program will benefit from the team's efforts.
"My boss kind of says, I'm not paying you to develop the other players in the state of Michigan'," Pirmann said with a laugh. "But be it coach (Eric) Pogue at Oakland, coach (Chaka) Daley at Michigan, coach (Cale) Wassermann at SVSU, or whoever, they really like sending their players here because they get a good training environment and they also get one of the best atmospheres and highest level of soccer in the country."
Detroit City FC highlights:
Pete Cunningham covers sports for AnnArbor.com. He can be reached at petercunningham@annarbor.com. Follow him on Twitter @petcunningham.