Posted on
Thu, Jul 19, 2012 : 5:56 a.m.
Matured Michigan gymnast Sam Mikulak aims to dazzle at London Olympics
By Nick Baumgardner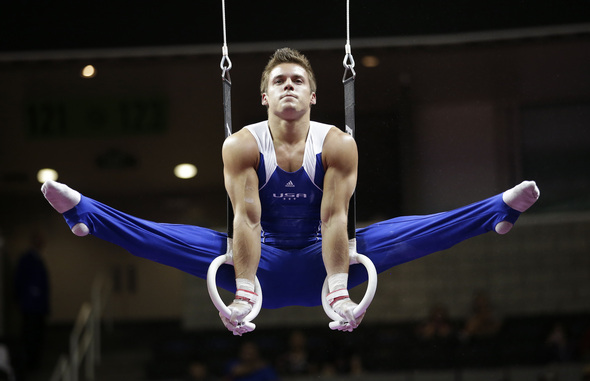 Associated Press
Sam Mikulak's
initial introduction to Ann Arbor and college gymnastics wasn't a friendly one.
During his first week in Ann Arbor in 2010, one of the most gifted gymnasts - and athletes in general - in Michigan history found out fast that he wasn't in California any longer.
"He got a $100 ticket for longboarding over by the stadium on his way to a meeting," Michigan men's gymnastics coach Kurt Golder recalled. "You've got to be kidding.
"What a welcome."
Just days removed from the pristine beaches of Corona Del Mar, Calif., the 17-year-old Mikulak burst into Golder's program with more talent in his suntan than most gymnasts cultivate in a lifetime.
But he was also just a kid, barely old enough to drive, that hadn't yet figured out that invincibility cloaks only work in comic books.
Outside of spending time at the pool, one of Mikulak's favorite non-gymnastics hobbies was his long board. He'd ride it just about everywhere. Near the stadium, around campus and down the hill on Division Street every day to team meetings and practice.
Not exactly the safest of hobbies for a world-class athlete who needs every ounce of full body function for his craft.
But, again. He was just a normal kid, being a normal kid.
"I like to longboard, I do," Mikulak says. "But I haven't done it in a while.
"I kind of miss it."
These days, Mikulak's longboard - and the potential injury associated with it at every turn - mostly sits in storage. At some point along the way, and he can't exactly tell you when, he figured out that he wasn't a normal kid.
Normal kids don't have as much to lose as Mikulak. And, in turn, they don't have near as much to gain.
"There have been many times in the past where I'd have had my parents make that call for me," Mikulak said. "When I was a kid in California, I'd want to go on a snowboarding trip or something with friends and they'd tell me 'no,' tell me I can't go because the season's coming up and I can't get hurt.
"But now, I kind of tend to make those decisions on my own. I guess I'm kind of maturing."
For most of his life, gymnastics was a natural exercise for Mikulak. While he wasn't immune to the countless hours of sweat-soaked work inside the gym, or the tireless dedication the sport requires, the movements and intricacies of the sport were second nature.
His freshman season at Michigan was a breeze. Within months of his arrival, Mikulak already boasted credentials of Big Ten Freshman of the Year, Big Ten Gymnast of the Year - and most importantly - NCAA All-Around champion.
He was already the best collegiate gymnast in the country, and there appeared to be nothing that could slow him down.
He was invincible.
Until, of course, he wasn't.
During the 2012 NCAA Championships this past spring, Mikulak fell off the pommel horse. The slip cost him precious points, and eventually robbed him a shot at earning a second straight NCAA title.
It was arguably the worst moment of his gymnastics career. But it might have been the best, too.
"After that, a switch flipped," Mikulak said. I wanted to make sure I was controlling all the variables that were putting me at risk.
"I can't really say that if I hadn't fallen it would've been different. But I definitely know now that I can take the positives of negative situations. It helped me push through (training for the Olympics) to make pommel horse the best that I can."
Golder insists he never had any formal conversations with Mikulak about his maturation process. He never told him he couldn't longboard, and he never came crashing down on him too hard if he was late for a meeting or two.
All kids eventually grow up some time, something Golder - who is in his 17th year at Michigan - completely understood. For Mikulak, that time likely came on that pommel horse in Oklahoma last April.
From there, Golder says Mikulak hit another level. And it took an internal drive to get him there, something he can't really teach.
"I suspected he was going to turn it up, and I was right," he said. "He knew what was going on, what was at stake. I didn't have to talk to him about it.
"He has another switch."
After flipping said switch, Mikulak honed his skills through Olympic preperations and was able to overcome an ankle injury during the Olympic Trials to punch his ticket to London.
As a young gymnast, still just 19, Mikulak has aspirations of competing not only this summer, but in 2016 as well. But for now, everything is focused on bringing back a medal in August.
He's not perfect. He's not Superman. But that's fine.
Mikulak's fully aware of his potential in life, and he also knows he doesn't need his longboard to get there.
"You're not always going to have the best day in the world, but you have to try to control it as much as you can," he said. "All you need is positivity and confidence."
Nick Baumgardner covers Michigan sports for AnnArbor.com. He can be reached at 734-623-2514, by email at nickbaumgardner@annarbor.com and followed on Twitter @nickbaumgardner.