Posted on
Wed, Jun 23, 2010 : 5:40 p.m.
Drag racing legend Connie Kalitta's passion evident at the track, in the air
By Jeff Arnold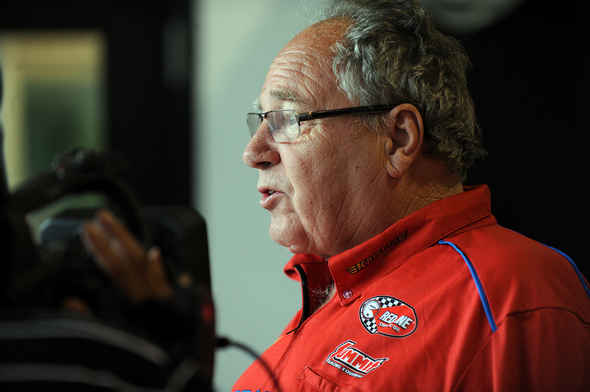 To see Connie Kalitta today is to see a man still obsessed with a high-speed existence that, despite its risks, he considers the only life for him.
Even at 72, the drag racing legend's eyes still sparkle and the inflection of his voice changes when he talks about 170 decibels of surround sound that exist before foot meets the throttle. He's still exhilarated by the way a driver's chest pounds when the concussions begin kicking out of the engine.
It's about the only life Kalitta has known - first as a driver known as The Bounty Hunter - and now as the owner of a race team that spends $6 million annually to operate the three cars Kalitta Motorsports maintains on the NHRA circuit.
As rich as Kalitta's life has been, the sport he helped define has also forced him to deal with heartache following the death of his son, Scott, during an event in 2008. But in true Kalitta fashion, he continues to surge forward, driven by the need to be the best, inspired to carry on in his late son's memory.
It's the Kalitta Way.
"There's an obsession and I live with that today," Kalitta said Wednesday while seated in front of roomful of admiring fans who honored him at a luncheon at his Ypsilanti race shop. "That's what keeps me going. I'm very much blessed by the fact that I do what I love and love what I do."
Kalitta, who also operates a charter airline business, cherishes a life spent on the go and that includes very little down time. His weekends are spent at the race track, overseeing a team that includes nephew Doug Kalitta, who currently ranks fourth in the NHRA Top Fuel Division heading into this weekend's event in Norwalk, Ohio.
Connie Kalitta's Monday-to-Friday existence is spent running his business that employs 800 and has fought through its share of economic hardships.
Like his life at the track, maintaining a business is a full-time commitment filled with wins and losses. But he's intent on doing things right while treating his employees like family all while choosing to run both his business and race team in Michigan despite its struggling economy.
The rewards have been astounding. Kalitta Air made a first-quarter turnaround and is doing 100 percent more business than it was last year, Kalitta said. He operates 18 airplanes, a fleet that logs 4,000 hours a month - twice the volume they were at this time last year. Earlier this year, Kalitta brought back 100 pilots that had been furloughed.
While business is strong in the air, Kalitta's race team continues to make strides as well. In addition to Doug Kalitta's Top 4 position, Jeff Arend is just outside of the Top 10 in the Funny Car division while Dave Grubnic also ranks 11th in Top Fuel, giving Team Kalitta three cars that could advance on in the NHRA's version of The Chase.
Each of the three drivers credit Connie for their spot on his team considering the legacy that Kalitta owns in the sport. He's the 21st-ranked drag racer of all-time.
Doug Kalitta has never viewed meeting expectations as pressure, but instead as a way to pay homage to his uncle. As a driver himself, he appreciates Connie's eye for detail and commitment to putting himself in the best position to succeed.
Grubnic had been driving for another team before Kalitta asked him to join his team. He still remembers the invitation, honored more by who the request came from than by receiving it in the first place.
"When you hang the phone up, it's like you are on a magic carpet," Grubnic said Wednesday. "You just float around because it feels that good. I'll never forget that."
Although Kalitta hasn't been behind the wheel for years, he's still fueled for a sport in which dragsters reach more than 300 mph. In Kalitta's day, the sport seemed more like it was run on a two-lane road without the luxury of guard rails or safety equipment.
Yet, despite stricter safety rules and different tracks, Kalitta still lives with the tragedy of losing his son to the sport four years ago. Drag racing had provided a bond between Connie and Scott, who struggled with school and other vices. In an effort to motivate his son, the elder Kalitta enticed Scott with the sport he loved in an effort to get him to change his ways.
"I came down to him and told him, you stop your drugs, you go to school, you graduate from school and there will be a race car there waiting for you," Kalitta said Wednesday.
"Did I blackmail him? Absolutely. Did it work? Absolutely."
Scott's life ended in a fiery crash two years ago at the age of 46. Connie's voice still breaks up when he talks about his son, who remains, in spirit, part of his father's everyday operations. Despite the tragedy, Connie remains dedicated to the sport, taking the rewards of it over the risks.
"I grew up with (Scott), which is very, very rewarding," Connie Kalitta said Wednesday. "It's something I think about everyday. I look at the good things that came out of it. I've got two wonderful grandchildren so that's what's life is all about."
It's the Kalitta Way.
Jeff Arnold covers sports for AnnArbor.com and can be reached at (734) 623-2554 or by email at jeffarnold@annarbor.com. Follow him on Twitter @jeffreyparnold.