Posted on
Thu, Jul 18, 2013 : 12:45 p.m.
Iron Man meets eHarmony in 'He-Tried, She-Tried, We-Tried' triathlon
By Pete Cunningham
Not every single person wants to meet at a bar, or online.
So why not try at a triathlon?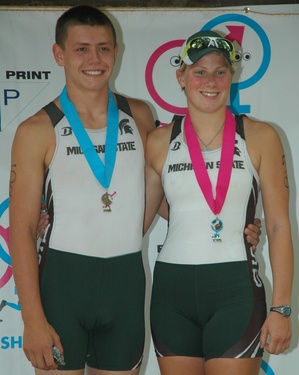 Photo courtesy of Greg Sadler Photography
That's the approach Ann Arbor-based company
Epic Races
is taking for the
"He Tried, She Tried, We Tried"
triathlon and duathlon (run, bike run) on Sunday. Organizers are using the race as a possible way for singles to meet up.
"We wanted to do something a little different so we figured what if someone wants to meet singles who are interested in the same thing you are?" said Epic Races founder and CEO Eva Solomon.
Solomon hopes the marriage between Iron Man and eHarmony possibly could lead to an actual marriage.
"That would be our dream," Solomon said.
The "He Tried, She Tried, We Tried" triathlon/duathlon — which will be at Portage Lake Beach in the Waterloo Recreational Area in Grass Lake Charter Township — is scored as a two-person team race, where participants' times are combined together. While many sign up with partners, someone can sign up as an individual and get paired up at the race. If someone signs up as an individual, they are given a series of questions and paired up with someone based on common interest.
There is also an option on the registration form for individuals if they'd possibly like to meet up with their partner after the race.
"Some people might just want to meet up with someone with common interests, maybe not romantically, maybe just meet a friend," Solomon said. "So often we wish our husbands or partners liked the same things we do, well here's a way to meet someone who does."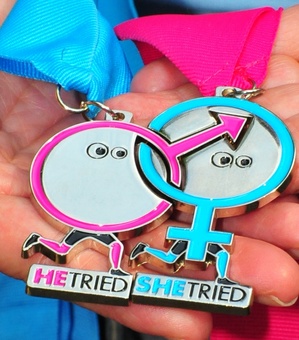 Photo courtesy of Greg Sadler Photography
Of the 133 participants signed up so far, 30 have chosen the meet-up option. Sunday will be Epic Races' second go at the unique approach. Solomon said she hasn't heard of any success stories from last year, but hopes that changes in the future.
"We did have one couple that was engaged shortly after the race, but they were already together, so we can't take credit for that one," Solomon said.
While Solomon may not be able to take credit for bringing David Kennedy and Stefanie Fluke (the couple Solomon referenced) they are an example of why Solomon thinks the concept could catch on.
"I think it's a cool idea," Fluke said. "it's a good way to find someone with common interest," .
Online registration is available at on the race's website until 4 p.m. on Thursday and participants can also register by phone or at the race on Sunday morning. Call 734-531-8747 for information.
Pete Cunningham covers sports for AnnArbor.com. He can be reached at petercunningham@annarbor.com. Follow him on Twitter @petcunningham.