Posted on
Sat, Nov 10, 2012 : 6:11 p.m.
Eagles blow second half lead as Eastern Michigan falls to 1-9 on the season
By Matt Durr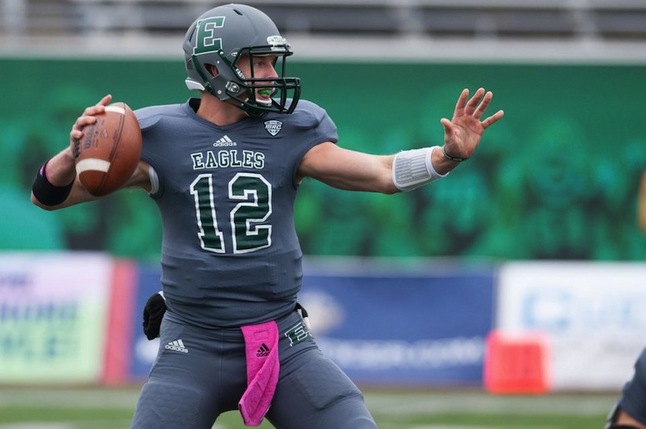 Annarbor.com file photo
With less than nine minutes to play in the third quarter against
Central Michigan
, the
Eastern Michigan University
football team held a eleven point lead. Eight minutes later the Eagles trailed by 10.
It's been that kind of season for EMU, after losing to 34-31 at home to Central Michigan Saturday to fall to 1-9 on the season and 0-6 in MAC play.
After backup quarterback Alex Gillett ran for a 53-yard touchdown to open the second half, the Eagles looked to have a firm grip on the game. But after CMU scored to cut the lead to 21-17, disaster struck for the Eagles on their next possession.
CMU's Kavon Frazier intercepted Gillett, who was benched earlier in the season in favor of Tyler Benz. Frazier returned it 49 yards for a score, giving the Chippewas a 24-21 lead.
Gillett took over for Benz to open the second half for EMU.
EMU went three-and-out on its next drive. Seven plays later CMU quarterback Ryan Radcliff hooked up with Andrew Flory for his second touchdown pass of the day and Chippewas never looked back.
The Eagles jumped out to an early 14-0 lead, highlighted by a Gillett touchdown that came off of a fake field goal late in the first quarter.
EMU gained 414 yards of offense after struggling to move the ball the past two weeks. Gillett led the Eagles with 162 yards rushing and a touchdown while passing for 77 yards on 7-of-17 passing for a score. Bronson Hill rushed for 83 yards on 13 carries.
And while the offense appeared to correct it's problems, the defense gave up more than 400 yards again this week. While they limited CMU to just 119 yards on the ground, the Chips threw for 284 yards through the air.
Flory finished with nine receptions for 118 yards and two touchdowns. The Chippewas are now 4-6 this season and 2-4 in the MAC.
The Eagles now turn their focus to next week's game at Western Michigan. Kickoff is scheduled for 2 p.m.