Posted on
Thu, Nov 3, 2011 : 1:25 p.m.
Defensive-minded Eastern Michigan football team challenges for MAC lead
By Rich Rezler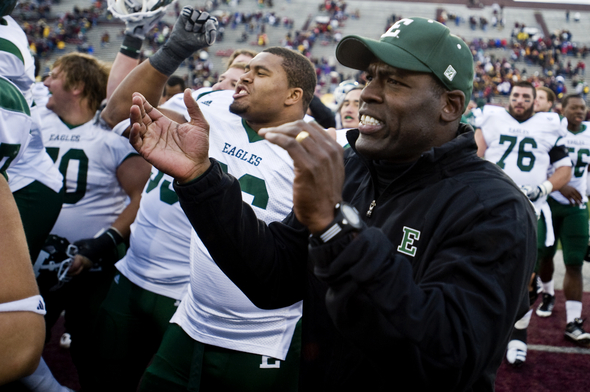 Joseph Tobianski | AnnArbor.com
Q. Name a Washtenaw County college football team playing a televised game at noon Saturday with first place on the line.
If you answered Michigan, you're correct. But predictable.
If you answered Eastern Michigan, you're also correct. And who would've thought so?
The Eagles (5-3, 3-1) host Ball State at Rynearson Stadium with a chance to climb into a first-place tie in the Mid-American Conference West Division standings, thanks to Northern Illinois' 63-60 win at Toledo on Tuesday night.
The ESPN-Plus broadcast of the game has been picked up by Detroit ABC affiliate WXYZ.
Ask Eastern Michigan coach Ron English the best part of being in the thick of the conference race this late in the season and he says it's having his players still focused on the rebuilding process at hand.
"The players get more confident, have more energy and are more attentive because you are still in the mix and in the hunt for a title," he said. "Those are all great things, and we're going to try our best to keep it going this week."
The Eagles are one win shy of matching the 6-5 record of the 1995 EMU team, the last to finish with a winning record.
In the way is a Ball State team that has played the same two opponents as Eastern Michigan in its last two games.
Before an off week in its schedule last week, Eastern Michigan beat Central Michigan 35-28 and Western Michigan 14-10. Ball State beat Central Michigan 31-27 and lost to Western Michigan 45-35.
In those games, the Cardinals showed off an explosive offense - averaging more than 500 total yards - but allowed the Chippewas and Broncos to gain a combined 1,179 yards.
Eastern Michigan limited those same two teams to 778 yards. The Eagles' defensive performance against WMU particularly caught first-year Ball State coach Pete Lembo's attention.
"(Eastern Michigan) definitely has an identity, and it was no more evident than in the win against Western Michigan," Lembo said. "Western Michigan has scored a lot of points this year and done it against BCS teams and teams in our league, and they held them to a very low output, so that says a lot about how they're getting the job done."
During the MAC coaches teleconference, Lembo talked about what he saw while watching EMU game film.
"It seemed like every time you froze the video and there was a tackle made, there were eight or nine guys in the picture on the pile," Lembo said. "And you look at how successful they've been in kickoff coverage, leading the conference, and a lot of kickoff coverage comes down to effort and intensity and toughness. I think those things say a lot about this team."
English said Ball State will be a good challenge for his defense.
"I think they're excellent in what they do schematically in the passing game and running game that severely tests your discipline," he said.
Rich Rezler is a sports producer for AnnArbor.com. Contact him at richrezler@annarbor.com or 734-623-2553.