Posted on
Wed, Feb 29, 2012 : 10:07 p.m.
Eastern Michigan basketball clinches MAC West title on Darrell Lampley's last-second basket at WMU
By AnnArbor.com Staff
The smallest man on the court made the biggest play of the day as the Eastern Michigan basketball team wrapped up a Mid-American Conference West Division title with a 54-53 win at Western Michigan on Wednesday night.
Senior point guard Darrel Lampley hit a floater in the lane over the Broncos' 6-foot-11 Shayne Whittington with less than one second remaining as the Eagles silenced a senior day crowd of 2,969 at University Arena in Kalamazoo.
The four-foot jumper bounced on the rim three times before finding net, according to EMUSports.com.
Lampley, liberally listed as 5-foot-10 on the EMU roster, finished with 15 points and four rebounds as the Eagles (14-16, 9-6) won their first outright MAC West title since the league split into its current format in 1999.
First-year Eagles coach Rob Murphy told the Kalamazoo Gazette that he designed a play for Derek Thompson coming out of a timeout, but WMU took away that option.
The ball ended up in the hands of Lampley, who was recently honored as the MAC West's Co-Player of the Week.
"Lampley's a senior, he's our emotional leader -- heart and soul of the team," Murphy said. "We ask him to do a lot. He's a really good player, and he has extreme confidence."
Western Michigan's Flenard Whitfield had given the Broncos (12-18, 6-9) a 53-52 lead with a three-point play with 17.2 seconds remaining.
Antonio Green added 12 points while Jamell Harris finished with 8 points and 8 rebounds for the Eagles.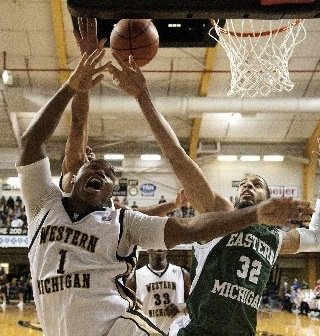 Kalamazoo Gazette
Lampley's game-winning shot wasn't the Eagles' only buzzer-beater.
J.R. Sims hit a 3-point basket as the clock expired on the first half, giving EMU a 26-25 halftime lead. The Eagles would extend the advantage to as many as eight points in the second half.
Whitfield split a pair of free throws to tie the game at 50-50 with 1:03 remaining.
Thompson was fouled and made a layup with 38 seconds left, but missed the free throw that would have put the Eagles up by three points.
Whitfield answered with his late three-point play 22 seconds later, setting up Lampley's heroics.
Mike Douglas scored 15 points and Whitfield 14 points for the Broncos. The Eagles wrap up their regular season with a trip to Toledo on Saturday.