Posted on
Fri, Oct 22, 2010 : 3:14 p.m.
Eastern Michigan basketball coach Charles Ramsey likes his team's maturity, depth and chances
By Jeff Arnold
Charles Ramsey no longer has to be his team's primary motivator.
It's a point in the development of the Eastern Michigan basketball program that the sixth-year head coach has been waiting to reach for some time now.
Once his team's chief ego-booster, Ramsey can now just coach. Rather than constantly concerning himself with getting his players emotionally ready to play, he can focus on aspects of the game that could give the Eagles a competitive edge.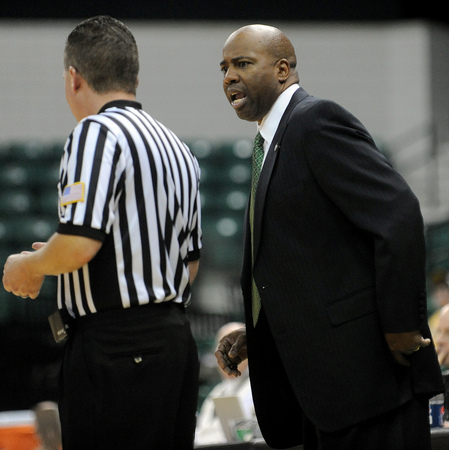 AnnArbor.com file photo
After finishing 17-15 last season, including five losses by three points or less, the Eagles plan to use last year's disappointments as a bridge to contending for a Mid-American Conference West Division title.
Despite losing four-year starting point guard Carlos Medlock and junior guard L.J. Frazier to a torn anterior cruciate ligament this week, Ramsey is confident he's got enough pieces in place to succeed this season.
The Eagles open the season Nov. 12 at Michigan State.
Ramsey sat down for the following question-and-answer session about the upcoming season:
Q: What do you like best about this team?
A: Their energy level has been incredible. We've tried some new things with some ways we want to defend and they are really buying in. They just have an incredible energy level and, hopefully, that's something we can maintain.
Q: When you take a guy like Carlos Medlock out of the mix, what does that do?
A: What you lose is a four-year starter, but it's called rites of passage. There comes a time when you move on and you go to the next time. I'm very comfortable with Darrell Lampley and Adrian Burton. I like what we see see on a day-to-day basis. But the competition has been stern -- the best it's been in my tenure. There's competition at every position.
Q: You mentioned competition, how does that push a guy like Brandon Bowdry, who would seem like the likely leader now that Medlock has graduated?
A: Brandon's never had that push or competition, so it's good. He's a competitor and what can happen is that you can become very complacent in practice if you don't have that individual or individuals pushing you. Now, we have that and he's responded. Last year, there were times when I wanted him to think a little bit more rather than just being physical. Sometimes you have to think your way through a situation and he's doing a lot better job with the mental (aspects).
Q: We've talked about point guard and Bowdry in the post. What other players do you sense have taken that next step in their development?
A: Jay Higgins and Will Cooper. They're playing like you want your seniors to play. Jay at the wing and Will is going to be our handyman and he's going to be asked to do myriad of things. To their credit, they took it upon themselves to work on the things they didn't excel at and I think you can see the hard work starting to pay off.
Q: With the change in personnel you have, does that change the way you approach things?
A: We're going to try to do that. We're trying to manufacture more points with our defense. We're going to pick up more of the floor and you're going to see more of a 94-foot team. It's not something we're going to hide. That's the way we're going to play. I've never had the personnel, I've never had the depth. Carlos was playing 37 minutes a game and you can't do that to your point guard. We needed him on the floor. Now, with the depth, we can do a lot more.
Q: With so much depth, do you envision a situation where guys are constantly battling for a starting job or do you have five in mind?
A: We're going to be pretty consistent with the starters. Guys are going to fill their roles, but there's not going be a lot of drop-off (between starters and reserves). We haven't had that comfort. Now, you go to the next guy and you feel good about going to that next guy.
Q: Do you like where this team stands in the MAC West?
A: I like where we are in the West, I like where we are in the MAC. Let's not forget we were a 3-point throw-in from being in the semifinal game (of the league tournament) against a team (Western Michigan) we had already beaten. So we're a lot closer than we are further away.
Q: How much do you think they remember that double overtime loss to Akron in the quarterfinals?
A: Oh, they remember it and they remember it in a positive manner. It hurt and I've never been in a locker room that was so distraught after a loss. It was like they were so close and yet, it was taken out of your grasp and so they've used it as a motivator.
Q: How do you build off of that?
A: I think it builds off itself. We have a strong character group and I don't think there's a lot you need to tell them. They know where they were, they know what it meant and they know how close they were. They know a lot more than we give them credit for. Our first few years, we had to motivate, we had to cheer, we had to be intense. Now I can just come to practice and coach. That's what you're waiting on -- when (the program) kind of runs itself. It's a step the program has taken to mature and take that next step. So we'll see where that leads.
Q: But that's another sign that this program is getting better isn't it?
A: I think the program has taken a step to where there's now a respect throughout the league where you can't sleep on Eastern Michigan. I don't know if you could say that in the past. Now, no one sleeps on us. No one likes coming to Ypsilanti. So we've changed in that regard. You have to get to a point where people respect you enough to have some fear of you and we've gotten to that point.
Jeff Arnold covers sports for AnnArbor.com and can be reached at (734) 623-2554 or by e-mail at jeffarnold@annarbor.com. Follow him on Twitter @jeffreyparnold.