Posted on
Tue, Apr 19, 2011 : 5:11 p.m.
Reports that Eastern Michigan's next basketball coach is Rob Murphy may be premature
By AnnArbor.com Staff
Syracuse basketball coach Jim Boeheim said today that reports of Orange assistant coach Rob Murphy getting the head coach position at Eastern Michigan may be premature.
"I know he's a candidate for the job there," Boeheim told the Syracuse Post-Standard. "I've heard there's an announcement scheduled for Thursday, but I don't really know for sure."
Boeheim laughed when told that Fox Sports' Jeff Goodman reported Murphy accepted the job Tuesday.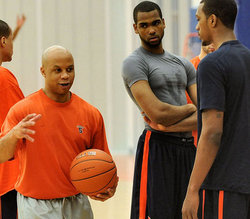 The Syracuse Post-Standard
"That is definitely not true," Boeheim said. "Definitely not. No. He's definitely a strong candidate for the job. It's back in his home area. He would be, I think, a great choice because he knows that area. But Rob hasn't taken the job. No. Not as we speak.
"But it would be a great spot for him. That's his area. He's more than ready to be a head coach. Rob is a tremendous coach."
An Eastern Michigan spokesperson told AnnArbor.com that no official announcements were pending.
More, from the Syracuse Post-Standard:
Murphy, a Detroit native, was hired by Boeheim in June of 2004 to replace Troy Weaver, who left SU for a position with the NBA's Utah Jazz. Murphy came to Syracuse from Kent State where he'd been an assistant coach for two years. He has proven to be a fine mentor to the Orange forwards and a force on the recruiting trail.

Still, Boeheim understands the old bromide that the graveyard is filled with indispensable people.

"There's a bunch of assistant coaches out there who would like to come to Syracuse," said Boeheim. "Nobody ever head of Rob Murphy until he came to Syracuse, did they?

"Listen, he's a good coach and very good recruiter, both. There's no question about that. But if Rob does get that job, we'll get somebody. Those will be pretty big shoes to fill. But we'll get somebody who'll be pretty good, I think."