Posted on
Wed, Jan 2, 2013 : 11:20 a.m.
Eastern Michigan basketball taking on defending national champion, No. 23 Kentucky
By Pete Cunningham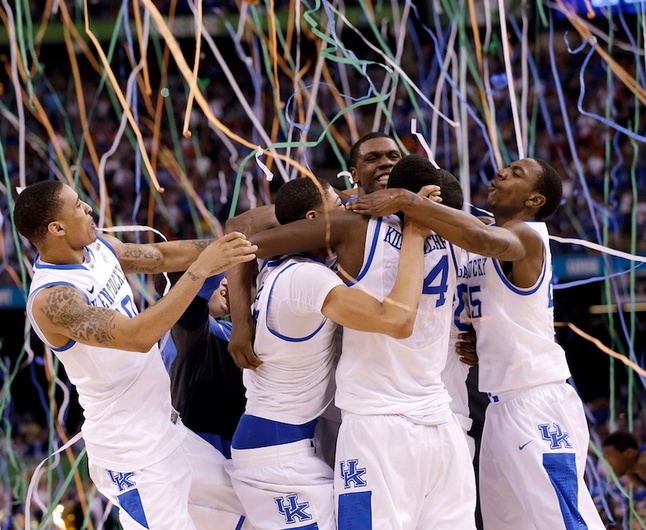 Associated Press
The Eastern Michigan men's basketball team's aggressive non-conference schedule comes to a close this week with games against the latest team coach John Calipari has taken to the Final Four, the University of Kentucky Wildcats, and the first team Calipari took to the Final Four, the University of Massachusetts Minutemen.
Eastern plays the defending national champion Wildcats Wednesday night at Rupp Arena in Lexington, Ky. Here's what to watch for in the matchup.
WHO: Eastern Michigan (7-5) vs. No. 23 Kentucky (8-4)
WHERE: Rupp Arena, Lexington, Ky.
WHEN/COVERAGE: 6 p.m.; TV: ESPNU; Radio: 89.1 FM WEMU.
STREAKS: Eastern has yet to win a game away from the comfortable confines of the Convocation Center this year and faces a formidable task in attempting to do so in always raucous Rupp Arena. Eastern has lost its last three games against Division I opponents.
PLAYERS TO WATCH:
Eastern: Derek Thompson leads Eastern with 12.3 points per game, Da'Shonte Riley leads the team in rebounding with 6.3 rebounds per game and Jalen Ross is dishing our 3.3 assists per game.
Kentucky: Freshman Archie Goodwin leads the Wildcats with 16.5 points and 4.1 assists per game, while freshman Nerlens Noel leads the team in rebounds with 9.0 per game.
NATIONAL CHAMPIONS NO MORE: Eastern coach Rob Murphy should have no trouble convincing his team that the Kentucky team it's facing on Wednesday is nothing like the one it saw win a national championship in New Orleans in 2012, because that is literally the case.
None of Kentucky's five projected starters players played for Kentucky last year. Nerlens Noel, Archie Goodwin and Willie Cauley-Stein are all freshman, while Kentucky's two upperclassmen starters - sophomore Ryan Harrow and senior Julius Mays - didn't log any minutes for Kentucky last year.
Harrow sat out the 2011-12 season due to NCAA transfer rules after playing his freshman season at North Carolina State and Mays is a graduate student using his final year of eligibility at Kentucky after receiving his degree from Wright State last year. Mays never actually played at Wright State, he sat out the 2011-12 season after transferring from North Carolina State where he played his freshman and sophomore seasons.
With four losses on the season, Kentucky has already doubled its total from all of last year.