Posted on
Sat, Dec 8, 2012 : 5:24 p.m.
Eastern Michigan basketball tops Purdue, 47-44, for first win over Big Ten since 1997
By Kyle Austin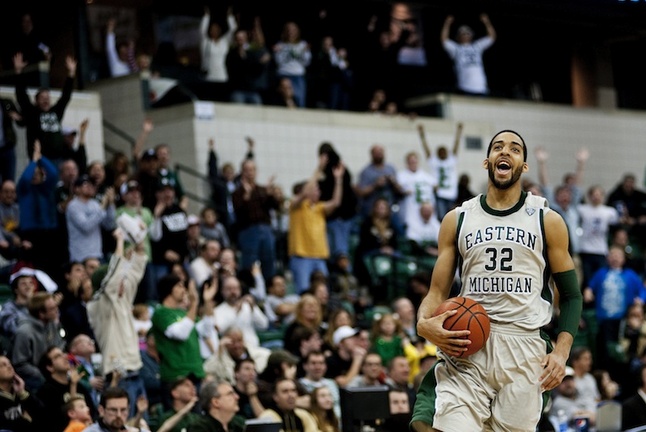 Daniel Brenner | AnnArbor.com
When Rob Murphy set up the 2012-13 Eastern Michigan basketball schedule with four games against major conference teams, he made it clear he didn't consider them just guarantee games.
His players took note, and delivered what Murphy called "an extremely, extremely big win for our program."
Eastern used good ball possession and a staunch defense to down Purdue, 47-44, in front of 1,790 fans at EMU's Convocation Center Saturday afternoon.
The game marked Eastern's first win against Purdue in four tries, and its first win against a Big Ten opponent since Dec. 17, 1997, when the Eagles beat Michigan on the road.
"We're trying to win as we're establishing our culture here. I think anytime you can get a Big Ten opponent in your building you have to take advantage of it," Murphy said. "And this win will go a long way for us."
After a strong start to the second half, Eastern led by as many as 10. Purdue came back to cut it to two points with 1:14 left.
The Boilermakers had a chance to take the lead late, but missed a three with 10 seconds left. EMU center Da'Shonte Riley made a free throw on the other end, and Purdue turned the ball over in its final chance to seal the EMU win.
Both teams struggled from the floor during much of the game, recording their lowest offensive outputs of the season. Purdue shot just 29.8 percent for the game, while Eastern shot 30.9 percent.
The game marked the second-lowest point output of coach Matt Painter's tenure at Purdue, just two points better than a March 3, 2010 game against Minnesota.
"It was an ugly first half, kind of an ugly game, really," Painter said. "It's frustrating for us, because we feel like we continue to beat ourselves."
But for Eastern, any ugly play was a result of its strong zone defense.
"We know that when we play our defense how we're taught to that it's a very tough defense to score points on," guard J.R. Sims said.
Eastern managed just one field goal in the first eight minutes of the game, as it fell behind by nine early. But the Eagles clawed back with three buckets in the final 2:46 of the half to make it a one-point game at halftime.
Coming out of halftime, EMU's Derek Thompson made a 3-pointer from the top of the key to give Eastern its first lead of the game. It wouldn't trail again.
"That's a tough shot on the top of the key, just a one-on-one play," Painter said. "He made a tough one there."
The Eagles hit four 3-pointers in the first nine minutes of the second half -- after going 0-for-8 from deep in the first 20 minutes -- to key its comeback.
"We knew if we hit a few shots and go up, we'll have a lead to protect," Murphy said. "And I believe in our defense, if we can get a lead, it gets really tough to score on us."
Ten EMU players scored in the contest, but none of them in double figures. Thompson led the Eagles with eight points. Daylen Harrison finished with 11 rebounds. Painter said it was the first time in 20 years he could remember losing to a team without a double-digit scorer.
For Eastern, the game marked the second this week against a high-major program, after traveling to Syracuse Monday. In that game, the Eagles turned the ball over 24 times in a 36-point loss.
Saturday, EMU turned the ball over just five times, while Purdue had 18 turnovers.
Murphy said the statistic was a focus in practice this week, and he opted to move veteran guard Austin Harper to the starting lineup Saturday for ball protection reasons.
"We needed to this week focus on handling the ball, taking care of the ball, making good decisions," Murphy said. "When you have young point guards, you struggle, so I gave Austin Harper the start."
While the mood after Saturday's win was jubilant -- with the EMU student section rushing the court -- Eastern's early season gauntlet is anything but over.
After traveling to Illinois-Chicago next Saturday, the Eagles will be at the Crisler Center to face Michigan Dec. 20 and Kentucky on Jan. 2.
But now, Eastern will go into those games knowing it has already knocked off a major conference foe.
"It just builds momentum for us," Sims said of the win.
Kyle Austin covers sports for AnnArbor.com. He can be reached at kyleaustin@annarbor.com or 734-623-2535. Follow him on Twitter @KAustin_AA.