Posted on
Sat, Sep 29, 2012 : 5:45 a.m.
Eastern Michigan football at forefront of concussion prevention through neck strengthening
By Kyle Austin
The Eastern Michigan football program is at the forefront of a new effort to decrease concussions by strengthening players' necks.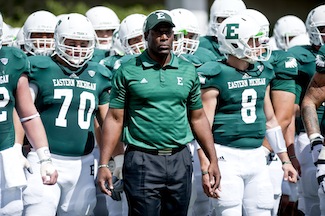 Joseph Tobianski | AnnArbor.com
A
report this week from Sports Illustrated
details how coach Ron English has created target neck sizes for players, depending on their position. EMU players now devote 20-25 minutes in weightroom sessions to neck strengthening, and EMU invested in six neck machines last year.
Research has suggested that increased neck strength can lead to fewer instances of concussions, and data at EMU seems to bear that out. The Eagles had 55 "occurrences of neck trauma" in 2010, and only 35 last year. The team suffered three concussions in 2011.
EMU's program has been in conjunction with Mike Gittleson, who spent 30 years as the strength and conditioning coach at the University of Michigan and is now a strong proponent of increasing neck strength to decrease concussions.
Gittleson calls EMU's neck-strengthening program "the one program in America that you can really embrace."